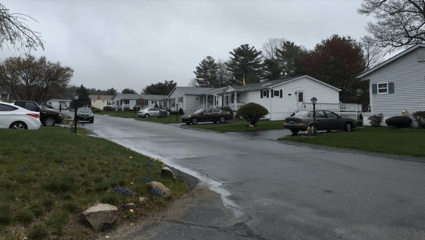 South of Boston in Kingston, Massachusetts, residents of the Town & Country Estates had a busy day last week.
They bought their community.
According to Wicked Kingston, the residents, with help from (ROC USA) and its affiliate Cooperative Development Institute (CDI), residents of the community were able to realize a dream 10 years in the making, as members of the board for the Town & Country Mobile Home Estates Tenants Association finally signed the papers.
"We don't have to look for a landlord, we are the landlord, so that being a co-op and a nonprofit we're not out to make any money so the only rent that we're going to be charging ourselves is that which is enough to sustain the place," said association President Joe Mauriello.
Mauriello says it was resident Joe Bruno that made the purchase possible, as he initially heard about ROC USA and CDI, the part of ROC USA that helped the association get organized, and contacted CDI's Andy Danforth. ROC USA has been working with them for the last three years, he said, including the last year of actively working on the purchase.
"Without ROC or CDI, we would not be owning this park [sic] today," said Mauriello.
As Daily Business News readers are aware, ROC USA recently helped residents of the Kayadeross Acres Manufactured Home Cooperative in Ballston Spa, New York, to purchase their community, with papers being signed last Christmas. That story is linked here.
An offer to purchase the community from the previous owner provided Town & Country Estates residents the opening they needed to buy the property for $6.2 million. While there will be an increase in rents, residents say that the stability factor is huge.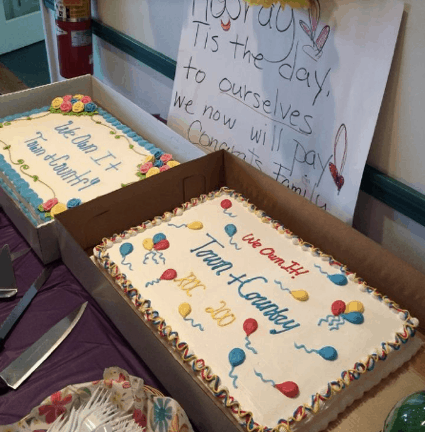 At a celebration, two cakes were decorated with the words "We own it!" and a sign that reads "Hooray! Tis the day, to ourselves we now will pay. Congrats family!"
For more on ROC USA, including a recent study on rent rates, click here. ##
(Image credits are as shown above, and when provided by third parties, are shared under fair use guidelines.)
Submitted by RC Williams to the Daily Business News for MHProNews.