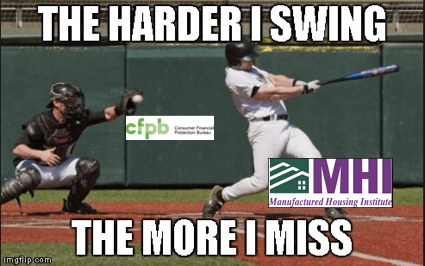 As industry professionals are already aware, the CFPB has restricted high cost and other loans on manufactured homes.
In recent weeks, prior to the close of filings, MHProNews asked the Manufactured Housing Institute (MHI) if they would be filing an amicus brief in the closely followed PHH vs. CFPB case.
As previously reported by the Buckley Sandlers law firm, MHProNews learned that PHH Corp. v. CFPB is set to be heard on May 24, 2017.
Several operations and organizations have been among those who filed an amicus brief in the case. Was MHI among those organizations?
MHProNews sources say no, and MHI won't comment.
Why?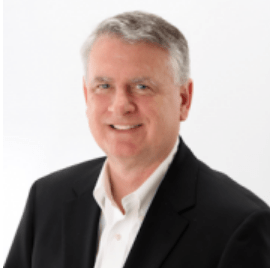 "The folks at MHI – the industry lobby group – are nice people, but what's with the concept of silence is golden? Negative articles on the industry are met with 'no comment.' Positive news opportunities are met with 'no comment.' I've never seen anything like it," says Frank Rolfe.
"When you refuse to talk, it looks to the public like an admission of guilt, and when you refuse to promote your product it looks like you are embarrassed by it."
Silence, according to Rolfe, isn't golden.
The appearance, per Rolfe, is that someone – in this case, MHI – is hiding something.
Who Filed Briefs Supporting PHH's anti-CFPB case?
Per Buckley-Sandlers law, while MHI failed to file an amicus brief that may have achieved what years of lobbying has failed to accomplish, the following entities did file briefs in support of PHH's case against the CFPB.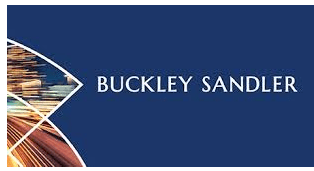 DOJ Brief. As previously covered by InfoBytes, the DOJ filed its own brief in the case on March 17, arguing in support of the D.C. Circuit panel's initial ruling and proposed remedy. The DOJ brief stated, among other things, that, "[w]hile we do not agree with all of the reasoning in the panel's opinion," the DOJ agrees with the panel's conclusion that "a removal restriction for the Director of the CFPB is an unwarranted limitation on the President's executive power" and that "the panel correctly concluded … that the proposed remedy for the constitutional violation is to sever the provision limiting the President's authority to remove the CFPB's Director, not to declare the entire agency and its operations unconstitutional."  As  covered recently on InfoBytes, the DOJ presented arguments that differed both from the CFPB and from the positions previously presented by the Obama Administration in briefing submitted on behalf of the United States back in December.
On April 3, the DOJ filed an unopposed motion seeking ten minutes of argument time for the United States at the May 24 en banc hearing.
Amicus Curiae in Support of PHH. The March 10 deadline in the en banc proceeding also brought about the filing of seven amicus curiae briefs in support of PHH's claims and/or defenses. Six of these filings took the position that the Bureau's current structure violates separation-of-powers principles:
Brief on Rehearing en banc of the Chamber of Commerce of the United States of America as Amicus Curiae in Support of Petitioners
Brief on Rehearing en banc of ACA International as Amicus Curiae in Support of Petitioners
Brief on Rehearing en banc of the Cato Institute as Amicus Curiae in Support of Petitioners
En Bank Brief of Amici Curiae RD Legal Partners, LP, RD Legal Funding, LLC, RD Legal Finance, LLC and Roni Dersovitz in Support of Petitioners
State National Bank of Big Spring, 60 Plus Association, Inc.; and Competitive Enterprise Institute as Amici Curiae in Support of Petitioners
Brief for the States of Missouri, Alabama, Arizona, Arkansas, Georgia, Idaho, Indiana, Kansas, Louisiana, Nevada, Oklahoma, South Dakota, Texas, West Virginia, and Wisconsin as Amici Curiae in Support of Petitioners
Does MHI really want to Advance MH Industry Lending?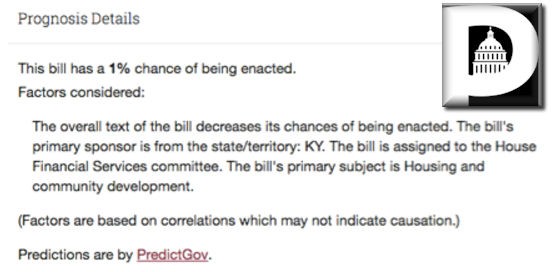 In a recent article on the Daily Business News, linked here, much of the manufactured housing industry is familiar with latest version of the Preserving Access to Manufactured Housing Act of 2017 – a.k.a. H.R. 1699. MHI's latest "alert" urged their readers to keep up the "momentum" for the 4th iteration of a bill, yet, upon further investigation, MHProNews found that the bill has a one percent chance of passing (see graphic above, from PredictGov).
Several informed sources tell MHProNews that during a recent MHI finance discussion – contrary to official claims that they support a vigorous Duty To Serve (DTS) manufactured housing with a robust chattel program – one or more key MHI leaders expressed in small group sessions steps that would deliberately slow or minimize Government Sponsored Enterprises (GSEs) from getting involved in manufactured home personal property/home only (chattel) lending.
Beyond Preserving Access – HR 1699 – What's Really Happening with the GSEs?
Rumblings from informed sources tell MHProNews that GSE's may do a limited pilot chattel program, but that limited program may be "an eight to ten year process."
If this is indeed the case, an MH industry lender told MHProNews that, "…that length of time would be much longer than is necessary for them [the GSEs] to get their own data. The default curve is highest in the first 60 months," the expert source said.
Industry Opinions on DTS Vary
While widely viewed as worth pursuing, throughout the industry, opinions on the Duty to Serve – and how it might become reality – vary.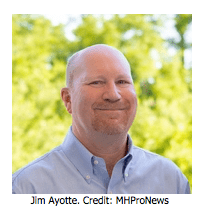 "The final rule provides Fannie Mae and Freddie Mac with Duty to Serve credit for purchasing chattel manufactured housing loans, but does not mandate them to do so.  Whether the final rule is positive or negative for the industry depends on which national industry trade group you listen to," said Jim Ayotte in a response linked here.
"MHI's take on the final rule is that it is a step in the right direction," said Ayotte. "MHARR believes that because the FHFA did not mandate the GSEs to make chattel loans that it is highly unlikely that any chattel loans will be made."
Ayotte sees it differently. "The truth of the matter is that the industry is closer to getting a viable secondary market program for chattel manufactured home loans than it has been in nearly two decades.  While the industry would have preferred the FHFA to mandate the GSEs to make chattel loans, this was not going to happen.  However, over the past year the GSEs have demonstrated a genuine interest in understanding chattel manufactured housing financing as it exists today, not as it performed in the late 90's."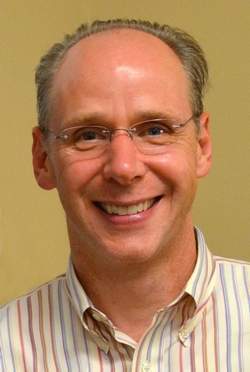 "We have Fannie Mae financing homes in some of our communities already," said ROC USA President Paul Bradley, "but it's too limited.  We want a chattel pilot and standard land lease so we can scale.  It should reassure skeptics that home-only loans by the GSEs have worked in Land Lease Communities.  We need DTS to get together as a larger market opportunity for the GSEs."
"I am surprised that the Community Bankers' Association (ICBA) would come out against GSE chattel product – from the many community bankers I've talked to over the years," Bradley told MHProNews that "the local bankers want a secondary market for chattel. One of the concerns that lenders often express about manufactured home loans in Land Lease Communities is that homes there lose value.  But that is not a given.  I can point to examples in Land Lease Communities where homes are appreciating."
Manufactured Housing Association for Regulatory Reform (MHARR) President and CEO M. Mark Weiss provided a different take.

"We at MHARR have the greatest respect for Jim Ayotte, but his recent commentary on the final Duty to Serve (DTS) rule issued by the Federal Housing Finance Agency (FHFA) is far too charitable. It's one thing to see the proverbial glass as half full versus half empty.  It's another to accept a few droplets as half a glass," said Weiss in his commentary, linked here.
"And that is what consumers and the industry have gotten from FHFA – a few drops at the bottom of the glass, window dressing that is not likely to lead anywhere soon, despite the urgent need now for affordable and competitive chattel-based consumer financing for manufactured homes."
MHARR has asked on multiple occasions for private meeting minutes between FHFA and others on the DTS issue to be disclosed.
"If Congress had meant the "duty to serve" to be optional, it would not have called it a 'duty'.  The dictionary definition of a 'duty' has – at its core – a mandatory responsibility," said Weiss.
For more on DTS from Eagle One Financial VP Titus Dare, click here. ##
(Image credits are as shown above, and when provided by third parties, are shared under fair use guidelines.)
Submitted by RC Williams to the Daily Business News for MHProNews.