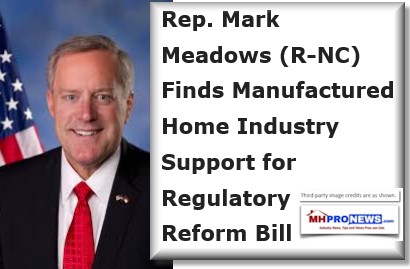 "The Manufactured Housing Association for Regulatory Reform (MHARR) has announced its support for legislation introduced in the House of Representatives by Rep. Mark Meadows (R-NC) that would enshrine in federal law the sweeping regulatory reforms implemented in recent Executive Orders issued by the Administration of President Donald J. Trump," the organization told the Daily Business News in a release.
"Under H.R. 2362, the "Lessening Regulatory Costs and Establishing a Federal Regulatory Budget Act of 2017" – which was marked-up and approved by the House Committee on Oversight and Government Reform on November 30, 2017 – the provisions of Trump Administration Executive Orders 13771 ("Reducing Regulation and Controlling Regulatory Costs") issued January 30, 2017 and 13777 ("Enforcing the Regulatory Reform Agenda"), issued February 24, 2017 — would effectively be memorialized in federal law," stated MHARR.
As regular Daily Business News readers know, the president's regulatory agenda has brought significant growth to the nation, and by extension, to the manufactured home industry.  Coupled with tax reform, which was formally passed yesterday by Congress, regulatory reform has led to higher profits, more jobs, and higher wages.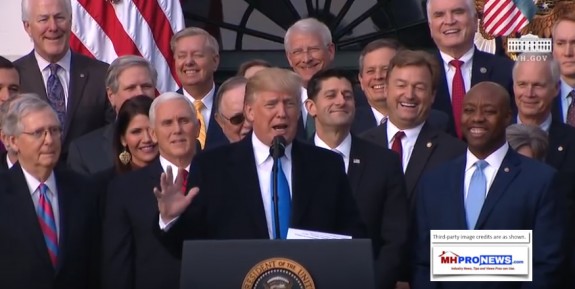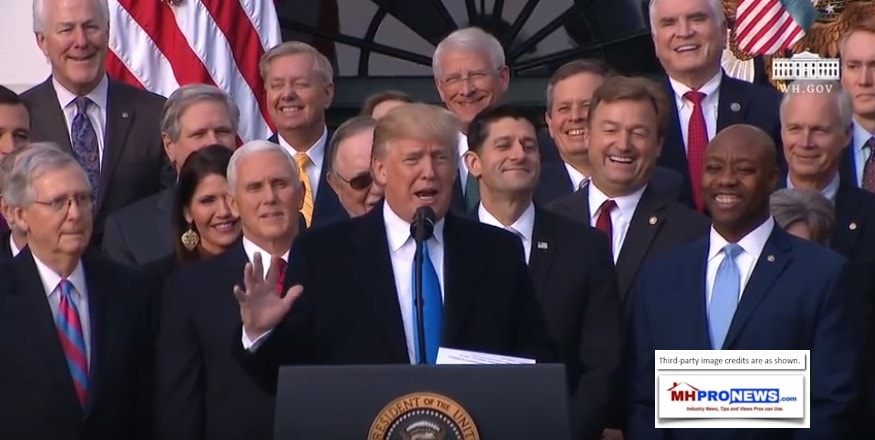 That growth sparked by regulatory rollback is the common-sense outcome that third party research has long advocated.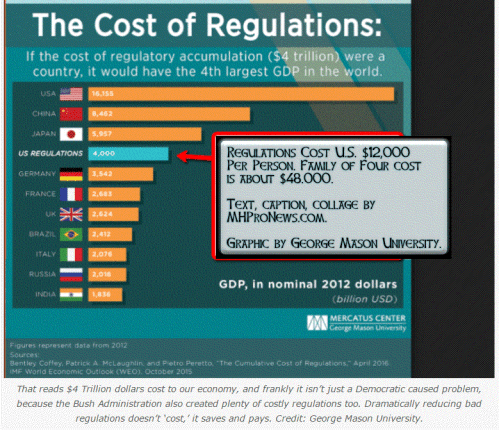 Cost of regulations graphic
"Among other things, the proposed bill would require federal Executive Branch agencies — including the U.S. Department of Housing and Urban Development (HUD), which comprehensively regulates the construction and safety of manufactured housing in the United States — to: (1) remove unnecessary or outdated regulations when significant new regulations are issued; (2) establish institutional mechanisms and procedures to carry out ongoing regulatory reform initiatives and "identify regulations that are appropriate for repeal, replacement, or modification;" and (3) "prudently manage and control the cost of planned regulations through an annual budgeting process," per the Washington, D.C. based association's statement
"Such actions under the current program administrator, include, for example, but are not limited to: (1) HUD's program of expanded in-plant regulation which altered the nature and objective(s) of in-plant regulatory activity by Primary Inspection Agencies and HUD's so-called "monitoring" contractor without any type of rulemaking procedures contrary to applicable law; (2) HUD's abuse of the "interpretive bulletin" process to mandate substantive changes to the federal manufactured housing installation standards for "frost-free" installations; (3) new regulatory mandates for "attached" garages, carports and other similar features adopted under the guise of "interpretation," without notice and comment procedures as required by law; and (4) continuing abuses and manipulations of Subpart I that have distorted the regulatory process and shifted undue power, authority and influence to unaccountable, revenue-driven program contractors," states MHARR.
MHARR has previously blasted such regulatory overreaches, or failures to enforce the law. An example if the periodic fire sprinkler debate that impacts the industry, see MHARR's commentary, linked here.
A prior MHARR release – which dovetails with concerns from others in the industry – outlined over 2 dozen reasons why the association's president and CEO, Mark Weiss, JD, believed that Pam Danner had to be removed from the HUD Code Manufactured Home Program administrator's role.
Exclusive – HUD's Manufactured Housing Program Administrator Pam Danner, Update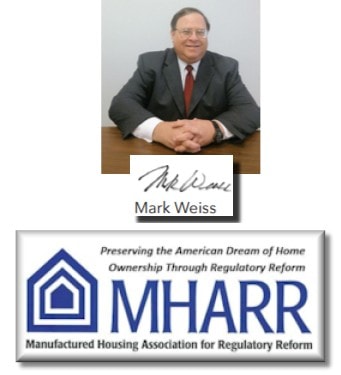 Weiss told MHProNews: "For an industry like manufactured housing, which is expressly recognized by federal law as a crucial national source of affordable housing and home-ownership, but simultaneously subject to comprehensive federal regulation, it is essential that such regulation not only be reasonable, but also fully cost-justified in providing protection for consumers. Federal manufactured housing law, as upgraded and reformed by Congress in 2000, already requires that federal manufactured housing standards, regulations and interpretations meet these twin criteria. These existing mandates, however, will be materially strengthened, reinforced and supplemented by the procedures and mechanisms that would be institutionalized in federal law by the 'Lessening Regulatory Costs and Establishing a Federal Regulatory Budget Act of 2017.' This legislation will help to curb and bring to an end a train of abuses that has gone-on for decades, but has particularly worsened during the tenure of the current manufactured housing program administrator, that has seen the HUD program and its contractors either ignore or bypass required procedures and substantive mandates on a regular basis. MHARR, accordingly, fully supports the adoption of this legislation by Congress and congratulates Rep. Meadows and his colleagues for bringing this key measure before Congress."
The full MHARR release is available at this link, here. ## (News, analysis, and commentary.)
2 Week Notice. MHProNews will be on a somewhat modified publication schedule from now through January 2nd, resuming normal scheduling in 2018. More details, click here.
Notice 1: Looking for our emailed MH Industry headline news updates? Click here to sign up in 5 seconds. You'll see in the first issue or two why big, medium and 'mom-and-pop' professionals are reading them by the thousands, typically delivered twice weekly.
Notice 2:  Want sustainable growth?  Join the Manufactured Housing Revolution team's proven marketing and other MH Professional Services, click here.
(Image credits are as shown above, and when provided by third parties, are shared under fair use guidelines.)

Submitted by Soheyla Kovach to the Daily Business News for MHProNews.com