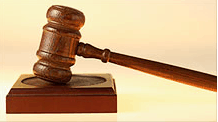 Following a story MHProNews.com first posted Aug. 23, 2013, both the Lake County (Calif.) Board of Supervisors and the Lakeport City Council have rent control initiatives regarding manufactured housing communities on separate ballots sponsored by a "Save our Seniors" group. While the county ballot is set for June, and the city initiative will be tied in with municipal November elections, both would roll back rents to Jan. 1, 2012 and base increases on Social Security raises. The county ballot requires 80 percent of the households have at least one person 65 or older living in a home, while the city initiative says 80 percent of the homes have at least one person over 55. The Lake County Mobilehome Park Owners Association has sued to determine if rent control is legal.
Attorney Charles Bell, Jr., representing the community owners, noting the focus is on constitutional issues of violation of due process and an illegal taking, says "The initiative is really poorly crafted and doesn't provide any mechanisms that are required by numerous court cases to assure that there's opportunity for a process to ensure a fair return on investment." He says his law firm has successfully challenged similar initiatives.
Doug Johnson, of the Western Manufactured Housing Communities Association (WMHCA), while not a party to the suit, said a lot of WMHCA members supported the suit, and that he had notified both the city and the county last year to expect litigation over the measures. Lake County Counsel Amy Grant and interim Lakeport City Attorney David Ruderman both said the initiatives may not withstand judicial scrutiny, according to lakeconews.com. Johnson said that, statewide, there are 110 manufactured home community rent control ordinances currently in force. Of those, only 15 were enacted by initiative, with the rest passed by local councils or boards. He said 381 of 481 cities and 48 of 58 counties don't have rent control ordinances.
(Image credit: CNNMoney.com)