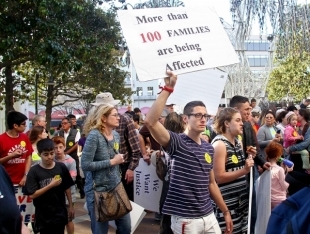 "No one should be forced to carry on a business that they want to close," said Pacific Legal Foundation Attorney Larry Salzman. "The city is treating the Jissers as an ATM to solve a problem they didn't cause — the lack of affordable housing in Palo Alto. That's not just wrong, it's unconstitutional," a Daily Business News post by Matthew Silver reported last year.
Fast forward, as Fox News' Claudia Cowan quotes resident Melody Cheeny, "We have nowhere else to go," said Cheeny, secretary for the community's homeowner's association.  "There's no way, for 95 percent of us, to be able to live in this county, let alone Silicon Valley."
Cowan writes, "In the heart of Silicon Valley, a new twist in an ongoing turf war is raising alarm among property rights groups – government officials in Palo Alto are threatening to use "eminent domain" to prevent the longtime owners of a mobile home park from turning the property into condos."
"How can we promote homeownership and sell new homes on leased land and at the same time close communities?" – asks Paul Bradley, ROC USA in a new column to Industry Voices on MHProNews.
"Eminent domain is an elegant solution," said Katherine Harasz, executive director of the Santa Clara County Housing Authority told Fox News. "It acknowledges the owners' just right to just compensation, if the public purpose is established to use his property for this public purpose."
"The city and the county's actions have postponed the closure of the park for four years now and still, there's really no end in sight," Joe Jisser told Fox News.  Joe's family reportedly bought the property in 1986.
"As communities become surrounded and engulfed by restaurants, Hilton Hotels, stadiums, big box stores, airports, residential and commercial developments," Jay Hamilton, Georgia Manufactured Housing Associations' executive director told MHProNews, "property taxes begin exceeding the total revenue from renting spaces."
The struggle over community owner's property rights vs. land-lease community resident rights continues. Equity LifeStyle Communities Chairman Sam Zell's view, published exclusively on MHProNews on this subject, are linked here.
Scheduling/Programing note: MHProNews plans to publish a related, detailed report on another hotly contested location in the American heartland, right here on the manufactured housing industry's Daily Business News. ##
(Photo credits are as shown above.  The video on Fox News was set to autoplay, and was copied and provided here under Fair Use guidelines.)