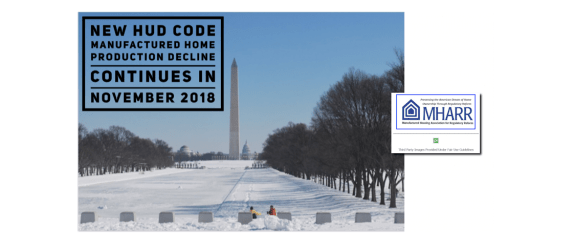 Washington, D.C., January 3, 2019 – The Manufactured Housing Association for Regulatory Reform (MHARR) reports that according to official statistics compiled on behalf of the U.S. Department of Housing and Urban Development (HUD), HUD Code manufactured home production declined once again in November 2018. Just-released statistics indicate that HUD Code manufacturers produced 7,670 homes in November 2018, a 10.8% decline from the 8,602 new HUD Code homes produced during November 2017. On a cumulative basis, industry production for 2018 now totals 90,612 homes,[1] still a 5.8% increase over the 85,657 HUD Code homes produced over the same period in 2017.
A further analysis of the official industry statistics shows that the top ten shipment states from the beginning of the industry production rebound in August 2011 through November 2018 — with cumulative, monthly, current year (2018) and prior year (2017) shipments per category as indicated — are:
[/vc_column_text][vc_table vc_table_theme="classic"][align-center]State,Cumulative,[align-center]Current%20Month%20(Feb.%202018),[align-center]2018,[align-center]2017|[align-center]Texas,85%2C422%20homes,[align-center]1%2C404,[align-center]17%2C547,[align-center]15%2C735|[align-center]Louisiana,32%2C202%20homes,[align-center]347,[align-center]4%2C615,[align-center]5%2C366|[align-center]Florida,28%2C109%20homes,[align-center]767,[align-center]6%2C761,[align-center]5%2C468|[align-center]Alabama,20%2C168%20homes,[align-center]330,[align-center]4%2C477,[align-center]5%2C435|[align-center]N.C,19%2C105%20homes,[align-center]358,[align-center]4%2C204,[align-center]3%2C555|[align-center]Mississippi,17%2C126%20homes,[align-center]238,[align-center]3%2C357,[align-center]3%2C395|[align-center]California,16%2C926%20homes,[align-center]341,[align-center]3%2C711,[align-center]3%2C385|[align-center]Michigan,16%2C181%20homes,[align-center]520,[align-center]4%2C164,[align-center]4%2C412|[align-center]Kentucky,15%2C359%20homes,[align-center]239,[align-center]2%2C660,[align-center]2%2C930|[align-center]Tennessee,13%2C173%20homes,[align-center]176,[align-center]2%2C571,[align-center]2%2C424[/vc_table][vc_column_text]
The latest information for November 2018, does not result in any changes to the cumulative top-ten list.
Although industry production as reported for November 2017 may have been skewed somewhat higher due to the production of disaster response homes for the Federal Emergency Management Agency (FEMA) (insofar as the HUD production reports do not differentiate between FEMA production and shipments and units produced for the general consumer market), the fact remains that production levels remain disappointingly low for a HUD Code industry that should be booming based on the strength of the broader economy, including both job and wage growth, versus the increasing cost of other types of housing. In part, as MHARR will soon address in greater detail, the industry's difficulty in once again reaching – and substantially exceeding – the 100,000 home-per-year benchmark, is, to a substantial degree, a product of continuing problems affecting the industry's post-production sector, including, principally, exclusionary zoning affecting communities, related placement issues, and, most importantly, the continuing unequal, secondary market treatment of the nearly 80 percent of manufactured home-buyers who rely on chattel loans to finance the purchase of their home.  Significantly, though, it appears that the post-production sector could be on its way to more effectively addressing these and other issues through independent representation at the national level. More on this development will be forthcoming soon.
The Manufactured Housing Association for Regulatory Reform is a Washington, D.C.-based national trade association representing the views and interests of independent producers of federally-regulated manufactured housing.
[/vc_column_text][/vc_column][/vc_row]