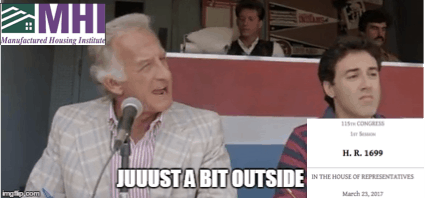 Much of the manufactured housing industry is familiar with latest version of the Preserving Access to Manufactured Housing Act of 2017 – a.k.a. H.R. 1699.  The Arlington, VA based Manufactured Housing Institute's (MHI) latest "alert" urged their readers to keep up the momentum for the 4th iteration of a bill, which they designed to modify points and fees to make some higher cost loans possible, while also amending the unpopular MLO rule.
GovTrack reveals some startling insights, but the view from MHI will be reviewed first.
The MHI bill was presented by Representative Garland "Andy" Barr (R- KY). Barr is a true advocate for manufactured housing, as the information and video linked here reveals.
As have many others, MHProNews and MHLivingNews editorially supported prior versions of the bill for years. One of dozens of examples, is linked here.
Beyond the MHI cheerleading, what are the facts – per third parties – outside of manufactured housing?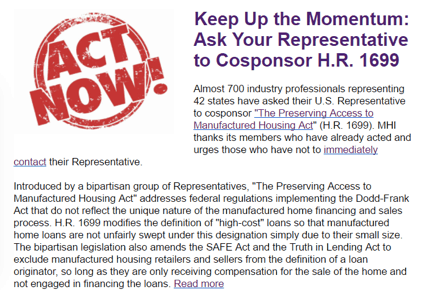 GovTrack and PredictGov, who have no vested interest in whether or not a bill passes, have provided some startling information.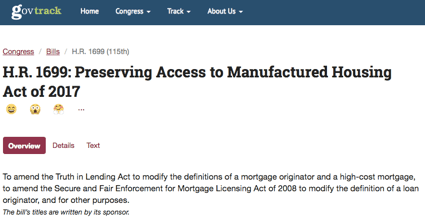 They give the bill a one percent chance of passing.
With 99 to 1 odds against it, and millions spent to date on the MHI effort, this information should provide a wake-up call for the manufactured housing industry.
As PredictGov states, "The overall text of the bill decreases its chances of being enacted. The bill's primary sponsor is from the state/territory: KY. The bill is assigned to the House Financial Services committee. The bill's primary subject is Housing and community development."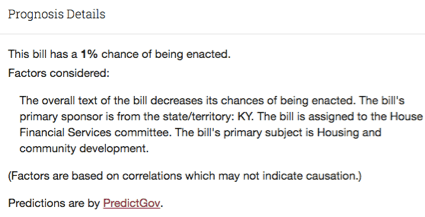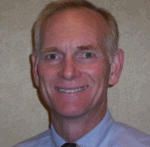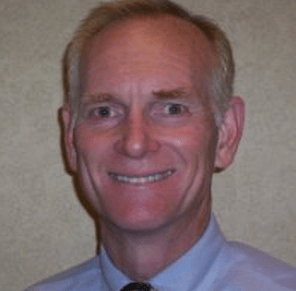 MHProNews has heard from a number of pro-MHI members, who believe the bill is a wasted effort in the Trump Administration era.
Conflict of Interest?
As the Daily Business News asked here, under the bylaws, articles and laws of incorporation for MHI, is there a conflict of interest when The Preserving Access to Manufactured Housing Act – a finance related effort that directly benefits two major industry lenders – is being promoted by the association's chairman, Tim Williams of 21st Mortgage Corporation, whose firm is a direct beneficiary if such a law is passed?
Cheerleading For…What Goal?
In its News & Updates feature, MHI asks members to "Keep Up the Momentum: Ask your Representatives to Cosponsor H.R. 1699." But with a one percent chance of passage, state association executives and other businesses of various sizes have asked privately, does even hundreds of emails and several co-sponsors truly equal momentum?
"Introduced by a bipartisan group of Representatives, 'The Preserving Access to Manufactured Housing Act' addresses federal regulations implementing the Dodd-Frank Act that do not reflect the unique nature of the manufactured home financing and sales process," says MHI.
"H.R. 1699 modifies the definition of 'high-cost' loans so that manufactured home loans are not unfairly swept under this designation simply due to their small size. The bipartisan legislation also amends the SAFE Act and the Truth in Lending Act to exclude manufactured housing retailers and sellers from the definition of a loan originator, so long as they are only receiving compensation for the sale of the home and not engaged in financing the loans."
When asked for an on-the-record comment, MHI would not respond to MHProNews' inquiries about this – and other finance/industry related subjects, which will be covered in upcoming reports here on the Daily Business News.
Opportunity in 2016, Reportedly Lost
In an interesting twist, MHProNews previously reported that MHI insiders communicated to the Daily Business News that a negotiated deal with the support of consumer groups could have been made over a year ago which would have allowed the CFPB to modify their MLO rule, so long as MHI dropped the points and fees hikes.  That deal would have benefited thousands of industry locations and businesses of all sizes.
Why was that opportunity missed?
MHI staff are silent on that question, and others like it.
Presidential Veto…
With millions being spent by MHI every year, and this being one of their flagship efforts, why did MHI fail to take the half-loaf offered?  Even if Senate passage last year had been achieved, President Obama signaled during his term that had Preserving Access passed the Senate, he would have vetoed the legislation.
Among the off-the-record comments from a member of the financial services industry seem to show an under-reported trend among those who know the real score on the bill.
"The problems with MHI aren't the Association's doing, it's a few members.  Lenders like CU aren't bothered by all the aspects because they think consumer first and still make a decent return," one source said. "As always "off the record" because I don't need to get dragged into HR, but that is my 2 cents."
While a lender was named in the message to MHProNews above, it should not be construed that the source does – or does not – work for that firm. Those comments came with respect to this article.
MHI – Weaponized News?
As MHProNews covered here, MHI's use of weaponized news to its members, and slanted advertorials to the public, presents several hurdles for the industry.

"James McGee and Chet Murphree said it very well on a video, it's all about education…This [MHI] advertorial approach was a mix of good, bad, inaccurate, and deceptive marketing on behalf of a national manufactured housing association," said Titus Dare, SVP of Eagle One Financial.
"I've focused on the bad, because that is where the problems will come from. You would never see the NAHB or another national trade association blurt out such problematic nonsense."
Tom Fath, an industry professional with a fresh view from a millennial perspective also shared his take.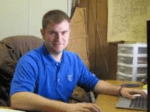 "We have created a great industry that is in decay and under attack.  In order to change the perception of our industry, MH pros and leaders need to focus on the facts and true benefits regarding our products and communities to ensure our customers make educated decisions that fit their needs," said Fath.
"Probably the greatest enemy to the growth of the mobile home park [sic] industry into a mainstream form of real estate investment is … our industry itself," wrote MHI member Frank Rolfe, in a story linked here.
For more on what the manufactured housing industry is up against in its internal battles to achieve its potential, click here. ##
(Image credits are as shown above, and when provided by third parties, are shared under fair use guidelines.)
Submitted by RC Williams to the Daily Business News for MHProNews.