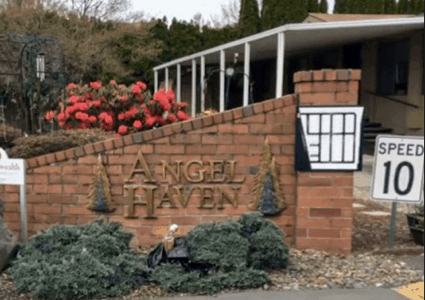 Just south of Portland, Oregon, residents at the Angel Haven Mobile Home Park had a wild weekend.
According to KATU, a major windstorm knocked out power to the community last Friday, leaving over 100 homes in the dark.
A major concern for officials was that more than 120 residents suffer from serious medical conditions, and they rely on electricity to power lifesaving equipment. For Lorrie and Steve Watts, the outage was particularly concerning.
Both are diabetic, and had about a thousand dollars-worth of insulin stored in their refrigerator.
"The old folks here, we need your help, it's not just me," said Steve Watts.
"I just bundle up and wait for another day."
Luckily for the Watts, and others, Sunday was the good day they were waiting for. Work crews from Portland General Electric (PGE) showed up in force to tackle the issue, which ended up being a melted fuse after power was initially restored Saturday. A sudden overload of demand as crews restored power caused the system to fail a second time.
Crews reconfigured parts of the system to prevent this type of failure from happening again.
"We realize that we have a tremendous responsibility in empowering our community," said PGE spokesperson Melanie Moir.
"We care deeply about this community and we want to get everybody up and running as quickly as possible."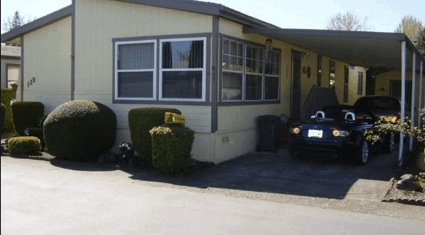 PGE also told residents that this serves as a good reminder to make sure that people have safety plans in place in case of emergencies.
"I went to the store to grab a bag of ice to put in my cooler and the husband calls and says the power's back on," said Lorrie Watts.
"I can't be any happier to get heat in there, and I want to thank these PGE crews for coming out, doing all they can to get us back on power."
Safety and Manufactured Housing
While this instance did not directly point to the stereotype of manufactured housing being a lightning rod for issues, it serves as a good reminder that officials, news agencies and the general public often specifically point out manufactured homes and communities – often identified incorrectly as "mobile homes" and "mobile home parks" – vs. site-built homes in damage reports.
On average, about 1 in 5 structures identified as "mobile homes" by the media are in fact pre-HUD code mobile homes.  They are routinely the ones that suffer the most damage, because HUD Code manufactured homes are more durable by design.
HUD Code manufactured homes that are properly installed and maintained have a similar life expectancy as conventional housing. Any housing that is not, for whatever reason, properly maintained tends to fall into disrepair and can deteriorate more rapidly, and thus, shorten its useful life expectancy.
For more on the importance of terminology with manufactured housing, click here. ##
(Image credits are as shown above.)
Submitted by RC Williams to the Daily Business News for MHProNews.