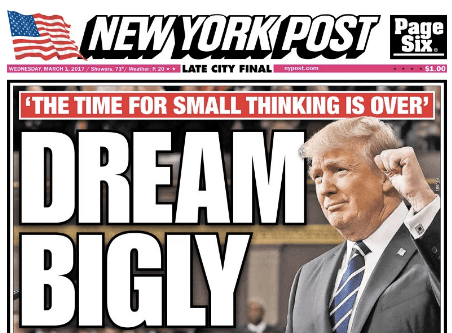 Leading up to his speech to a joint session of Congress Tuesday evening, many were curious as to exactly how President Donald Trump would approach the moment and what his message would be.
Post speech, the responses, and where they came from, were quite interesting.
"This will be a very well-received speech for Donald Trump," said MSNBC commentator Rachel Maddow.
"I think it's fair to say it's a product of expectations that he's not seen as somebody who necessarily gives a good formal speech."
According to The Hill, media analysts estimate 40 million to 45 million people watched the address Tuesday night.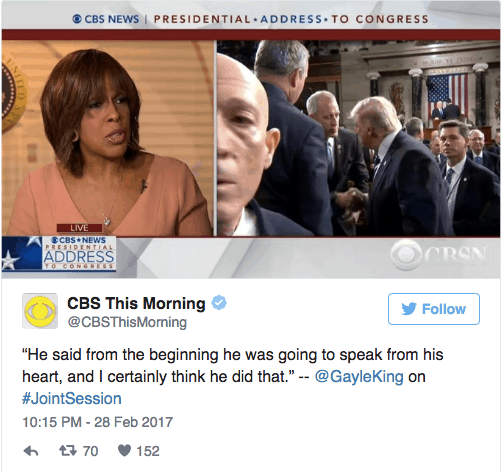 "He said from the beginning he was going to speak from his heart, and I certainly think he did that," said Gayle King of CBS This Morning.
"I thought it was by far the best speech I've ever heard Donald Trump give," said Chris Wallace of FOX News.
"It was one of the best speeches in that setting I've ever heard any president give."

Polling from CBS News showed that viewers nationwide strongly approved of the President's speech, with many Democrats joining Republicans in calling it "presidential" and positive in tone.
The polls also showed Republicans and Independents found the speech "unifying," and the President gained support for his policy plans among viewers on the economy, immigration, terrorism, crime and Obamacare.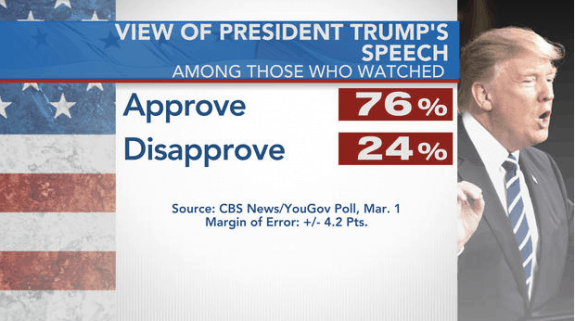 While half of Democrats reportedly found the speech "divisive," about one-third of them also said President Trump was "specific" and "knowledgeable" in his speech, and there is agreement across party lines that he is trying to do what he said he'd do during the campaign.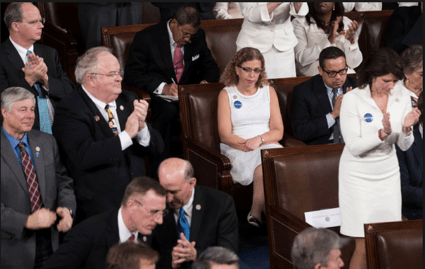 During the speech, commentators, along with the Daily Business News, noticed the divide amongst the Democratic and Republic sides of the chamber. While this is usually standard fare, it should be noted that even in the moments where the President spoke about unity across party lines, that only a handful of Democratic representatives acknowledged the need.
The Markets Respond 
According to CNBC, President Trump's speech hit a cord with the markets, as U.S. equities surged to all-time highs yesterday, with the Dow, S&P 500 and NASDAQ all posting their best days of the year.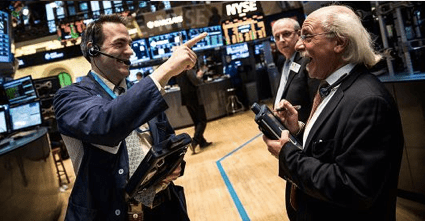 "The major positive from the speech is he delivered on his 'America first' message, but he did so in a positive and uniting way," said Zhiwei Ren, portfolio manager at Penn Mutual Asset Management.
"If his message of 'America first' can succeed, this could be positive for the economy" in the near term.
The Dow finished the day up 303 points, with the NASDAQ, S&P 500 and Russell 2K index, and indicator of small and mid cap stocks, all gaining over one percent.
"The speech's tone has gone a long way for the market," said Quincy Krosby, market strategist at Prudential Financial.
"It assuaged fears that his agenda was not going to be able to be passed."
The MH Industry
As Daily Business News readers are aware, a growing economy and more jobs, less regulations, and proposed changes to Dodd-Frank and the Consumer Financial Protection Bureau (CFPB), are all reasons for Industry Optimism with respect to President Trump.

"The Trump Administration has made it absolutely clear that one of its key priorities will be to reduce baseless regulatory burdens on American businesses that needlessly increase the cost of American products and undermine job creation," said MHARR President and CEO M. Mark Weiss.
Dr. Ben Carson, whose up/down vote as HUD Secretary is expected within the next few days, has been warmly greeted by MHARR, MHI and MHProNews, as a leader who grasps the manufactured housing industry's importance to the realization of the American Dream.
"I do see manufactured housing playing an important role in providing affordable housing in rural areas. I think it's important to ensure HUD's policies promote access to this valuable resource," said Carson.
MHProNews and MHLivingNews publisher L.A. "Tony" Kovach penned an open letter to Dr. Carson, which is linked here.
For more responses from MH industry professionals on the election of President Trump, click here. ##
(Image credits are as shown above.)
Submitted by RC Williams to the Daily Business News for MHProNews.