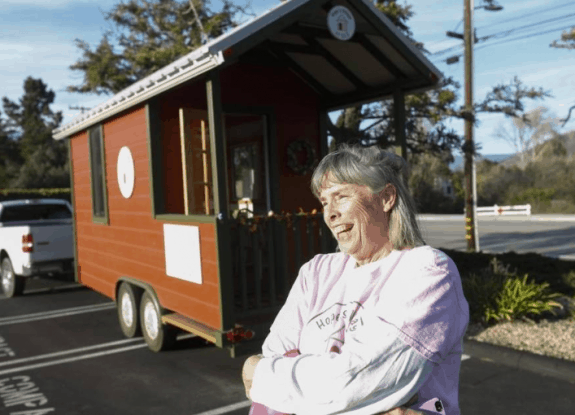 Spur, Texas. Portland, Oregon. Fresno, California. All of these cities have jumped on board with the "tiny house" movement as a solution to the housing crunch.
It looks like San Luis Obispo, California may become the next to join them.
According to the San Luis Obispo Tribune, a local nonprofit, Hope's Village, has proposed the idea of a tiny home community; if it can find the land.
New Mayor Heidi Harmon and County Supervisor Alan Hill say they would support the idea.
"That's the direction that younger people are moving in, to use less space and not necessarily have a need for a big yard and a fence, and provide affordability and reduce the carbon footprint," said Harmon. "I'm very interested in tiny homes. I've heard from a lot of folks who are interested in them."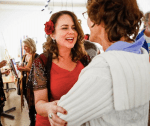 During the recent mayoral campaign, Harmon supporting facilitating tiny homes, while her opponent, incumbent Mayor Jan Marx opposed them, instead favoring cottages as a solution.
A part of Harmon's campaign platform focused on affordable housing options in the city, and she promised to work hard to change city zoning laws to allow tiny homes as secondary dwelling units.
"I'm interested to learn from the city what the challenges are and the barriers," said Harmon. "I know that density with the limited amount of space is on people's minds."
California does not currently have specific state laws on the general use of tiny homes, but cities such as San Jose have taken it upon themselves to utilize the structures to assist with their homeless challenges. The Daily Business News provided in-depth coverage of that story, linked here.
The Tribune reports that in San Luis Obispo County, no such policy exists. But a hypothetical county building permit for a 200-square-foot secondary dwelling would be approximately $8,000, and in the city of San Luis Obispo, a tiny house on wheels would be classified as a recreational vehicle. That means it may only be lived in at a lawfully operated manufactured home community, travel trailer park, campground or safe parking facility.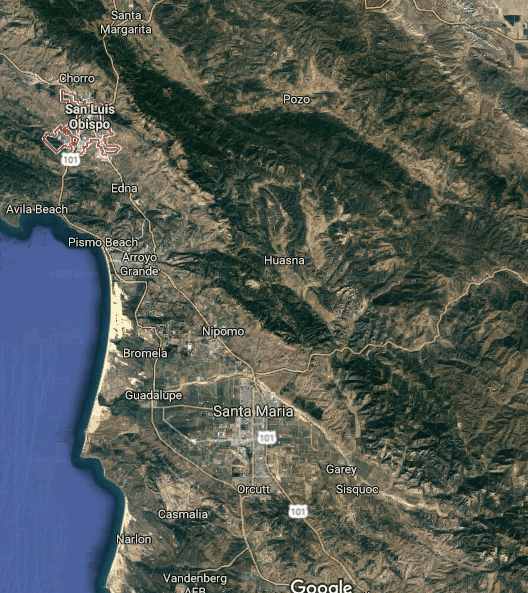 A secondary dwelling unit in San Luis Obispo under 450 square feet, on an R-1 lot, would require more than $8,000 in impact fees, and either the secondary unit or primary residence must be occupied by the property owner.
Becky Jorgeson, a homeless advocate who started Hope's Village, has been promoting the idea of a "tiny home village" with 30 homes on 5 acres to provide housing for about 50 homeless people.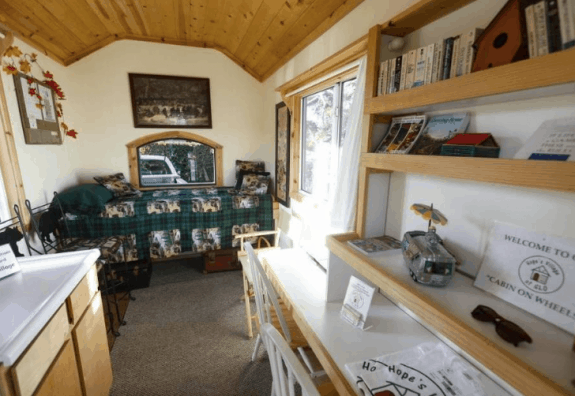 "Ideally, the site would be somewhere near San Luis Obispo within range of social service offices," said Jorgeson.
Hope's Village has about $25,000 to use for the proposal, but Jorgeson say that a land donation isn't easy to come by.
Jorgeson has also taken the step of parking a tiny home on wheels outside of a local church as an example of what a tiny home for those who are homeless would look like.
Supervisor Alan Hill sees the tiny homes helping in a number of ways.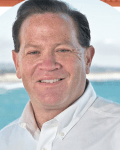 "The tiny-home village concept is not that dissimilar from a mobile home park [sic] or manufactured home park, a kind of last bastion of affordable housing," said Hill.
"And getting someone off the streets and a roof over their head greatly increases their chance of self-sufficiency."
Why Not Manufactured Homes vs. Tiny Houses?
Several manufactured housing professionals who believe that those fascinated with tiny houses ought to be thinking manufactured homes instead.

"Anybody with a brain in their head would look at a manufactured home,"  Brian Cira, president, Fairmont Homes, Nappanee, IN said. "We do it much more efficiently, much more smartly. We've been doing this for decades. … We could build these [tiny houses] all day long."
For a comparison of tiny houses and manufactured homes, see the article, linked here. ##
(Image credits are as shown above.)

Submitted by RC Williams to the Daily Business News for MHProNews.