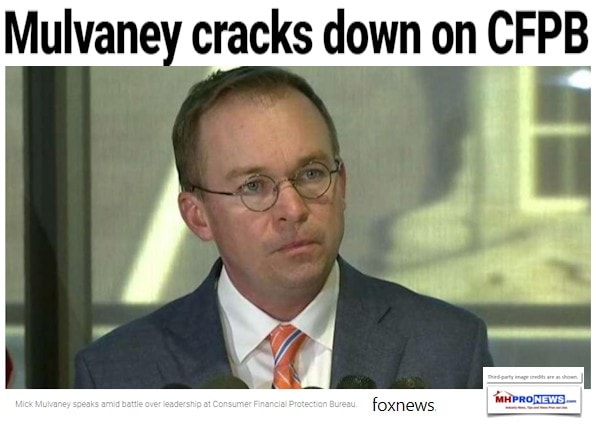 The question might be a coin toss for many in the manufactured housing industry.
Which federal agency has caused the manufactured home (MH) industry and its consumers more head-aches and heart aches in the last 5 (+/-) years?
Some would say, it's the Department of Housing and Urban Development (HUD). But others would no doubt answer that it's the Consumer Financial Protection Bureau (CFPB).
Manufactured home retailers and communities alike had their worlds upended by the CFPB.
Thus, the swift moves by White House budget director Mick Mulvaney, named by the Trump Administration as the interim director of the CFPB by until the Senate confirms a permeant nominee, will be met with some smiles by many in MHVille.
Two videos by Fox News show the state of play in the chess moves by Leandra English, who has sued to get the job that Richard Cordray gave her. For the left-right media tilt chart, click here.
Leandra English Sues to Control CFPB, Who's Legally in Charge?
The Bloomberg video points to pro-CFPB Senator Elizabeth Warren's take on the matter.
If Mulvaney and the White House prevail, it could be one of the more significant outcomes for the MH industry, which lost lenders as large as U.S. Bank due to the CFPB's onerous policies.
We've heard for some time the whispers about the now announced closure of U.S. Bank's indirect manufactured housing lending program. To protect sources, we've been unable to do more than hint before today about what is now a done deal. We didn't have a date, but knew it was 'coming.'
The article linked below names some of the others who exited the industry's lending as a result of the CFPB's regulations.
Financing is often at the heart of any deal involving a major purchase. Manufactured home sales follows that patten, with some two out of three new homes being sold involving lending. In an exclusive video interview for Inside MH , Sam Landy spoke with us about the upcoming Senate Banking Committee hearing, Dodd-Frank and the Preserving Access to Manufactured Housing Act (HR 650 and S 682).
The issue has the potential for making pursuit of Preserving Access irrelevant.
"Perverse"–Warren Buffett-Dodd-Frank, CFPB, Manufactured Housing, Loans, Independent Businesses Fact Check$
The Daily Business News will continue to track this breaking issue.  ## (News, analysis, and commentary.)
(Image credits are as shown above, and when provided by third parties, are shared under fair use guidelines.)

Submitted by Soheyla Kovach to the Daily Business News for MHProNews.com.