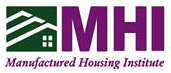 MHI Storms Capitol Hill
The highlight of MHI's Winter Meeting was the day that professionals from all aspects of the manufactured housing industry stormed Capitol Hill for visits with their Members of Congress to advocate on behalf of the industry. Undaunted by a real winter storm threatening the final day of the meeting, industry professionals knocked on a record number of doors.
The morning began with a breakfast visit from Congressman Andy Barr (R-KY) who is a member of the House Committee on Financial Services. Congressman Barr talked about his support for the industry's efforts to gain relief from the onerous provisions in Dodd-Frank that are restricting consumers' ability to obtain financing for manufactured housing. Noting that Washington, DC is "Sixty-three square miles surrounded by reality," Barr talked about his desire to bring common sense to the legislative process and rulemaking in Washington.
Congressman Barr represents Central Kentucky and counts Barry Noffsinger of CU Factory Built Lending as one of his constituents. "Although he is a Freshman Representative, Andy Barr gets it," Noffsinger said. "He realized early on the impact that overreaching legislation would have on the manufactured housing industry, the general economy, and his constituents (of which I'm one) in Central Kentucky. We are lucky to have him in our corner supporting H.R. 1779 and our industry."
Following Congressman Barr's pep talk, MHI members headed to Capitol Hill to attend nearly 100 meetings with members of the House and Senate. Armed with briefing papers on changes necessary to Dodd-Frank to protect consumers' access to credit, GSE reform, evolving energy standards and tax credits and HUD engagement, MHI members could be seen wandering the halls of Congress lobbying their local representatives in support of the manufactured housing industry.
After spending over a half an hour with Senator Dean Heller from Nevada, Leo Poggione, President of Craftsman Homes said, "In my opinion, it has never been more important to make visits to see our members of Congress. It is always more effective if your representatives hear your voice in a face-to-face situation. We are probably in the midst of one of the biggest turning points of our industry in the last 20 years and Hill visits are absolutely vital to our survival as an industry."
The visits to the Senate resulted in Senators Joe Manchin (D-WV), Rand Paul (R-KY), Lamar Alexander (R-TN), Jim Inhofe (R-OK) and Dan Coates (R-IN) cosponsoring S. 1828, the Preserving Access to Manufactured Housing Act, and others considering joining on or agreeing to write letters to the CFPB asking for similar relief at the regulatory level.
In the House (where 108 Members have already cosponsored the House companion bill, H.R. 1779) MHI members targeted in on Dodd Frank reform, as well as other issues like GSE reform and energy standards. Brad Shechtman of AMHC Management said, "The most important aspect of our visits to the Hill are the stories we can tell about ordinary folks trying to buy affordable quality homes that our industry offers. It was refreshing to see how the congressional staffers and lawmakers thoroughly enjoyed the education, statistics and information we provided about manufactured housing. When we are successful at painting the picture for our friends on the Hill, it is more likely we can influence policy."
Shechtman was already planning for the 2015 Hill strategy. "We need to build on this effort in 2014 by getting more industry professionals involved in this advocacy," he said. "I am optimistic that if we can continue to communicate to Congress and the CFPB the important issues affecting our industry, then positive change will come."
MHI Holds 2014 Legislative Conference and Winter Meeting
MHI held its 2014 Legislative Conference and Winter Meeting February 9-11 in Arlington, Virginia – two days of business and division meetings that were followed up by a day of visits to Capitol Hill by MHI members and staff.
Well-known political pundit Charlie Cook, author of The Cook Political Report, kicked off the meeting with an hour long keynote address about the current state of political affairs in America. Cook, who is a regular on cable talk shows and the national speaker circuit, referred to notes only once providing the audience with a detailed analysis of the last presidential election and how those numbers would likely impact the upcoming mid-term elections.
Cook's analysis of the mid-term elections was that Republicans are well positioned to gain seats in the United States Senate this cycle, but it is still too early to determine if these gains would be enough for them to take control of the chamber. On the House side, Cook surmised that large shifts or a change in partisan control is unlikely. If the election were held today, he estimated a Republican gain in the House of upwards of ten seats – adding that pursuing certain unpopular policy strategies like a government shutdown could easily push those numbers towards a Democratic House gain.
Turning his attention to the national stage, Cook discussed the impact of what he called "presidential fatigue" – a fatigued electorate choosing a president from the other party following a two-term White House winner. Cook noted that since the sixties only once has the party holding the presidency for eight years won in the subsequent election. Regarding the presidential election for 2016, Cook marveled at the contest receiving so much attention this far out and gave his early take on possible candidates, including Hillary Clinton, Chris Christie, Jeb Bush, Ted Cruz, Rand Paul and Marco Rubio.
Monday's lunch speaker was Dave Stevens, President and CEO of the Mortgage Bankers Association. Stevens' detailed presentation was titled "Lending Today and the Path Ahead" and he led MHI members through detailed charts and statistics on the state of home lending in America. From historical charts following the collapse of the market to the current recovery in home prices, Stevens led the audience through the many factors – Federal Reserve holdings of Mortgage Backed Securities, consumer debt levels, recovery in household debt, etc. – converging on the current housing marketplace. He noted that while many figures are improving, first-time homebuyers have still not returned to the market and speculated that the rapid increase of student loan debt is a factor. On the up side, Stevens predicted that household growth during the next 10 years should range between 12.5 million and 14.8 million. Stevens concluded his presentation discussing the added regulatory burdens resulting from the passage of Dodd-Frank, GSE Reform and the elements of housing and finance policy that will build momentum for the future.
On Tuesday morning Congressman Andy Barr (R-KY) addressed the gathering. A member of the House Committee on Financial Services, Congressman Barr talked about his support for the industry's efforts to gain relief from the onerous provisions in Dodd-Frank that are restricting consumers' ability to obtain financing for manufactured housing. Noting that Washington, DC is "Sixty-three square miles surrounded by reality," Barr talked about his desire to bring common sense to the legislative process and rulemaking in Washington.
During the meeting, MHI divisions, committees and board of directors all held meetings. Below is a short summary of what took place.
MHI Board of Directors
The MHI Board of Directors approved several motions and provided direction to the staff during its meeting. The board approved an investment policy for the association and made several decisions impacting the 2014 budget. The board approved retaining legal counsel to develop compliance information on Dodd-Frank CFPB regulations specifically impacting community owners that sell homes and also approved funding for MHI to have representation on the National Electrical Code Committee. A task force was appointed to research possible changes to FHA Title I that would increase usage of the program. The Dodd-Frank Task Force was tasked with developing a strategy over the next 18 months working with groups such as NADA Guides, DataComp and Marshall & Swift to provide an acceptable method of accurately valuing a manufactured home in a sales transaction not including land.
Financial Services Division
During the meeting of MHI's Financial Services Division members, attendees received a briefing on several key mortgage finance rulemakings issued by the Consumer Financial Protection Bureau (CFPB) that went into effect January 2014, including:
• HPML Appraisal and ECOA Guidelines: Former CFPB Senior Counsel Bill Matchneer provided an overview of the Equal Credit Opportunity Act (ECOA) rules and the HPML Appraisal rules for manufactured housing that will become effective July 2015.
• CFPB Rules Review: Marc Lifset and Jeff Barringer of McGlinchey Stafford, along with Tom Hodges, Clayton Homes, provided an overview of the various CFPB rules impacting the manufactured housing association.
Richard Appleton, Senior Director, Single Family Affordable Lending, Freddie Mac, discussed the Home Possible product offering that is available to manufactured home lenders. In addition, Kevin Stevens, Office of Single Family Program Development, Federal Housing Administration (FHA) provided information on FHA's recent qualified mortgage rulemaking.
MHI staff also provided an update on the association's activities to reform key portions of the Dodd-Frank Act.
Manufacturers Division
The Manufacturers Division heard from GAO representatives on the status of a report expected to be published in March regarding the HUD Manufactured Housing Program. The division also heard a report from Fred Hallahan, Hallahan Associates, in which he predicted growth in modular home sales of about seven percent over last year. The division also heard from representatives of the Recreational Vehicle Industry Association (RVIA) who presented arguments for changing the Manufactured Housing Construction and Safety Standards Act to specifically exclude recreational vehicles and recreational park trailers.
National Communities Council
Members of the National Communities Council division also met during MHI's recent Winter Meeting & Legislative Conference. This informal working session heard updates from Jenny Hodge, MHI staff liaison for the NCC, regarding the 2013 Fall Leadership Forum as well as the upcoming 2014 Spring Forum in Las Vegas on April 29th. The meeting was steered by NCC Vice Chairman Steve Adler of Murex Properties who asked the attendees about the true day-to-day impact of the new CFPB rules on community owners and operators. A lively dialogue across lenders, state executives, retailers and community owners ensued. This multi-faceted conversation explored how both small and large community operators face similar issues at the "street" level.
Suppliers Division
The division received an update on the Suppliers Division Membership Recruitment Initiative. Four new Suppliers Division members had joined so far in 2014. The members were provided with a current list of MHI members and were encouraged to ask anyone they are doing business with that is not a member to join MHI. Members heard updates on technical activities such as ground anchors and energy standards. The division reviewed a proposed budget for a three-year cycle for MHI representation on the National Electrical Code Committee. A motion was passed to provide this information to the MHIBoard of Directors for approval.
The division was updated on the status of the image/video project where MHIwould enlist the help from state associations to identify colleges or a school of performing arts to identify students that might be interested in acting, filming and editing videos promoting manufactured housing. Those videos would be posted on a YouTube channel set up for the project and on the ManufacturedHomeLivingNews.com Web site. Don Miner from the Oregon MHA had reached out to Oregon State University for help with this project and they were considering the request.
Federated States Division
The members of the Federated States Division heard a presentation by Kevin Stevens, Acting Director of the Office of Single Family Program Development. FHA has indicated an interest in increasing its loan activity for manufactured homes under both FHA Title I and Title II programs. Under HUD's Qualified Mortgage Rule, FHA Title I and Title II manufactured home loans are exempted from the up-front point and fee limits and are deemed Safe Harbor Qualified Mortgages. HUD staff encouraged MHI to provide input on any changes needed to Title I to make it more practical for the industry. Only 700 Title I loans were made in 2013.
Manufactured Housing Educational Institute
The Manufactured Housing Educational Institute (MHEI) Board of Directors met and discussed the need to review the two programs within the Professional Housing Consultant (PHC®) course curriculum related to financing to ensure that content is relevant to current industry practices following the passage and implementation of the Dodd-Frank Act. In addition the board discussed opportunities to provide training through MHEI's online course system on CFPB regulatory requirements for the industry. Efforts are currently underway to add new manufactured home installation programs to the online training site. The board also discussed the need for updates to the Accredited Community Manager (ACM®) curriculum.
MHI-PAC Board of Trustees
The MHI-PAC Board reviewed a 2013 year-end report of fundraising initiatives and contributions to federal candidates and discussed activities and metrics for 2014. The PAC Board approved 2014 budgets for both MHI-PAC and the PAC Administrative Fund, which underwrites the administrative and operating costs of raising money for the industry's bipartisan political action committee (PAC). To date in 2014, MHI-PAC has raised more than $23,000 due to early outreach in January, including the Louisville Show, as well as PAC pledge renewals during the MHI Winter Meeting. Additional fundraising events are being planned for the Tunica Show in March, the 2014 National Congress & Expo in Las Vegas, including the 10th Annual Oliver Technologies Golf Tournament on Monday, April 28th, as well as MHI's Annual Meeting in Arizona, which includes a golf tournament on Sunday, September 14th and the annual PAC Raffle and Silent Auction on Monday, September 15th. Thus far during the 2013-2014 election cycle, MHI-PAC has contributed more than $69,000 (out of the $100,000 budget) to 37 federal candidates for U.S. Congress who support the policy goals of the manufactured and modular housing industry. For more information, please contact Gay Westbrook, MHI-PAC Treasurer, atgwestbrook@mfghome.org or (703) 229-6212.
Government Relations Committee
Members of MHI's newly reconstituted government relations committee met for the first time during the association's Legislative Conference and Winter Meeting. Members of the committee include representatives from each of MHI's divisions. Committee members include:
• Nathan Smith, SSK Communities (Chair)
• Michael Bowen, American Modern Insurance Group (Vice Chair)
• Leigh Abrams, Lippert Components
• Steven Adler, Murex Properties
• Kevin Clayton, Clayton Homes
• Jayar Daily, American Homestar Corp.
• Dick Ernst, FINMARK
• Mary Gaiski, Pennsylvania Manufactured Housing Assoc. (as non-voting member/MHEC Chair)*
• Jennifer Hall, Mississippi Manufactured Housing Association
• Ross Kinzler, Wisconsin Housing Alliance
• Rick Martin, Heartland Homes
• Leo Poggione, Craftsman Homes
• Brad Shechtman, AMHC Management
• Tim Williams, 21st Mortgage
During the meeting, committee members approved the roles and responsibilities of the committee and a recommendation the MHI Board of Directors adopt 2014 policy priorities focused on reform of Dodd-Frank and the GSEs; revising energy efficiency standards for manufactured housing being developed by the Department of Energy; extension and expansion of the New Energy Efficient Home Credit (I.R.C. 45L); and improving HUD's administration of the manufactured housing program.
MHI staff provided meeting participants with an overview of the association's legislative and regulatory activities, in support of the industry's advocacy agenda. In addition, MHI staff provided information on the association's activities to increase its grassroots lobbying capacities through the use of new online technology resources.
Technical Activities Committee
The MHI Technical Activities Committee discussed the impact of pending changes to the MHCSS and requested that MHI send a letter to HUD requesting additional guidance on several items including responsibilities of third parties regarding the review of manufacturers' service records, and several other technical items in the final regulations. The committee also agreed to send to the Manufactured Housing Consensus Committee a number of proposed recommendations for changes to the standards, including changes to label-distribution requirements, and the elimination of existing requirements that certain appliances must be designed specifically for use in a manufactured home. The TAC committee also agreed to recommend to the MHIManufacturers Division support for a proposal by the Recreational Vehicle Industry Association to amend the Manufactured Housing Construction and Safety Standards Act to specifically exclude recreational vehicles and recreational park trailers.
MHI thanks the following sponsors for their generous support of this meeting.
Silver Sponsors
Assurant Specialty Property
CIS Home Loans
Lippert Components
Bronze Sponsors
Cavco Industries, Inc.
Clayton Homes, Inc.
CU Factory Built Lending
Inspire Communities
McGlinchey Stafford PLLC
U.S. Bank
Advance Envelope Design Project Moves to Testing Phase – SBRA to Test Next Generation Manufactured Homes
Partnering with the U.S. Department of Energy's Building America Program and the Tennessee Valley Authority, the industry, through its research arm, the Systems Building Research Alliance (SBRA) will spend the next year testing energy performance in manufactured homes.
SE Homes, Inc., (a division of Clayton Homes) was selected to build three homes each of which will be built to a different level of energy efficiency: a home that will be built to minimum HUD thermal requirements; an ENERGY STAR home; and a home that meets the very ambitious requirements of the U.S. Department of Energy's Challenge Home Program. Under the DOE Challenge Home program home builders receive a special designation for homes that meet rigorous requirements to ensure outstanding levels of energy savings, comfort, health and durability. The SE Homes, Inc., test home will be the first manufactured home in the nation to qualify for the DOE Challenge Home designation.
The side-by-side tests are intended to answer a fundamental question: Do energy saving benefits justify the costs associated with achieving these exemplary levels of energy performance? The project will also provide insight into other related issues such as:
• What specific combinations of measures provide the optimal investment in energy efficiency improvements; that is, minimize home ownership costs?
• To what extent do advanced envelope designs—those designs with very high R values, reduced thermal bridging and air tight construction—contribute to overall energy savings and how can these measures be seamlessly integrated into the home production process?
• Can high performance ductless, mini-split heat pumps be successfully integrated into the factory building process in a cost effective manner, to give manufacturers total control over the design and installation of the HVAC system?
• Do high performance homes introduce building science challenges that need to be addressed as standards and building practices become more stringent?
For additional information about the project contact Lois Starkey atlstarkey@mfghome.org or (703) 558-0654 or Gwynne Koch, atgkoch@research-alliance.org.
Countdown to Vegas – Register Today for the 2014 National Congress & Expo for Manufactured and Modular Housing to be held on April 29 – May 1, 2014 at Caesars Palace in Las Vegas, NV
The 2014 Congress & Expo is only two months away. Click here to register for the 2014 Congress & Expo. Early-bird registration is available until March 28, 2014. The drawing has taken place for the winner chosen from the first 100 paid registrations to win an ipad or complimentary registration. Find out who won by clicking here and liking us on Facebook.
Make your hotel reservation online or call Caesars Palace at 866-227-5944. To receive the low rate of $119 per night, ask for the MHI Congress & Expo room block or mention our group code SCMHI4. The deadline for the early-bird rate expires on March 28, 2014.
The Congress & Expo is the largest annual gathering of industry leaders featuring outstanding speakers, workshops, exhibits, and networking opportunities! Visit www.congressandexpo.com for details on this event. The theme for this year's event is Creating Opportunities – Building Success.
Your Congress & Expo registration fee includes:
• Full Access to the Exhibit Hall
• Welcome Reception in Exhibit Hall
• Wednesday Breakfast and Keynote Speaker Ken Segall
• Awards Luncheon
• Educational Workshops
• Networking Reception in the Exhibit Hall
• Thursday Breakfast and General Session Speaker Chris Fisher
• Coffee breaks throughout each morning
• Complimentary WiFi in the Exhibit Hall, General Sessions, & Educational Workshops
The 10th Annual Oliver Technologies, Inc. Golf Tournament on Mondayafternoon, April 28th and Tuesday's MHI-National Communities Council Spring Forum, April 29th are available for additional fees.
Reserve Your Exhibit Booth Space Today – Space is Filling Quickly!
For information on exhibiting, please click here to view the floor plan, booth prices, the list of 2014 exhibitors and to reserve your booth space. Booth prices have been reduced which makes exhibiting at the Congress & Expo an even greater value.
Sponsors
Interested in sponsoring? Excellent opportunities are available – click hereand look under Tradeshow Sponsorship, Exhibiting and Advertising Opportunities. New sponsorship opportunities were added for 2014, so take a look!
Thanks to the following sponsors for helping make this event possible.
Platinum Sponsors
Marcus & Millichap
Oliver Technologies, Inc.
RHP Properties, Inc.
Sunstone Manufactured Housing Consultants
Gold Sponsors
Assurant Specialty Property
Inspire Communities
UMH Properties, Inc.
Wells Fargo
YES! Communities
Silver Sponsors
CU Factory Built Lending
Lippert Components, Inc.
MHVillage, Inc.
Shaw Industries, Specialty Markets
Southeast Auction Company
Bronze Sponsors
CBRE National MHRV Team
Riverstone Communities
U.S. Bank
Enter the 2014 Land-Lease Community and Retail Sales Center of the Year and Manufactured and Modular Home Design Awards through MHI's Online Awards System
Click here to enter or view information on the 2014 Land-Lease Community and Retail Sales Center of the Year and Manufactured and Modular Home Design Awards. Through the online system, you can enter the National Industry Awards competition, find eligibility information and submission requirements, view the contest rules, pay entry fees, and upload all of your entry files for judging online. The deadline for submitting entries, paying the fees, and submitting materials online for judging is March 12, 2014.
The National Industry Awards are presented each year at the National Congress & Expo for Manufactured and Modular Housing. This year, the Congress & Expo will be held April 29 – May 1, 2014 at Caesars Palace in Las Vegas. Click here for information on the 2014 Congress & Expo. Awards will be presented on Wednesday, April 30th. Each award winner receives a personalized trophy and the entry will be placed in MHI's online Photo Gallery.Click here to view.
Please note the following membership requirements for entering the competition:
– Manufacturers that enter the Manufactured and Modular Home Design Awards competition must be a member of the Manufactured Housing Institute (MHI).
– Retailers that enter the Retail Sales Center of the Year Award competition must be a member of the state association in the state where the sales center is located.
– Communities that enter the Land-Lease Community of the Year Award competition must be a member of the state association in the state where the community is located.
If you have any questions, please contact Cheryl Berard at (703) 558-0668 orcheryl@mfghome.org.