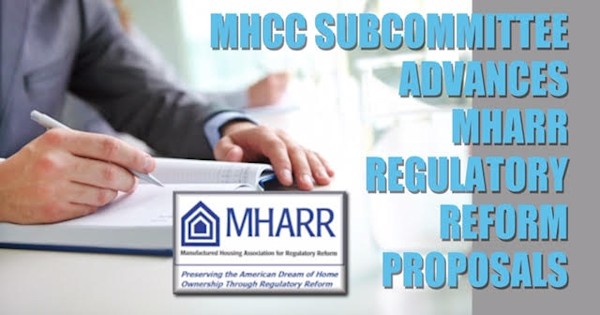 The General Subcommittee of the Manufactured Housing Consensus Committee (MHCC), during marathon conference calls on July 24 and July 30, 2019, has advanced a number of key HUD manufactured housing program regulatory reform proposals submitted by MHARR in written comments to HUD on June 7, 2017, February 20, 2018 and April 25, 2018, and subsequently provided to MHCC members in advance of the MHCC's April 2019 in-person meeting.  MHARR's proposals, along with others referred by the Subcommittee, will now go to the full MHCC for consideration at an in-person meeting expected to be held in October 2019. Once endorsed by the full Committee, the proposals will be forwarded to HUD for final action in accordance with Trump Administration Executive Orders (EO) 13771 and 13777.
In the interim, other significant MHARR regulatory reform proposals set forth in its written comments (including, but not limited to, repeal and reform of the excessive and costly HUD on-site completion rule; Subpart I reform; and the withdrawal and replacement of pre-2000 HUD "guidance" improperly limiting the scope of federal preemption in violation of the 2000 reform law) have been assigned to the MHCC's Regulatory Enforcement Subcommittee, which is currently scheduled to hold extended conference call meetings on August 6, 2019 and August 14, 2019. Still other matters addressed in MHARR's comments pursuant to EOs 13771 and 13777 are expected to be assigned to other MHCC subcommittees in advance of the October 2019 in-person meeting.
The MHARR regulatory reform proposals advanced by the General Subcommittee include:
DRCs ["De-Regulatory Comment" as denominated by HUD] 77 and 219: These proposals call for the withdrawal of sub-regulatory HUD "Field Guidance" memoranda issued without notice and comment rulemaking.In advisories issued in 2017 and 2018, the U.S. Department of Justice (DOJ) clearly stated: (1) that new regulatory mandates cannot be imposed through "field guidance" that has not gone through the notice and comment rulemaking process; (2) that DOJ will not enforce sub-regulatory "guidance" memoranda through civil enforcement actions; and (3) that unpublished "guidance" may not be used as evidence to establish a violation in a civil enforcement action.
DRC 7: This proposal calls for the withdrawal of HUD actions which seek to impose federal mandates and federal requirements on states with state-law installation programs. This includes, but is not limited to, HUD's dormant "frost-free" foundation Interpretive Bulletin (IB) and related "field guidance." The 2000 reform law was purposely structured to allow states to establish and maintain existing state law installation programs without micro-management by HUD.  This proposal would restore proper state authority by preventing regulatory impositions by HUD pursuant to policies initiated by the former program administrator.
DRC 264: This proposal calls on HUD to provide proper funding for State Administrative Agencies (SAAs). Over at least two decades, the HUD program has needlessly increased contractor funding while simultaneously shortchanging SAA funding. MHARR's proposal seeks to reverse this trend and provide the funding needed to maintain state participation in the HUD program. Insofar as HUD has already initiated proposed rulemaking on this matter, the Subcommittee comment on this proposal calls on HUD finalize that rulemaking in a timely way.
In addition to these actions, the Subcommittee voted to conduct further research and further debate regarding DRC 281, an MHARR proposal calling for the withdrawal of a HUD 2010 Interpretive Rule (issued without notice and comment by former program administrator William Matchneer) which drastically limits the types of regulatory, sub-regulatory and pseudo-regulatory matters which must be brought to the MHCC and subjected to notice and comment rulemaking, contrary to the Manufactured Housing Improvement Act of 2000. Under the express language of section 604(b)(6) of that law, all changes in policies and procedures relating to the HUD manufactured housing standards and their enforcement must go through the full rulemaking process. The 2010 rule issued without notice and comment effectively – and improperly – reads this section out of the law in violation of the direct mandate of Congress.
A further MHARR regulatory reform proposal – calling for the withdrawal of a pending "voluntary" fire sprinkler standard for manufactured homes advanced before the MHCC by the Manufactured Housing Institute (MHI) — was not approved by the Subcommittee. As MHARR noted at the meeting, long experience with the HUD program would indicate that a so-called "voluntary" standard will not remain "voluntary" for long, and would ultimately become mandatory. Moreover, there is no precedent whatsoever for a "voluntary" standard under federal manufactured law and no guarantee that a "voluntary" HUD standard – as contrasted with a mandatory federal standard – would be deemed to be preemptive by a state or local jurisdiction or, more importantly, a reviewing court. During discussion of this matter, former HUD program administrator William Matchneer indicated that such a "voluntary" rule was authorized by HUD's Office of General Counsel (OGC). MHARR pointed out in response, however, that this point is irrelevant, as President Trump's Executive Orders 13771 and 13777 assume that the regulatory reform process will result in the remove or withdrawal of existing regulations regardless of any prior intra-agency process.  MHI, for its part, called, in writing, for the rejectionof MHARR's proposal and thereby supported the pending fire sprinkler standard.
Lastly, regardless of baseless posturing by other groups, MHARR submitted specific, targetedregulatory reform action items in its 2017 and 2018 submissions to HUD, with copies of its extensive February 20, 2018 proposals provided to the full MHCC in advance of its last in-person meeting. All of the targeted proposals contained in those comments were designed to advance specificreform objectives of the 2000 reform law that have either been ignored or emasculated by the HUD program under prior leadership including, particularly, former program administrator Pamela Danner. Their advancement and ultimate adoption is essentialto the full, proper and final implementation of both the 2000 reform law and to the fulfillment of the objectives of both President Trump and Secretary Carson under EOs 13771 and 13777.
MHARR will continue to aggressive advance these regulatory reform proposals which were submitted to the administration beginning immediately following the publication of regulatory reform Executive Orders 13771 and 13777 in 2017.
MHARR Calls on New Fannie Mae CEO Hugh Frater to Fully and Properly Implement Federal Law
8 Months of Declining Year-Over-Year HUD Code Manufactured Home Production – When Will Manufactured Housing Institute Act?