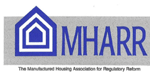 Dear Mr. Tolley:
Your May 5, 2014 article, "Mobile Homes Often Death Traps," is long on sensationalism and short on facts – at least accurate ones.
From the start, the premise of the article is false and misleading. It quotes Mississippi Insurance Commissioner Mike Chaney as stating that "manufactured homes … are not built to any type of code." But this is simply not true.
Manufactured homes that are designed and built to be permanent residences have been federally regulated by the U.S. Department of Housing and Urban Development for nearly forty years. The federal building code for manufactured homes enforced by HUD – and in some instances state regulators — includes specific standards for wind resistance that were significantly upgraded in 1992, following Hurricane Andrew. And, since 2008, the federal manufactured housing regulations, with industry support, have included comprehensive installation standards developed by a federal consensus committee comprised of consumers, industry members, state government representatives and independent experts.
Just as importantly, your article fails to distinguish between modern-day, federally regulated "manufactured homes" and other types of structures — such as recreational vehicles "park model" trailers and campers, that are not designed as dwellings and are not, in fact built to any type of mandatory construction or building code — or even old, pre-HUD Code "mobile homes." Indeed, the National Weather Service itself fails to define either "manufactured home," or "mobile home" in its official glossary of terms, meaning that its statistics could well include structures that are not, in fact, "manufactured homes" as produced today.
The fact is that no structure can withstand a direct strike by a severe tornado or major hurricane – as demonstrated by recent damage to the Winston Medical Center in Louisville, Mississippi and the destruction of all types of structures during Hurricane Katrina. Today's manufactured homes, however, combine quality and safety – as required and enforced by federal law – while providing the nation's most affordable source of home ownership.
Your article, unfortunately, provides neither accuracy, clarity, or balance on this important issue
Sincerely,
Danny D. Ghorbani
Mobile homes can be tornado death traps
Jerry Mitchell, The Clarion-Ledger 9:24 a.m. CDT May 5, 2014
A Gannett Company
Odds are up to 20 times higher you will die in a tornado in mobile home than if you lived in a foundation-built home.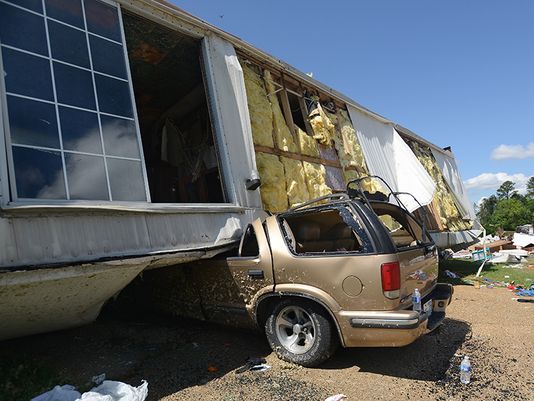 A mobile home was flipped upside-down and came to rest on an SUV when a powerful tornado tore through Highlands trailer park in Pearl, Miss.(Photo11: Joe Ellis/The Clarion-Ledger)
Live in a mobile home? The odds are up to 20 times higher you will die at the hands of a tornado than if you lived in a foundation-built home.
In 1980, a fourth of all tornado deaths in the U.S. came in mobile homes. Now half the deaths take place there.
"Mobile homes are economical, but there's a trade-off when there's a tornado watch and certainly a tornado warning," said State Climatologist Mike Brown. "You've got to get out of them."
The Mississippi State University professor pointed to a family of four in a traditional home surviving the tornado that struck Louisville. "In my opinion, they would have been killed if they had been in a trailer," he said.
Of the 31 tornado deaths in the nation so far this year, more than half of those (where the National Weather Service has recorded details of deaths) have involved people living in mobile homes.
State Insurance Commissioner Mike Chaney said a number of those killed by last week's tornado in Louisville were living in manufactured homes. "They are not built to any type of code," he said.
Earlier this year, Chaney tried to get lawmakers to include manufactured homes in state building codes. "When you put in codes, you save lives, save property and get a lower insurance rate," he said.
Chaney said Jennifer Hall, executive director of the Mississippi Manufactured Home Association, got the Senate to exempt manufactured homes from the code. She could not be reached Friday for comment.
He said these manufactured homes can become "deadly missiles" and "the metal can cut you in two."
If there are four mobile homes gathered in one place, Chaney recommends the construction of a safe room for people to go.
Kevin Simmons, professor of economics at Austin College and author of "Economic and Societal Impacts of Tornadoes," said with mobile homes, "a lot of people just roll them up, get them level, hook up the electricity and hook up the plumbing."
A Texas Tech University study found that mobile homes secured properly can survive less powerful tornadoes, he said.
In 2007, tornadoes struck Lake County, Fla., and killed 21 people.
"All of them were in mobile homes," Simmons said. "People are dying in storms where they wouldn't die in permanent homes."
Since the 1920s, the number of deaths from tornadoes in the U.S. has declined, but since the early 1990s, the number of deaths has leveled off, said Harold Brooks, a senior research scientist with the National Severe Storms Laboratory in Norman, Okla.
One big reason is the growing mobile home population, he said.
In 1950, less than 1 percent of Americans lived in mobile homes. A half-century later, that number rose to between 7 and 8 percent in the U.S. and to about 15 percent in the Southeast.
The figure is higher in Mississippi — 21 percent.
Simmons said better technology and better communication have contributed to saving lives.
Since Doppler radar was installed in the early to mid-1990s, he said the tornado death rate has dropped more than 40 percent, adjusting for deaths in mobile homes.
Before Doppler, people had a warning time of about five minutes before a tornado hit, he said. Now that warning time is about 15 minutes.
A newer technology known as dual polarization, which emerged in 2011, helps meteorologists spot flying debris, letting them know a tornado is actually occurring.
Simmons worries that if new technologies give people 30 minutes to act, they may try to outrun a tornado.
A meteorologist in Oklahoma City recently urged viewers to do just that, he said. "My jaw hit the floor. I couldn't believe it."
Four of the 14 who died in Mississippi were in their cars.
Brown said cellphones and social media are helping spread warnings of possible tornadoes.
What he and others found in studying the 2011 Smithville tornado that killed 16 is that people did act after they received warnings from two different sources.
"All of the individuals who did not take shelter knew about the tornado before it occurred," the study says.
Brooks said the dry winds blowing high above the Rockies colliding with the warm, moist air coming up from the Gulf of Mexico provide the most ideal conditions on earth to create thunderstorms and, in turn, tornadoes.
Brown said Mississippi and Alabama produce the nation's most powerful tornadoes.
"We tend to get our tornadoes during seasonal shifts — early spring and late fall — when the jet stream is strong and providing the shear necessary for rotating storms," he said.
Mississippi has more tornado deaths than places such as Kansas or Oklahoma because they are "reasonably flat," he said. "We have rolling hills. You can't see tornadoes until they're almost on you."