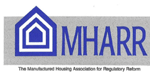 Given the key role of personal property (chattel) financing in the manufactured housing market — with U.S. Census Bureau data showing that 74 percent of new manufactured homes placed for residential use in 2010 were titled as personal property (up from 64 percent in 2006) – MHARR is intensifying its efforts to advance the systematic, high-volume securitization and/or purchase (S-P support) of manufactured home chattel loans by the two Government Sponsored Enterprises (GSEs).
As was addressed in greater detail at the March 2012 MHARR meeting in Tunica, Mississippi, manufactured home loans comprise less than one percent of the GSEs' total portfolio and the GSEs, at present, provide no S-P support for manufactured home chattel financing, notwithstanding Congress' 2008 "duty to serve" (DTS) directive to facilitate a secondary market for manufactured home obligations, including chattel loans. After two years, the proposed June 7, 2010 DTS implementation rule published by the GSEs' federal regulator — the Federal Housing Finance Agency (FHFA) – remains in limbo and, as published, would exclude chattel financing in any event.
Based on this context and the relevant facts, i.e. – (1) that the lack of S-P support for manufactured home chattel loans prevents large numbers of consumers from purchasing manufactured homes; (2) that the GSEs were created specifically to provide market support for affordable housing such as manufactured homes; (3) that the GSEs for decades prior to their insolvency distorted this mission by focusing increasingly on higher-cost housing, leading to their collapse; (4) that the GSEs have demonstrated an inability and unwillingness to distinguish between today's modern post-Manufactured Housing Improvement Act of 2000 manufactured homes and the "trailers" of yesteryear; (5) that the GSEs' federal regulator – FHFA — itself has not analyzed or addressed the needlessly restricted availability of manufactured home chattel financing and the corresponding impact on the industry, its smaller businesses and consumers of affordable housing; and (6) that in spite of these obstacles and a sustained poor economy, many more lower and moderate-income homebuyers, with the industry producing its best homes ever, would no doubt purchase an affordable manufactured home, if chattel financing was more readily available — MHARR, as was decided at the March 2012 meeting, has intensified its efforts with new initiatives seeking to advance federal S-P chattel financing support outside of DTS.
As part of this effort, an MHARR delegation including manufacturer chief executives met with FHFA officials on May 24, 2012. At that meeting, FHFA, like the GSEs and the Federal Housing Administration (FHA), continued to cite outdated, decades-old loan performance data as an excuse for policies that discriminate against manufactured housing and manufactured homebuyers, having conducted no new research or independent studies showing the loan performance of today's modern manufactured homes with proper installation and consumer protection in all 50 states as required by the 2000 law.
The current reality, as emphasized by MHARR, is that: (1) a profitable model for manufactured home chattel lending is already well-established within the industry and GSE S-P support for such lending – with proper pricing and underwriting – could easily become a productive business consistent with FHFA's goals of conserving the GSEs' assets and protecting the interests of taxpayers, as shown by the fact that loan delinquencies for manufactured homes dropped to 3.76% from 4.08% during the fourth quarter of 2011, while the national mortgage delinquency rate rose to 6.01% at the end of the fourth quarter of 2011; and (2) the performance of manufactured housing loans – at less than one percent of the GSEs' total portfolios and with much lower per home loan amounts than other types of homes – was not responsible for their failure in 2008 and, because of the lower cost of manufactured homes, would not impair either their successful rehabilitation or the successful transfer of their functions to a successor entity or entities, even if the GSEs purchased or securitized every manufactured home loan for the indefinite future.
A summary of the May 24, 2012 MHARR-FHFA meeting and a comprehensive explanation of the need for – and value of — a federal S-P support program for manufactured home chattel loans are detailed in a June 1, 2012 MHARR letter to FHFA (copy attached). As the letter indicates, depending on FHFA's official position on this matter, as well as the outcome of the 2012 presidential and congressional elections which will impact the future of the GSEs, MHARR might need to seek congressional intervention and possibly a legislative remedy to address this issue.
In addition – and as reported earlier – FHFA, on June 11, 2012, published proposed affordable housing goals for the GSEs for the three-year period from 2012 to 2014. Because manufactured housing is affordable housing and is specifically referenced by the proposed rule, MHARR will submit detailed comments to FHFA on this rulemaking to once again stress the urgent need for federal S-P support for manufactured home chattel loans and detail the pertinent facts.