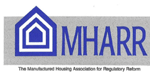 As previously reported, Congress – as a byproduct of intensive engagement by MHARR — on November 29, 2011 requested that the Government Accountability Office (GAO) conduct a thorough probe of the federal manufactured housing program, including an investigation of its implementation of the Manufactured Housing Improvement Act of 2000. MHARR officials subsequently met with senior GAO probe managers onJanuary 18, 2012 to provide general information regarding the 2000 law and HUD program compliance issues.
Now, MHARR has held a follow-up June 7, 2012 meeting with GAO investigators to begin explaining in greater detail – and expanding on — specific violations of the 2000 law by HUD regulators and the impact of those violations on manufacturers and their day-to-day in-plant activities, including recent developments relating to: (1) restrictions on the role and independence of the Manufactured Housing Consensus Committee (MHCC); (2) major changes to in-plant inspection practices without prior MHCC review, approval by the HUD Secretary and rulemaking as required by the 2000 law; (3) the connection between these make-work inspection changes and a HUD-projected $1 million cost increase for in-plant monitoring when the program monitoring contract is re-bid later this year; (4) other major inspection-related policies announced without MHCC review, Secretary approval and rulemaking, such as conflicting and discriminatory policies for Alternate Construction (AC) approvals; (5) attempted standards changes without MHCC review and related procedures; and (6) the current suspension of all MHCC activities under the guise of technical "glitches" regarding the payment of the MHCC Administering Organization (AO).
At the June 7, 2012 meeting, MHARR addressed each of the foregoing subjects, but emphasized two key points that were further explained in a follow-up written communication with the GAO team. First, the procedures and "enhanced" checklists of expanded in-plant regulation go well beyond the requirements of the existing HUD Procedural and Enforcement Regulations. Although the HUD program maintains that the Department is free to impose additional inspection criteria under 24 C.F.R. 3282(d), which states that "manufacturers may be required to furnish supplementary information to the DAPIA if the design information or the quality assurance manual … is not in accordance with accepted engineering practice," the Department has never identified any specific deficiencies in "accepted engineering practice" that allegedly existed prior to the expanded regulation SOP and "enhanced" checklists, nor has it ever identified a source or baseline for determining what is or is not an "accepted engineering practice."
Second, MHARR methodically — and in detail — explained that section 604(b)(6) of the 2000 law expressly requires MHCC review, (HUD) Secretary approval and rulemaking for any "change" in "policies, practices, or procedures relating to … inspections." And while the SOP, "enhanced checklists," and altered audit procedure — designed to change the focus of the inspection process to a "golden QA system" — certainlydo that, those changes were never presented to the MHCC under a February 5, 2010 HUD "Interpretive Rule" issued without public comment, stating that section 604(b)(6) only applies to actions that would constitute a "rule" under the Administrative Procedure Act (APA). As MHARR has pointed out in congressional testimony, though, this interpretation makes no sense, because APA rules by definition are subject to rulemaking and public comment under the APA, which would include any MHCC comments. Interpreting section 604(b)(6) this way means it adds no new procedural safeguards beyond the APA and effectively reads that section out of the 2000 law.
In conjunction with this discussion and follow-up communication, and to continue sharpening the focus of the GAO probe regarding HUD program violations of the 2000 law and their impact on smaller industry businesses, MHARR has now provided additional documents to GAO, including:
· HUD's "Quality Assessment Process Description-Standard Operating Procedure;"
· HUD's Quality Assurance Process Chart
· HUD's "Quality Assurance Manual Enhanced Checklist Based on Quality Emphasis;"
·HUD's September 2, 2009 Revised "Quality Assurance Manual Enhanced Checklist Based on Quality Emphasis;"
·A December 8, 2009 MHARR communication to HUD stating that Standard Operating Procedure and "enhanced" checklists violate the 2000 law;
·A March 3, 2010 "Field Guidance" memorandum from career program administrator William W. Matchneer, III changing the status and basis of expanded in-plant regulation from "cooperative assistance" to "not voluntary."
·HUD's May 10, 2010 "Field Guidance – Certification Reports and Updating Certification Reports;" and
·The monitoring contractor's November 2010 "Pilot Audit Process Structure"
MHARR will continue its interaction with GAO to provide the investigative team with new and relevant information detailing and explaining HUD violations of the 2000 law's open, transparent and accountable consensus approval and rulemaking procedures while, at the same time, continuing to pursue related initiatives, including legal options.