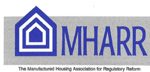 MHARR Echoes President-Elect And Congress In Calling For Moratorium On Pending Regulations — Targets Three
Critical Manufactured Housing Regulations
Washington, D.C., November 21, 2016 – The Manufactured Housing Association for Regulatory Reform (MHARR) has joined President-Elect Trump and the leadership of Congress in calling for federal agencies to place a moratorium on pending regulatory actions during the final days of the Obama Administration.
In communications sent on November 18, 2106 (please see copies attached), MHARR specifically  calls on the heads of three federal agencies – the U.S. Department of Energy (DOE), the U.S. Department of Housing and Urban Development (HUD) and the Federal Housing Finance Agency (FHFA), all of which have pending highly-controversial rules or other actions that, if implemented as-is, would have severely negative impacts on both the manufactured housing industry and American consumers of affordable housing — to defer any further activity on those matters for the remaining duration of the Obama Administration.
Specifically, MHARR's communications target pending regulatory actions involving manufactured housing that represent prime examples of the type of federal regulatory over-reach  that the incoming Trump Administration has promised to roll-back.  These include the pending DOE "energy conservation" rule, which could needlessly increase the cost of new manufactured homes by $6,000 or more while further undermining competition within the housing market; the pending so-called HUD Frost Free Foundation "interpretative bulletin," whereby HUD, with no basis or justification whatsoever, seeks to effectively federalize the regulation of manufactured home installations in all 50 states contrary to the Manufactured Housing Improvement Act of 2000 – including 37 states with previously-approved state law installation programs and standards; and the pending FHFA rule on the duty to serve underserved markets (DTS), unless a final DTS implementation rule (unlike the December 2015 FHFA proposed rule) includes the full securitization of manufactured home chattel loans on a going basis.
MHARR's communications echo not only the position on federal regulation enunciated by President-Elect Trump during the recent election campaign, where he stated that he would "eliminate" wasteful and unnecessary federal regulations "which kil[l] jobs, and which d[o] not improve public safety," but also a specific instruction to all federal agencies by Congress, set forth in a November 15, 2016 letter signed by the Majority Leader and the Chairmen of all standing congressional committees, calling on the agencies to defer "finalizing pending rules or regulations in the Administration's last days." Significantly, Congress' letter emphasizes that if its "counsel" is "ignored," it will "scrutinize" any such actions – "and, if appropriate, overturn them – pursuant to the Congressional Review Act," which allows Congress to reject certain regulations within 60 legislative days of enactment.
MHARR will closely monitor all regulatory activity affecting manufactured housing during the remaining term of the Obama Administration, and will keep the industry apprised – and take further steps — as warranted.