Let's start with two words, "Leave early!"
It is way before dawn on Tuesday, January 21st when this blog post was started. The airport's Crown Plaza was already humming last night as Manufactured Housing professionals from across America were streaming in. Speaking of buzz, the saws were humming, hammers beating out their sharp rhythm inside the Kentucky Expo Center. The final work on exteriors, décor and other finish work on 48 homes is in full swing.
Those 48 homes have almost magically appeared under one gigantic, climate controlled roof. Imagine, some subdivisions only have about 4 dozen homes, and this went in and came together so quickly! That's our amazing industry.
Pipe, drape, tables, seats and carpet are all in motion. Hats off to Dennis Hill, the MMHF, exhibitors and all who pull together make this show happen. The annual Mecca of Manufactured Housing – the Kingdom of Factory Built Commerce – is about to commence!
To the north, there are some tougher conditions. But winter's temps, snow or other factors won't deter an estimated 2,400+ professionals from all parts of our industry from attending the 2014 Louisville Show.
By 2:20 PM, the sun was out, and streets in Louisville were in pretty decent shape. The point is… "neither snow, nor rain, nor sleet, nor gloom of night shall keep us…" from making this trip!
We are not alone. I had breakfast this morning with a major community operator professional who will have many people from their firm's team here in Louisville. We've seen a lot of other familiar faces already, clients or pros we are connected to on LinkedIn, etc.. Lunch saw streams of familiar faces as we broke bread with a familiar personality in our industry and one new one.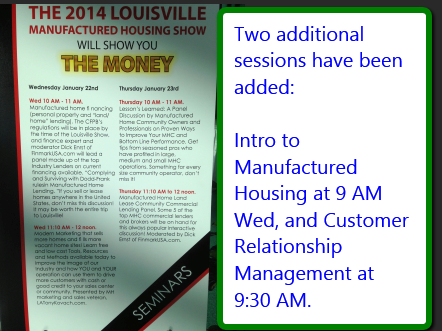 The mood here is already upbeat, even with the weather! There are great reasons why the mom-and-pops to the largest names in our industry will be here Wednesday at 9 AM -Friday at noon.
The next 60 hours will be big, if you haven't left yet, start now! If you are already here, we look forward to seeing you at booth #115, on the show floor or mornings in the "Show Me the Money!" Seminar Room. See the photo above for a visual on where the seminars will be held.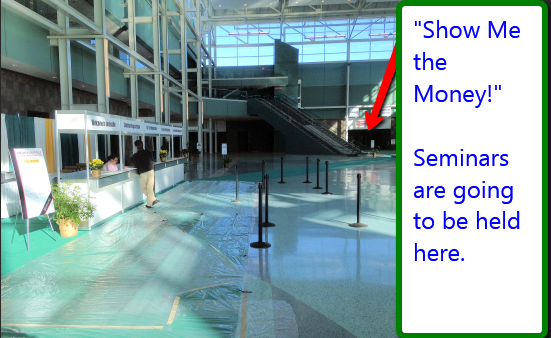 http://louisvillemanufacturedhousingshow.com/louisville-2014-show-money-seminars/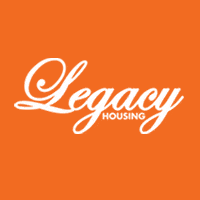 We will be at booth #115, when I'm not there, it will be the seminar room or show floor during the day, mixers in the evening. What a great event!
Side Note! If you haven't looked at our update home page on MHProNews.com, please take a look. Scroll past the Featured Articles in the 2 center columns, and check out the two new modules. More are in the works!
Back to the Big Event. If you are here in town, welcome to Manufactured Housing's annual Mecca! If you are coming tomorrow, please leave early, be safe and see you soon. Please stop in, do some business and if your time permits, say hello. ##
(Photo Credit: Brad Nelms, ManufacturedHomes.com)
L. A. 'Tony' Kovach
ManufacturedHomeLivingNews.com | MHProNews.com |
Business and Public Marketing & Ads: B2B | B2C
Websites, Contract Marketing & Sales Training, Consulting, Speaking:
MHC-MD.com | LATonyKovach.com | Office 863-213-4090
Connect on LinkedIN:
http://www.linkedin.com/in/latonykovach