Let's be frank.  As nice as a roughly 15% growth of 2016 over 2015 is, manufactured housing could be several times larger than its current annual shipment rates.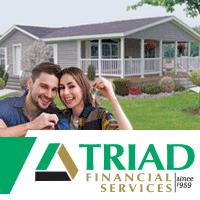 The Trump Administration which is touting more pro-business postures, offers the manufactured housing industry an amazing opportunity.
Will the free enterprise solutions to the affordable housing crisis – that manufactured homes uniquely offers – be capitalized upon?
Stay tuned…
MODs and HUDS
No one in media or trade publishing covers prefab, modular and manufactured housing in as much depth and frequency as MHProNews and MHLivingNews do.  We are also by far the most read, and most trusted source for Industry News Tips and Views Pros Can Use.  ©
Every segment of the factory-crafted home market should periodically step back and see the broader picture.
Those in MHLand ought not overlook the rising role of modular housing in the marketplace, many do get it now.
The reverse is also true.  Each side of factory-built homes represents a vital option for housing seekers.
In some ways, modular construction faces fewer stigmas, something that exclusive modular producers and their associations often highlight. Oh, that they would see the wisdom for uplifting all facets of factory-built homes.  It's a wiser path for all. MODs and HUDs ought not to be I conflict, they ought to complement each other.  It's doable, factually, as this linked video interview demonstrates.
Currently HUDs far outpace SF modular production.  But that could change, and if more large modular projects with MF use are considered, the who is the larger segment of factory crafted homes question deserves a closer look.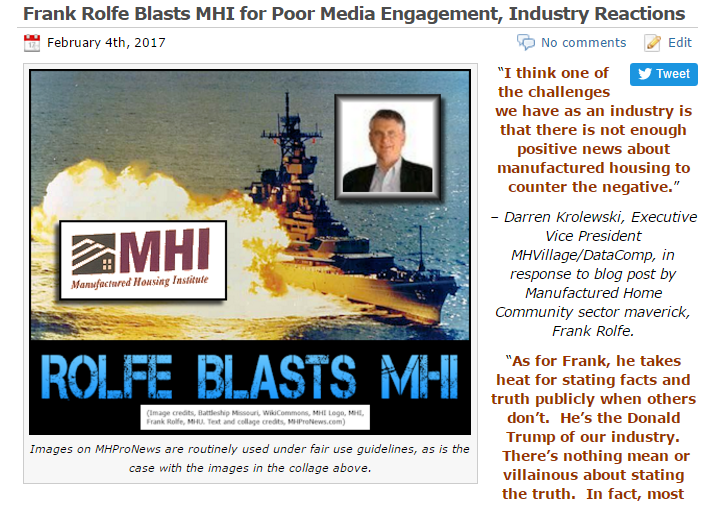 The frustrations of what holds back the industry are self-evident.  Frank Rolfe said it well when he stated, "Probably the greatest enemy to the growth of the mobile home park industry into a mainstream form of real estate investment is … our industry itself."  That's true, not only for the community sector, but for the reset of factory built housing – HUD Code and modular.
But there are external challenges aplenty. This months featured articles reflect the obstacles and opportunities that exist.  There are news reports, products, events, services and more in store in dozens of February articles listed below.
As we noted in the weekend Masthead, it is long past due for the industry's various voices to sit down and candidly, privately sort out how to create more cohesion and inclusion.  This writer tried for over a year privately to address issues that finally needed to go public.  Perhaps, under the growing scrutiny of industry voices like Rolfe's and others, the players will take the prudential steps necessary.
Until then and beyond, MHProNews and our sister site, MHLivingNews marches on.
Knowledge is potential power, and promoting knowledge is powerful too. So, with no further adieu, the Featured Articles and Reports for Frank, Frustrations, and Free Enterprise February in MHLand, 2017 are below.
McGlinchey Stafford Survey of Latest Manufactured Housing Legal Decisions
by Marc Lifeset, JD


McGlinchey Stafford is proud to provide the Manufactured Housing Update to the manufactured housing industry.
Read more…
Faster New Home Sale$ Growth, Getting the "Total Package"

by Stan Posey
Industry projections are that new manufactured home shipments in 2016 will be up about 10 to 12 percent over 2015.
Read more…
Publication Flip-Flops on UMH, NPR Effect in Play
by RC Williams

UMH Properties (NYSE: UMH) celebrated its 50th anniversary at the New York Stock Exchange last week, including ringing the closing bell.
Read more…
Security Mortgage Group Finances $10,007,000 for Several Communities in one week
by Security Mortgage Group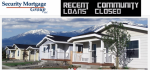 ROCHESTER, N.Y. – Security Mortgage Group, a national award-winning MH Community lending broker, is pleased to have recently provided $10,007,000 in financing in one week for several manufactured home communities nationwide.
Read more…
"An Elephant Ass," Understanding GSEs, Duty to Serve, Manufactured Home Lending
by Soheyla Kovach

"The manufactured homes chattel lending market poses challenges and risks for the enterprises"
Read more…
Cordray Defiant, Says Trump Won't Change Agency
by RC Williams


Consumer Financial Protection Bureau (CFPB) Director Richard Cordray has finally spoken in the wake of President Trump's inauguration, per the LA Times.
Read more…
Northpoint Commercial Finance Expands Field Sales Organization
by Northpoint Commercial Finance


Alpharetta, GA, January 30, 2017 – Northpoint Commercial Finance, a diversified inventory finance lender, is pleased to announce the hiring of three additional Directors of Business Development.
Read more…
Tiny Prefab Builder Takes His Show on the Road
by RC Williams


Patrick Kennedy, owner of Panoramic Interests, a San Francisco, California based developer specializing in prefab homes, believes he has a partial solution to the Bay Area's chronic homelessness problem. Read more…
Clayton Homes commemorates business milestone with 60th Anniversary Home Berkshire Hathaway homebuilder unveils special edition home model in 2016
by Clayton Homes


MARYVILLE, Tenn. — Clayton Homes, one of the largest builders of manufactured, modular and site-built homes combined, designed a special edition manufactured home to celebrate 60 years in business.
Read more…
by Tim Connor

Over the years, I have considered the difference between people who consistently do well in life – their careers and relationships and people who struggle.
Read more…
U.S. Existing Homes Sales Rise in December, MH Industry Response
by RC Williams


Data from the National Association of Realtors (NAR) shows that home sales continued their growth in December, as more buyers reached the market before the end of the year.
Read more…
2017 Tunica Manufactured Home Updates
by Tunica Show


A RIVER CUTS THROUGH A ROCK NOT BECAUSE OF ITS POWER BUT ITS PERSISTENCE…
Read more…
Industry Should Stay the Course in Duty to Serve Efforts
by Jim Ayotte


I appreciate the way that MHAAR respectfully criticized my commentary on the Federal Housing Finance Agency's (FHFA's) final rule to implement the "Duty to Serve" (DTS) requirements as being "far too charitable," but the criticism was misdirected.
Read more…
Security Mortgage Group Finances 80,032,500 for Several Communities
by RC Williams


Rochester, New York-based Security Mortgage Group, a national award-winning MH Community lending broker, has provided $80,032,500 in financing for several manufactured home communities throughout the nation over the last few months.
Read more…
by Industry Voice


Perhaps it's too much to ask a "news" show called "All Things Considered" to actually consider "all things" or, at least "all things" concerning the subjects they choose to consider.  After all, "all" covers a lot of ground.
Read more…
Jim Visser Honored, the Journal of Manufactured Housing now History
by Soheyla Kovach.

The publisher of The Journal of Manufactured and Modular Housing, Jim Visser, was honored at the 2017 Louisville Manufactured Housing Show with the framed 'thank you' document, shown in the photo at the left.
Read more…
County Levies Stiff Fine in Dakota, as Trump Primes XL Pipeline
by RC Williams


In a case that dates back to 2014, Williams County, North Dakota officials have re-instituted a $1.2 million fine against Western Petroleum LLC and its parent company, Pilot Thomas Logistics.
Read more…
Is your life purpose: what you have, what you do or who you are?
by Tim Connor


Many people in life send mixed messages to their family, customers, employees or even total strangers creating confusion, a lack of trust and yes a lack of integrity with what they believe, stand for or how they will be remembered or even who they really are.
Read more…
by RC Williams


News of a theft in Purcell, Oklahoma, indicate arrest warrants are outstanding for a man and woman charged in McClain County District Court with knowingly concealing stolen property.
Read more…
Trump's Regulation Cuts Could Have Major Impact on MH
by RC Williams


Throughout the 2016 presidential campaign, Donald Trump was very clear on one thing he wanted to change – regulations. Read more…
By Greg McClanahan
I wanted to share a few thoughts about what I think is a key element to achieving successful outcomes in our lives and in our business activities.
Read more…
Buffett Supports Trump Picks, Soros Has Other Ideas
by RC Williams


As President Donald Trump enters his first full week of office, his cabinet picks remain the front and center topics of discussion.
Read more…
Tough Times for Tiny Home Builders
by RC Williams


While tiny homes may be all the rage in popular culture, local governments and regulations have made things tough in Washington State.
Read more…
byTim Connor

Ever notice how a person's life can change from one minute to the next?
Read more…
Tornadoes, Severe Weather Ravage South, Misconceptions Abound
by RC Williams


The southern U.S. was severely affected this weekend, as tornadoes and storms destroyed homes, injured dozens and killed 16.
Read more…