There are so many things that make this a fascinating industry and a routine joy to be involved in. There are also tales of heart ache and heart break. Let's preview and surf some current manufactured housing topics.
First, the post Louisville Show feedback continues to come in and we have some guest columns for our upcoming February issue. Those are routinely positive. One that tickled my funny bone was about bouncing floors, look for that and others this weekend when our February 2014 issue of MHProNews goes live.
Ready for some Coffee?
We will have another exclusive – and a first! – for this new February issue. A Cup of Coffee with…Nathan Smith is planned to go live this weekend! What will make this a first in our wildly popular series is that this will be a VIDEO interview. So you will get the colorful personality and insightful comments of SSK partner and MHI Chairman Nathan Smith in all his glory.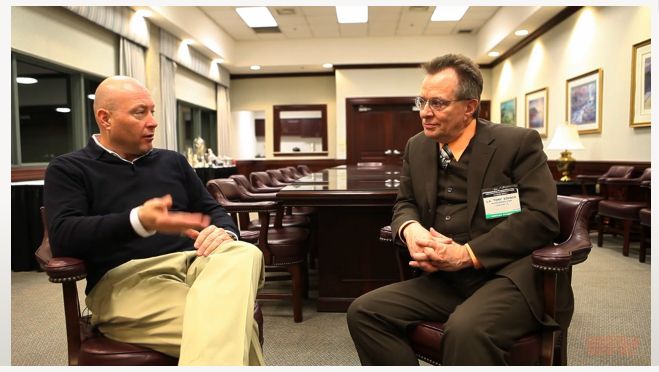 Nathan Smith – SSK Communities and MHI Chairman, left, L. A. "Tony" Kovach, right,
still photo from the upcoming video interview, "A Cup of Coffee with…Nathan Smith."
We cover a wide range of topics in this free-flowing interview, so don't miss it. The video was made possible by our collaboration with ManufacturedHomes.com.
Terrific Tunica!
Watch our upcoming new issue for more news about the rapidly approaching 2014 Tunica Manufactured Housing Show!
Just as seminars were a HOT ticket at Louisville, as the photo below reveals, that's how it may be in Tunica! We had a full house – or even standing room only – last week at Louisville. Please check out the red-hot 2014 Tunica Show business building seminar line up at the link here.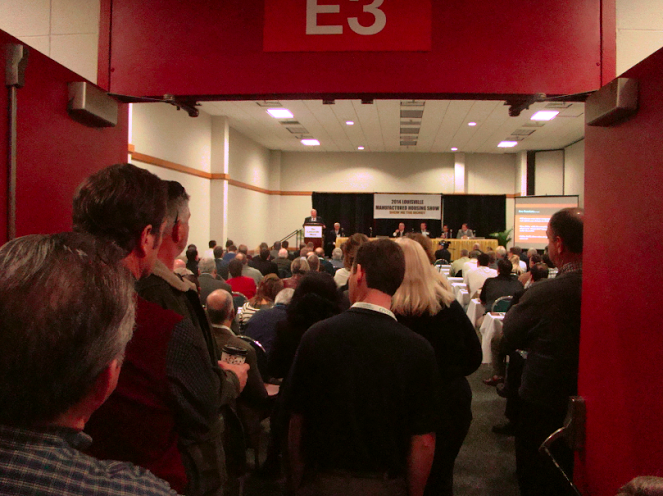 So we are looking ahead and making plans for the 2014 Tunica Show in March 26-28th. If it isn't on your calendar already, please mark your calender and make your plans to go!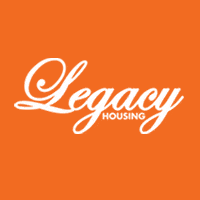 For you Duck Dynasty fans…
…well, there are rumors afoot, no promises either way, but don't be surprised…
That's some of the good news coming up.
Distress Signals
We also have serious topics, even sad and distressing ones.
Let's run through a few topics of interest to Manufactured Housing Industry Professionals.
Texas Congressman Jeb Henserling's House Financial Services Committee oversight hearing this week with Richard Cordray with the Consumer Financial Protection Bureay (CFPB). The video of the testimony on this certainly has its elements of common inside-the-DC-Beltway politics. Some of the partisan Democratic committee member comments made the CFPB seem like the the greatest thing for consumers since sliced bread. Some of the Republican testimony would be construed by the D Party as a call for the financial system to melt-down anew. Even those sharply contrasting comments shed fascinating light on what is happening with this new organization which will dominate the financial landscape in America.

An intial report is found linked here

. We plan a video summary of the more specifically MH commentary in the days ahead.

As if on cue and connected to the CFPB/Dodd-Frank issue, is a letter that Barney Frank penned to one or his MHC constituents. Please see attached below as a download, shared by the man addressed Congressman Frank's addressed for our reader's benefit, as the then congressman explained there was no intent on his part to harm the MH Industry, which he he has long supported.

Also on cue, a message from another pro, who tells me he has jumped all of the Dodd-Frank hoops, but due to a technical glitch on a federal website, he is out of the lending business as of January 10th. I know this person. The impassioned, tragically funny message (the writer tried to make fun of their own painful dilemma, which is all too real and not at all funny…), read like a glitch on HealthCare.gov, only it was MH finance related. "If you like being a lender and want to keep your credentials, you can. Period." Or not. Compared to the 5 main MH Personal Property (chattel) lenders, this is a modest operation, but let's stop and think about the precedent. If it is as reported, you can imagine the heart break of the pros involved when big brother shut them down for…nothing. Please support HR 1779 and S 1828.

I've asked the above referenced writer to keep me posted and to consider sharing the story.

Then, MHARR shared a link to the House Financial Services Committee website, where they are taking comments from pros like you impacted by the CFPB. Don't miss your chance to sound off! My buddy mentioned above ought to, for sure. Gotta story to tell House Financial Services? You should too.
Speaking of Financing…new lenders?!
If you are coming to Tunica, don't be surprised if you see one – or more – new lenders. We've been contacted by several. I'm not sure that Dennis Hill can juggle his space any more there to create additional booths, but lenders that see the value in manufactured housing are planning to – or already have – entered this space.
Be in Tunica to see how that shapes up.
Is the Liberal Agenda Sinking?
My Libertarian friends (no, I'm an independent, not a libertarian, but understand their appeal) tell me the current Administration is doing more to destroy the Democratic-left-progressive-liberal agenda than all the Republican and Libertarian faithful possibly could. Examples:
ObamaCare is polling ever lower (in one new poll, 2 out of 3 now oppose).

Community bankers are being forced out of home lending, or are closing altogether (…thanks CFPB).

MH Industry lenders are cutting or curtailing programs for low cost/low balance MH loans.

Income inequality is being touted from podiums and TelePrompTers, while current policies – the last 5 years – have made the rich richer and the poor poorer. Workforce participation – true unemployment – is at the lowest in a generation.

What's happening in North Dakota – where workers at McDonald's and WalMart start around $15 an hour – could be America's story, but the adminstration loves to throttle fracking on all but private lands, even while they take credit for more oil being pumped now than during the Bush years. Will voters notice – or remember – in the fall? Will you?

Most Americans see the country as being on the wrong track.
While we say all of this, let's keep in mind what Sam Zell said last fall. These tales of economic troubles and woe mean that affordable housing will be more needed than ever before!
Will all these federal issues help Republicans come the fall?
It is still early, who knows? But the mainstream media's headlines have long forgotten the government shut down last fall, and generic Republicans are slightly ahead of generic Democrats in congressional polls. Let's see if the elephant party can manage to do something with that, or will they shoot their own foot off again?
Whatever happens, count on us to bring you the most Industry News, Tips and Views Pros Can Use. That Barney Frank letter is linked below. See you this weekend, with our strong February 2014 line up! ##