FOR IMMEDIATE RELEASE Contact: MHARR
(202) 783-4087
Manufactured Housing Production Decline Persists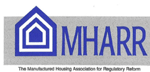 Washington, D.C., September 7, 2011 – The Manufactured Housing Association for Regulatory Reform (MHARR) reports that according to official statistics compiled on behalf of the U.S. Department of Housing and Urban Development (HUD), manufactured housing production continues its slide in 2011. Just-released statistics show that in July 2011, HUD Code manufacturers produced 3,676 homes, down from the 4,265 HUD Code homes produced in July 2010, representing a corresponding month decline of -13.8.%. Cumulative production during 2011, to the end of July, stands at 26,828 homes, a decline of -12.5% from the cumulative industry production of 30,670 homes during the same period last year.
With the HUD Code manufactured housing industry producing its best homes at prices that are affordable for all Americans, without costly government subsidies, manufactured housing, today, should be experiencing a substantial market rebound. Instead, as the latest statistics indicate, the sustained downward spiral in production continues, while it exacts a devastating toll on all sectors of the industry and lower and moderate-income Americans who rely on the availability of affordable manufactured homes.
As has been the case for years, the roadblock standing in the way of industry recovery and expansion – in addition to regulators' failure to fully and properly implement key reforms provisions of the Manufactured Housing Improvement Act of 2000 that were designed to ensure the parity of manufactured homes with other types of housing – is the lack of adequate sources of consumer financing for manufactured home purchases. And, while there are some hopeful signs with regard to the HUD manufactured housing program and its compliance with the 2000 law, the lack of consumer financing has increasingly become a major obstacle for the industry and its consumers – all at a time when interest rates are at their lowest point in recent memory.
Discriminatory policies adopted by the Government Sponsored Enterprises (GSEs) (i.e., Fannie Mae and Freddie Mac) and the Government National Mortgage Association (GNMA) in recent years, have stifled the availability of both public and private manufactured home financing for consumers. These unduly restrictive policies, that are totally at odds with the fundamental mission of federal housing policy, enacted decades ago – to promote and advance homeownership opportunities for lower and moderate-income American families — have reduced manufactured home financing sources to just a couple of large companies that now dominate a shrinking market. This has largely eliminated normal, healthy competition within the manufactured housing finance market, depriving consumers of previously available options and alternatives, and leaving them with extremely limited available sources of financing, to their ultimate detriment and that of the industry as well.
For the manufactured housing industry to halt its continuing slide, recover from the declines of the past decade-plus and expand as a much-needed source of affordable, non-subsidized home ownership, all of this needs to change and change fast.
The Manufactured Housing Association for Regulatory Reform is a Washington, D.C.-based national trade association representing the views and interests of producers of federally-regulated manufactured housing.