On October 12, Jenny Hodge at the Manufactured Housing Institute (MHI) released the new HUD Code manufactured housing shipment data report. That report was sent to the Daily Business News on MHProNews for analysis and commentary.
Hodge is doing her job. As readers learned from yesterday's "…#Me Too…" report, the reins are held tightly at the Manufactured Housing Institute
offices. So, this analysis should not be construed as a critique of Hodge.
ICYMI, or need a refresher as to how this relates to a relatively mundane task of providing shipment numbers, yesterday's inside look at the Arlington offices is linked below.
Manufactured Housing Institute (MHI), Women, #MeToo and Insider Information
Hodge began her report with the headline, "9,091 New HUD Code Homes Shipping in August 2018 First 9,000+ Month since 2007."
"It was a great month for production!" is a quote shared from sources which said that Hodge's point in her headline was underscored by Pam Brillhart, Project Coordinator of Federal and State Programs, Institute for Building Technology and Safety (IBTS). IBTS gathers the data for the federal government, and provides them to HUD and others as a contracted service.
Rephrased, IBTS gathers data, and MHI is one of the sources that obtains that information from them for a fee.
Indeed, the industry has some cause to 'celebrate' rising shipment totals. But those totals need to be fully grasped, in the context to the reality that they are still at historically low levels. There were individual producers of pre-code mobile homes and post HUD Code manufactured homes that used to produce that many or more homes per year.
Hodge said that, "In August, 133 plants representing 37 corporations reported production data which is the same as July 2018."
Compare that with the MHI production company chart history, shown below. It is 73 fewer HUD Code builders than started in 1990. That is fewer HUD Code builders than when Berkshire Hathaway entered manufactured housing in 2003.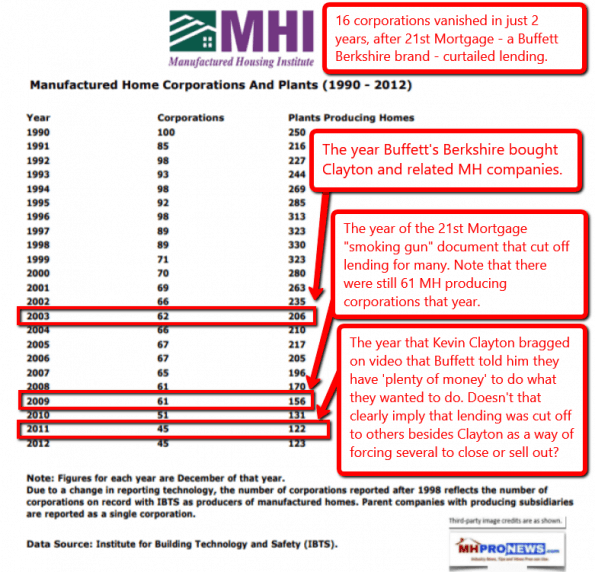 Rephrased, manufactured housing was down on the mat. There were individuals who were long time veteran professionals in 2008-2010 that thought the manufactured housing industry was going to go the way of the "buggy whip." They believed that industry was dying.
Thankfully, that proved wrong.  But the industry was brought to its knees, and that resulted in "consolidations." Several of those who have sold to Clayton, for example, have told MHProNews that they didn't get much for their businesses.  Isn't that in keeping with Warren Buffett's dictum that he loves a bargain?
Let's look deeper.
"Of the 9,091 homes shipped in August, there were no homes designated as FEMA units," an apt point because FEMA artificially gooses the number. And as sources are telling MHProNews, there appears to be a move at FEMA away from the use of manufactured homes as much as possible, in favor of RVs or other temporary rental lodging options.
Manufactured Housing Shipments "The SAAR" 
In conventional as well as manufactured housing, there is a SAAR. Here is how Hodge's report read.
"The seasonally adjusted annual rate (SAAR) of shipments was 98,104 in August 2018, up 5.8% from the adjusted rate of 92,694 in July 2018. The SAAR corrects for normal seasonal variations and projects annual shipments based on the current monthly total."
Put differently, there were MHI producers who last year expected to do some 107,000 (+/-) new HUD Code manufactured homes. Modular, tiny and other non-HUD Code factory built housing product would be in addition to those totals.
"In August 2018, new manufactured home shipments increased 7.9% to 9,091 homes as compared to the 8,425 homes shipped in August 2017," per MHI's info from Hodge. "Total shipments for August 2018 are higher by 2,340 homes when compared to the prior month of July. Compared with August 2017, the trend is positive with shipments of single-section homes up by 6.0% and multi-section homes up by 9.5%. Total floors shipped in August 2018 increased 8.5% to 14,174 compared to August 2017."
What Does it Really Mean?
Look at states like Michigan or Florida, where sizable numbers of units designed to be rentals are being shipped into manufactured home communities. Who else in manufactured housing trade publishing is telling the industry's independents that factories see a warning sign in the data. What happens when shipments into communities slow down? Given that few new communities are being built, if zoning, finance, acceptance and other issues aren't successfully addressed, in 3 to 5 years, the industry could plateau.
Winners and Losers, 5 Midwestern States, Manufactured Home Shipment Breakdown
Here is the HUD Code shipment data for August 2018, by state.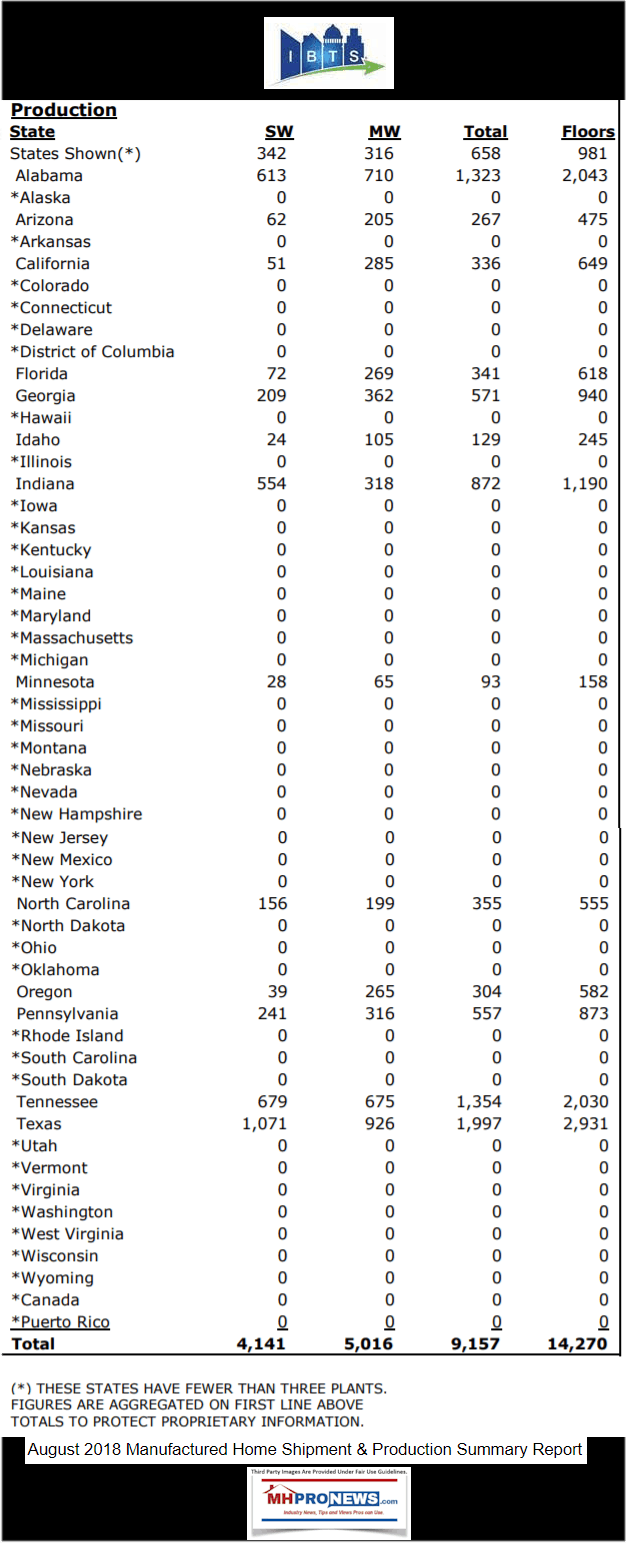 Look at the state production data, to realize just how low the numbers can be.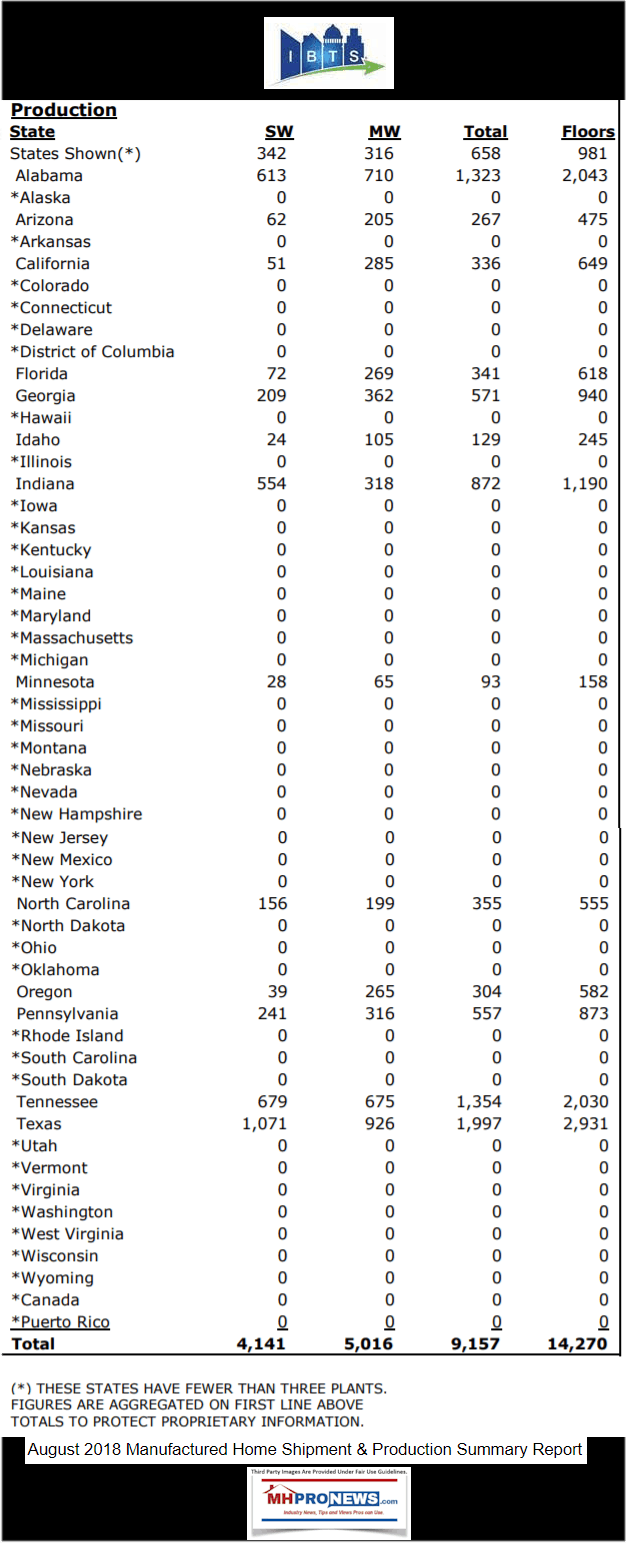 Then, recall that RVs are blowing manufactured housing away.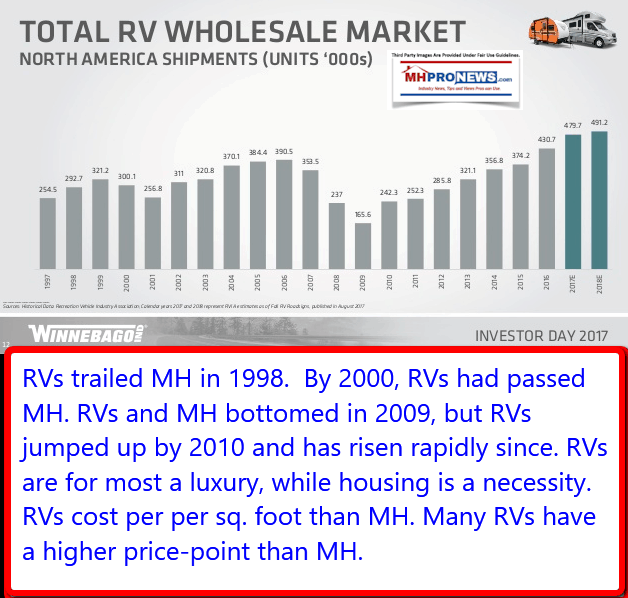 Dick Jennison and Lesli Gooch were described as "control freaks" in yesterday's report by MHI office insiders.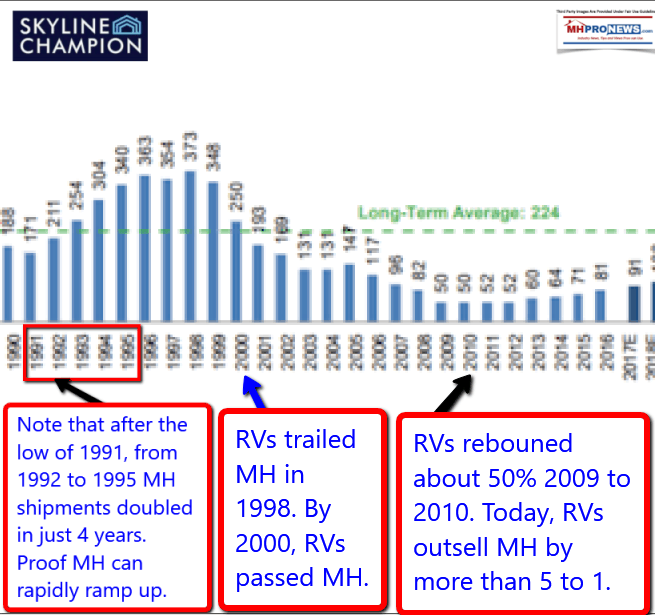 As in any office or operation, there are people at MHI that have formed personal relationships. There is chatter outside of the office, not just in it. Even 'lower level' staff can hear and share insights with the operation's several 'vice presidents.'
It is human nature. People who are "bullied" in an office find ways of dealing with that kind of harsh or "hostile" work atmosphere.
One more reminder before closing this report. Sources said what industry readers should already know. The marching orders for MHI comes from the MHI Executive Committee. When one wonders why MHI spent years chasing after Preserving Access, and then abandoned half that goal in favor of the inclusion in S 2011, those marching orders come from the Executive Committee.
There are voices from within MHI's membership that have asked if it isn't a conflict of interest for Clayton Homes – which has site built housing and is part of Berkshire Hathaway conglomerate that has deep real estate interests – is exerting influence to keep production at low levels. See the related reports, further below.
Then ask yourself when RVs are roaring, and MH is snoring, why Richard 'Dick' Jennison was trying to tell the industry that it should grow slowly? Who does that benefit?
MHARR's report on the same data was published earlier, and can be found at the link below.
Washington, D.C., October 3, 2018 – The Manufactured Housing Association for Regulatory Reform (MHARR) reports that according to official statistics compiled on behalf of the U.S. Department of Housing and Urban Development (HUD), strong year-over-year manufactured housing industry production growth continued in August 2018.
More in an upcoming report from inside Arlington, VA's office at MHI in the hours and days ahead. "We Provide, You Decide."  © ## (News, analysis, and commentary.)
(Related Reports are further below. Third-party images and content are provided under fair use guidelines.)

1) To sign up in seconds for our MH Industry leading emailed news updates, click here.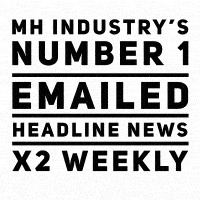 2) To pro-vide a News Tips and/or Commentary, click the link to the left. Please note if comments are on-or-off the record, thank you.
3) Marketing, Web, Video, Consulting, Recruiting and Training Re-sources
Submitted by Soheyla Kovach to the Daily Business News for MHProNews.com. Soheyla is a managing member of LifeStyle Factory Homes, LLC, the parent company to MHProNews, and MHLivingNews.com.
Related Reports

:
For Independents, Independent-Minded MH Professionals, and Freedom-Loving Investors Only, Sunday Headline News Recap 10-7 to 10.14.2018
Smoking Gun 3 – Warren Buffett, Kevin Clayton, Clayton Homes, 21st Mortgage Corp Tim Williams – Manufactured Home Lending, Sales Grab?
"He's Lying," Campaign Insider Video – "Don't Do Politics?" Tell Jim Clayton, Phil Bredesen, and Marsha Blackburn, Preserving Access to Manufactured Housing Act Supporter
Reminder to Clayton Homes. Cavco Industries, and Skyline Champion Employees