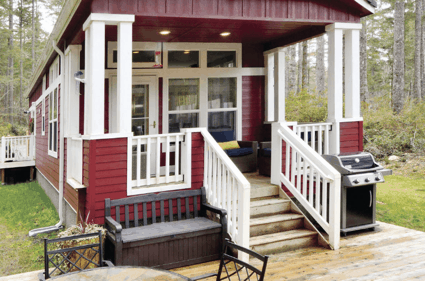 While "tiny homes" may be all the rage, more and more people are finding that the real value is in a tried and true model.
According to the Northwest Housing Association (NHA) in Olympia, Washington, more and more people who look at tiny homes as an option have discovered manufactured housing not only offers affordability, but also meets meeting zoning, building and life safety standards that many tiny homes do not.
"My home is really cute," said Kerstin Gillespie of Allyn, Washington. She purchased a 586-square-foot manufactured home, placing it on family land to live in while she attends graduate school in nearby Tacoma.
"Inside it has 9-foot ceilings, lots of windows and lots of light. I went with a manufactured home because I'd had a good experience buying one before and knew I could move in quickly and get more home for the money."
Gillespie was able to customize her home, an option that often gets lost among the stereotypes surrounding "mobile homes" or "trailer parks." HUD Code homes must be at least 400 square feet. The houses compete favorably with the cost of tiny homes; their lower price reflects the efficiencies of being factory built.
Per Stanwood Camano News, unlike tiny homes, which are still struggling with state and local regulations, buyers of manufactured homes generally avoid building code and zoning issues in Washington State, as it passed a law in 2005 preventing cities from discriminating against these manufactured homes.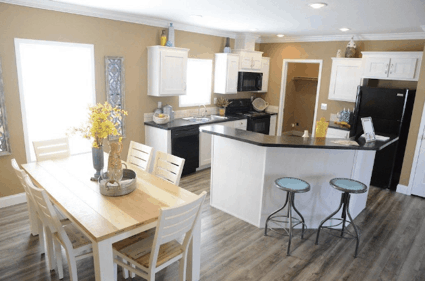 "Manufactured homes are built to a national code that ensures homes meet basic structural, safety and energy standards," said Craig Sedlacek, the program manager for the Factory Assembled Structures program at the Washington State Department of Labor & Industries. The organization conducts building inspections for manufactured homes.
"There's no real definition for a tiny home. It might be built to a local code, a recreational vehicle (RV) code or no code at all. It's important for buyers to understand what standards a home is built to before they buy it."
Sedlacek also points out that the standards cover important questions about where a home can be located and whether it meets health and safety standards.
"One big trend we are seeing is an increased demand for smaller, well-designed floor plans," said Kevin McShane, sales manager for the Fleetwood Homes plant in Oregon.
"The tiny home term is used a lot, but we find that homes under 300 square feet are too small for most people. Floor plans with 500 to 1,000 square feet of living space are now about a third of our business and growing."
MHProNews and MHLivingNews have covered the "tiny home" movement extensively, including the potential for big legal trouble for owners and a detailed side-by-side comparison with manufactured homes, highlighting function and value versus fashion.
(Image credits are as shown above.)
Submitted by RC Williams to the Daily Business News for MHProNews.