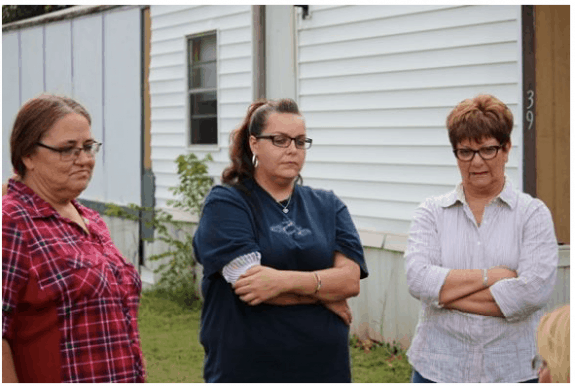 A Shawnee, Oklahoma manufactured home community is in flux after a series of missteps.
According to Red Dirt Report, a number of residents of the Rolling Acres Mobile Home Park were outraged recently when they received a 60-day eviction notice. They are considering a lawsuit after Shawnee attorney Kent Massey invited them to discuss their legal options.
The story begins in March, when Red Dirt Report found that the community's lagoon was overburdened with too many residents on the system. It was leaking less than a mile from the North Canadian River.
The Oklahoma Department of Environmental Quality (DEQ) received complaints and served the owner, Stephen H. Sanders, with a consent order requiring the lagoon system be fixed in order to continue operations of the community.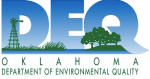 According to records, 59 homes are connected to the lagoon system.
But under current standards, it is only designed to accommodate 15 homes.
Late last week, 34 of 59 homes were served eviction notices. Only those who owned their homes were served.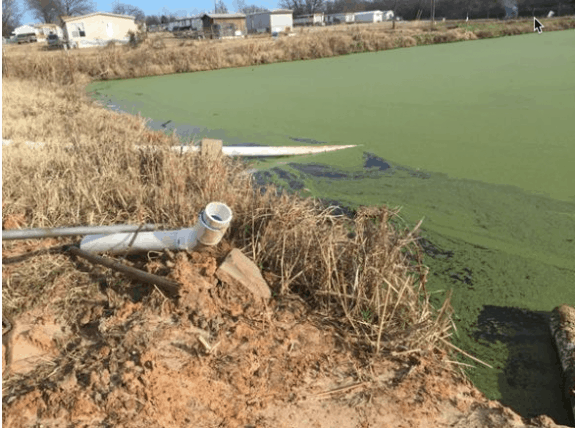 According to the Red Dirt Report, homeowners were surprised to learn that people who were renting their homes from Sanders were allowed to stay. Many of those rental units were said to be in disrepair, but the rent collection on homes can be as high as $500.
Homeowners are only paying $165 in lot rent.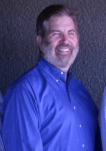 "I don't like doing it. There doesn't seem to be any way out of it so that's why they have to move their trailer [sic]," said Sanders. "It's one of the toughest decisions I've had to make. In fact, I'm about to retire and I was counting on that trailer park [sic] as a significant part of my retirement."
Sanders contends that while he takes responsibility for the condition of the lagoon, the same number of residents on the system were the same number as when he bought it 11 years ago.
The View from Homeowners
Up until recently, manufactured home buyers have been allowed to move onto the property, unaware of the issues with the lagoon.
Whitney Kucera and her partner, Robert Vanzant moved onto the property in June.
"We paid $20,000 to buy it and fix it up, cash," said Vanzant.
"We had a settlement from a DUI accident," said Kucera who used the cash to pay for the residence.
"Now we don't have anything. And I'm trying to get my kids back from DHS. How am I going to do that without a house? We don't have anything left," said Vanzant.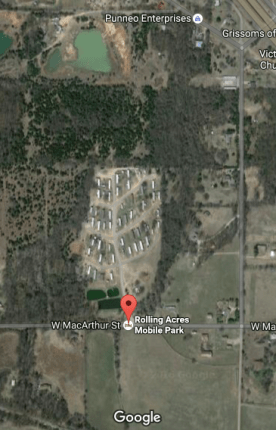 Other residents point to deteriorating water quality.
"When you take a shower, it burns your eyes," said Courtney Armstrong. "And the water smells like sewage."
Sherita Chaffin has MS, a heart condition, and COPD. "The water is so nasty. I got a bacterial infection and had to go to the ER. They told me, 'Stay away from that well water,'" Chaffin said.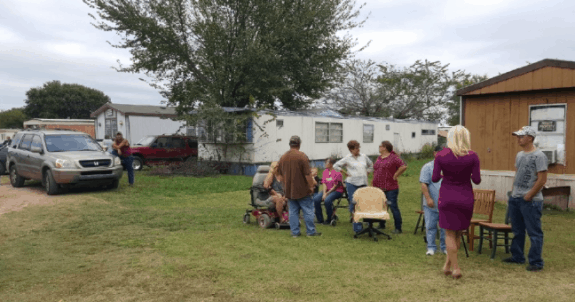 In addition to the challenges with sanitation, many residents face another issue. Most residents agree to a rent-to-own purchase of the home and therefore are responsible for all repairs. The local media didn't address the question if the rent-to-own program is Dodd-Frank compliant.
Many don't stay long enough to pay for the home, so their units,  go largely unrepaired and end up in worse condition for the next rent-to-own buyer.
With the hope of home ownership, residents often decide to pay it off and then fix it up. Others purchased their homes from Sanders outright or moved the homes onto property they may purchase.
What Happens Next
As for Sanders, who also owns Pine Ridge – another community in nearby Meeker that has also had issues with lagoon usage – he's trying to figure out the next steps with Rolling Acres, including selling the property.
It's not something he says he wants to do. He's retiring this week.
"I couldn't borrow $500,000 from the bank because I'm retiring. The issue isn't just looking out for my selfish self, but what am I going to do without that retirement? The last thing I wanted to do was reduce the number of users in that park because it affects me financially," he said.
According to the DEQ, selling would not make the issue go away.
"No change in the ownership or corporate status of respondents will affect respondent's responsibilities under this order."
Sanders points to what, in his mind, are moving targets in dealing with the DEQ.
"They regularly inspect it (lagoon)," said Sanders. "I thought everything was fine, everything's going smooth, everybody's happy. So, I didn't ask any questions. Slowly over the last two years they've changed their regulations and unfortunately they've gotten a lot stricter." ##
(Image credits are as shown above.)

Submitted by RC Williams to the Daily Business News for MHProNews.