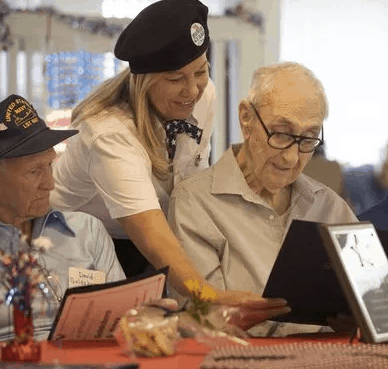 In a North Fort Myers, Florida manufactured home community, some special residents were honored for their contribution.
According to the News-Press, twelve World War II veterans, ages 87-94, were honored this past weekend at the Forest Park Mobile Home Park.
70 years removed from their time in service, veterans – members of the Navy, Army, Army Air Corps and the Coast Guard–were deeply moved by the gesture.
"It was very special," said Joe Boisvert, aged 90, who returned from the war to no fanfare and no parade.
Not even his parents met him when he arrived.
"I was banging on the door in the middle of the night and my dad yelled 'who it is?" and I said 'Joe!' "My dad yelled back 'Joe who?'" said Boisvert.
The Hope HealthCare Honor Guard Valor Program put the event together, and has been in the business of honoring military veterans at the company's four homes and at other area venues for about 12 years.
"The event was held at Forest Park because the community also has a sewing and craft group that puts together some of the valor bears the Honor Guard hands out to veterans," said Fran Nanio, volunteer coordinator for Hope HealthCare.
"We usually do this for our Hope veteran patients, but we will go to wherever the patient lives if need be."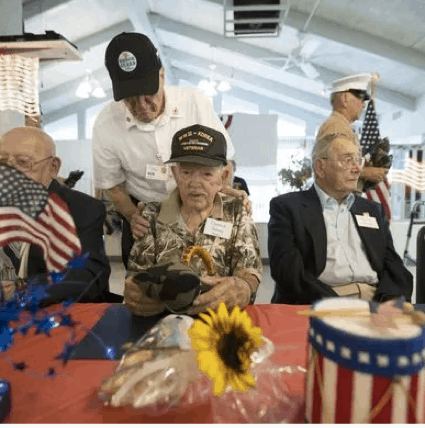 The veterans were each given certificates of appreciation, U.S. Flag lapel pins, quilts and other items. Each veteran was also flanked by a member of the HealthCare Honor Guard, which after thanking them for their service also provided a salute.
200 people attended the event, which ended with a standing ovation.
"I am amazed," said Gloria Hartz, a member of the Forest Park club who helped organize the event.
"This is our first event. It started out with two veterans, then five, then seven then 12. The president and I were panicking. But this was beautiful." ##
(Image credits are as shown above.)
Submitted by RC Williams to the Daily Business News for MHProNews.