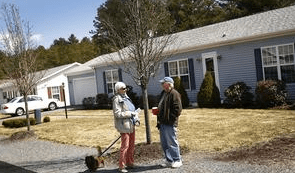 In response to an article in the Portsmouth Herald in Portsmouth, New Hampshire, residents of Hillcrest Estates manufactured home community (MHC) complain about the city planner's suggestion that Hillcrest's owner create a better sense of neighborhood in the community by building pocket parks.
As seacoastonline tells MHProNews, Earl and Carole Greaves, noting Hillcrest's owner has complied with every request and appeared before every committee, wrote, "We wanted to see what hoop they wanted our owner, Glenn Gidley, to jump through this month in order to get approval." They said the city's main planner, Nick Cracknell, sounds like he has never been to Hillcrest. "The only thing he had half right was his statement 'These are clearly not mobile homes on wheels.' No, Mr. Cracknell, they are NOT mobile homes on wheels, they are MANUFACTURED homes," they wrote. (The Greaves emphasis.)
Noting the amenities in the 197 home site community and the strong sense of neighborhood, the Greaves say, "It is beautiful, peaceful, lovely, quiet and very neighborly. Folks move here because many are empty nesters and want to down size from that six-12-room house they lived in and raised their families. They don't want to live in a condo or apartment complex where there are people above you, below you and on each side of you. They want a home that is free-standing, affordable, with land around it so they can have a garden. Residents can do this at Hillcrest."
The community has a neighborhood association, a quarterly newsletter, has been recognized by the city as a neighborhood, conducts planned social activities, and contributes to the food pantry monthly.
"We are very proud residents of Hillcrest Estates and support Glenn Gidley and what he has done and is planning to do in the future," say the Greaves.
(Photo credit: patriotledger/Greg Derr–Westwood Village, Plymouth, Mass.)

Article submitted by Matthew J. Silver to Daily Business News-MHProNews.