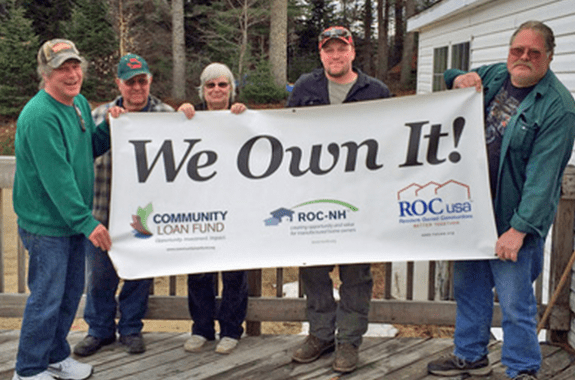 Dubbed the Miracle of Milan, the residents of what had been Bob's Mobile Home Park in Milan, New Hampshire were able to convert the 18-homesite community into a cooperative in ten days. Now called Deer Estates Cooperative, Inc., the community was to be sold at a foreclosure auction April 21. Because of its proximity to an all terrain vehicle trail and an airport, rumors had it that the community would be re-purposed.
One of the residents called ROC-NH (resident-owned-communities New Hampshire), and the organization was able to move quickly, with the assistance of the owners, Jeannette and Robert Biggart, to arrange for financing to preserve the 18 homesites as affordable housing, as myrocusa tells MHProNews.
"I wish I'd reached out to the homeowners sooner to sell my park. I didn't know it was possible, much less that it would be that easy," Robert Biggart said. "If I'd known earlier, it would have been better for the residents to have that opportunity earlier."
Deer Estates marks the 113th manufactured home community (MHC) in New Hampshire, where ROC USA is headquartered, to become a community owned MHC. ##
(Photo credit: myrocusa–residents of Deer Estates Coop, Inc.)

Article submitted by Matthew J. Silver to Daily Business News-MHProNews.