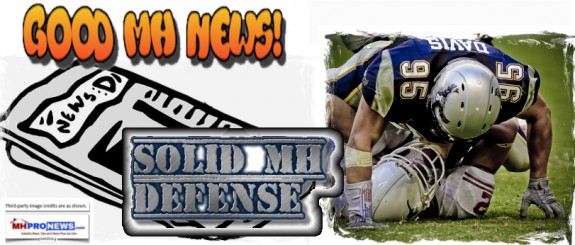 There are several developing stories with focused upon the manufactured housing industry in process.
Several news tips have come in, including responses from sources such as the Urban Institute.  We are giving them an opportunity today to clarify, before we publish.
Which brings up these 2 questions.
Who is telling the good news stories about the manufactured housing industry?  Because there is plenty of good news to share. Or…
Who is defending the factory built home industry against problematic reports, be it from researchers, media or whatever other sources?
Current and long-time prior Manufactured Housing Institute members, Frank Rolfe and Marty Lavin raised important concerns on how a failure to address problematic reporting – or failing to tout good news – are key issues that holding up the manufactured housing industry's sales and growth.


Marty Lavin Lashes the Manufactured Housing Institute's (MHI) Latest Initiative
Who's Telling the Good News?  Whose Defending the Industry?
We recently looked at the power of narratives, repeated over and over, and how they can influence and essentially brainwash those who don't realize what is taking place.
What's Your Manufactured Housing Narrative? Monday Morning Sales Meeting
So we will simply lay out the facts.
Who is doing more than what you see in the sampling, below?
An eye-opening statement from a National Weather Service (NWS) expert reveals that tornado related risk of death for residents of mobile or manufactured homes are being improperly warned, and reported. Before diving into that exclusive, written statement from NWS, it is instructive to look at the safety, durability, and quality issue about factory-built homes in a broader way.
"…lower rates of crime than you would expect, because they had pride of ownership …" – William P. McCarty , PhD – University of Illinois at Chicago, Department of Criminology, Law and Justice "What may be surprising to real estate licensees is the level of energy efficiency available …"
For those who want the bottom line first, new university research reveals that manufactured homes could be a superior housing value when it comes to wealth creation. With that executive summary, let's dig into the details of the new research, and what the co-author of the university study specifically told MHLivingNews in an exclusive on-the-record statement.
He's known as the King of Rock and Roll. His property in Memphis, TN – called Graceland – has attracted millions of visitors. He loved gospel music, and was a pioneer in rock too. His movies are still considered entertainment classics.
The truth is never misguided. There may be better times or better ways to share the truth. But those are prudential judgments, that are very much compatible with the truth. In circumstances where persuasion: among people, in education, marketing political, or other scenarios matters, there are times when an upward compromise can advance the truth.
Every single one of us is a time traveler. We go through space and time, one moment at a time. Then minutes, days, weeks, months, and years at a time. We can learn from others, past and present, about their experiences in time. How do we make the most of our lives?
James Hanning is the Wagoner County Commissioner, and the county's board chairman. Before speaking on camera with MHLivingNews, Hanning consulted with the county's legal adviser. Hanning wasn't going to make any endorsements. There were no canned or rehearsed lines.
The addition of garages to manufactured homes in land-lease communities and on private property is becoming more popular every year. Manufactured home owners are looking for the same convenience and security available to site-built home owners. Unfortunately, many of the efforts to marry site-built garages to manufactured homes fall short of the generally-accepted appearance standards for garage/home integrations.
These are just a few of the articles on MHLivingNews that Protect, Educate, and Promote (P.E.P) the manufactured home industry and its homeowners.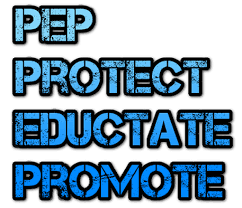 Meanwhile, MHI – who has a many times greater budget and numbers of highly-paid professionals who are supposed to be doing P.E.P. for the industry, where are there similar effort, visible daily to the public?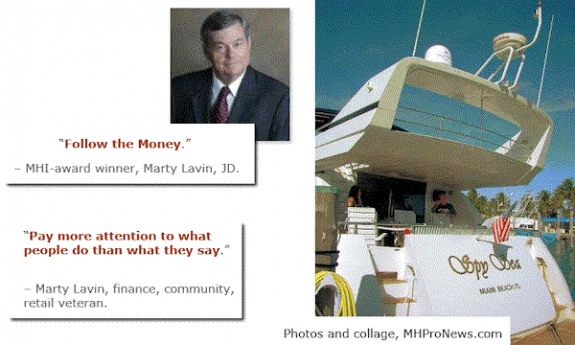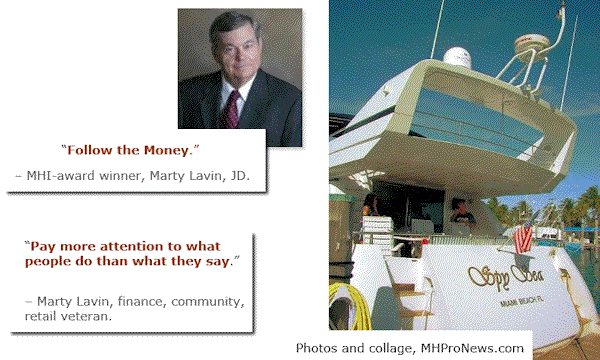 The truth is there for anyone who have the eyes to see.
We're awaiting an update from the Urban Institute (UI), but note that there is only one issue they've raised with our report – one.  And we believe they are demonstrably mistaken about that sole issue that they raised.  UI was given links to each of the articles we've done that mention them, but we'll share just this one link for now.
Was the Urban Institute Misled, Duped, or Part of a Manufactured Housing Industry Scam?
ICYMI, check it out – because by not taking issue with the vast majority of what has been published, they've logically largely confirmed in their response today what the reports spotlight. "We Provide, You Decide." © ## (News, linked context, analysis, and commentary.)
NOTICE:
Another new story is developing as a result of a news tip from a dedicated industry pro has come in.  Got a tip?  We give credit, or keep your name off-the-record, as needed.
(Image credits are as shown above, and when provided by third parties, are shared under fair use guidelines.)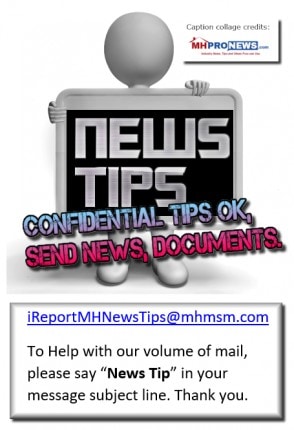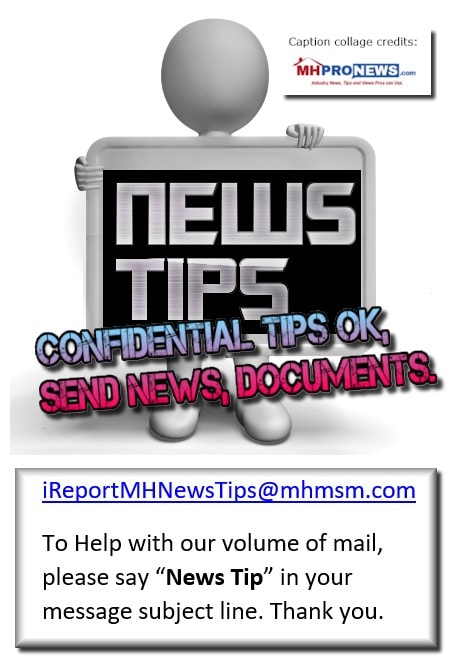 Thousands "Get It." Sign Up Today! Click here to sign up in 5 seconds for the manufactured home industry's leading – and still growing – emailed headline news updates. You'll see in the first issue or two why big, medium and 'mom-and-pop' professionals are reading them by the thousands. These are typically delivered twice weekly to your in box.
Follow us on Twitter:
ManufacturedHomes
@mhmsmcom

Submitted by Soheyla Kovach to the Daily Business News for MHProNews.com.
Soheyla is a managing member of LifeStyle Factory Homes, LLC, the parent company to MHProNews, and MHLivingNews.com.