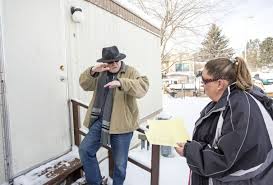 Magar E. Magar, owner of Syringa Mobile Home Park in Moscow ID, was ordered by 2nd District Court Judge John Stegner to pay a total penalty of $350 a day until he brings the facility into compliance with pertinent water and wastewater rules, DNews tells MHProNews.
This is part of an ongoing series of issues at Syringa, previously covered in a series of Daily Business News  reports, the most recent one is linked here.
Syringa Mobile Home Park's Manager Shannon Musick will not face a contempt charge in connection with the class action brought against Magar E. Magar.
Residents in this Moscow community are seeking compensation and damages after water and wastewater problems that have dogged the property went unresolved from their vantage point. ##
(Photo –resident Robert Bonsall, talking to Syringa Mobile Home Park manager, Shannon Musick)