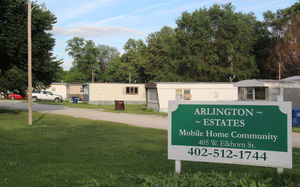 MHPronews has learned Arlington Estates manufactured home community (MHC) outside Blair, Nebraska was sold May 20 to local businessman Clifton Johnson by Kacey Witte. Licensed for 16 home sites, Arlington is zoned light industrial, which legally means no homes can be moved into the community, and those damaged more than 50 percent cannot be replaced.
Witte challenged the ordinance in March of this year, according to enterprisepub, and the Village of Arlington replied that the community can be considered as a legal, nonconforming use, but those who want to move a home in must apply with the village.
Johnson, who said there are several lots available, stated, "Any homes approved for move-in must be in nice condition as we plan to improve the park's visual appearance so that Arlington residents and traffic on Highway 30 view an attractive clean property. This is now a nice, clean, quiet community that offers a needed housing service to the city, and we will continue to improve the appeal and safety for all current and future residents." ##
(Photo credit: enterprisepub/Leeanna Ellis–Arlington Estates)

Article submitted by Matthew J. Silver to Daily Business News-MHProNews.