About three years ago, Sam Zell quipped in Chicago to hundreds of manufactured home community professionals that at Equity LifeStyle Properties (ELS) they discovered they had a partner without an investment they didn't count on.
The government.
The owners of Diablo Estates have likewise learned from experience that organized residents can run to city hall, garner media attention, and often get their way.
"A mobile home park [sic] designed for seniors isn't well-suited to young families, argues Vivian Espinoza, 74," says the East Bay Times (EBT).
The EBT – which understands that dramatic headlines are what draws clicks and readers, reports that "Seniors fear Antioch mobile home park [sic] will accept all ages." Fear?


"You've got children running around — there's no place for them to play," Espinoza reportedly said, per EBT.  She pointed out the community doesn't have a playground.  "And there's more vandalism. Teenagers get bored and they vandalize."
"Ironically," said a community professional that had pointed the developing story out to MHProNews, "that's the kinds of comments a NIMBYite who wants to stop a manufactured home community development or expansion might make."
The protests look to be organized by the MHPHOA.
From their website, "MHPHOA PLEDGE: The MHPHOA is a grass roots movement who are passionately dedicated to the preservation and protection of mobile home owner's rights in Kort & Scott Financial Group (KSFG) dba Sierra Corporate Management (SCM) mobile home parks in the State of California."
One local industry professional, speaking of the record, rhetorically asked "While many seniors certainly may prefer a 55 + community, do community owners with millions invested no longer have rights too?"
About KSFG
"Based in Southern California, Kort & Scott Financial Group, LLC. is an owner and operator" of manufactured home communities, says their acquisition website. "Since 1989, the company has acquired over 9,500" sites, says the firm's website.
California's Codes and Standards says there are some 5,239 manufactured home communities licensed to operate in that state.
Several dozen are in KSFG's portfolio.
"Because it appears that the vast majority of Vista Diablo Mobile Estates' residents are seniors," said the EBT report, "council members responded to their impassioned pleas by unanimously agreeing to consider adopting an urgency ordinance at their July 11 meeting."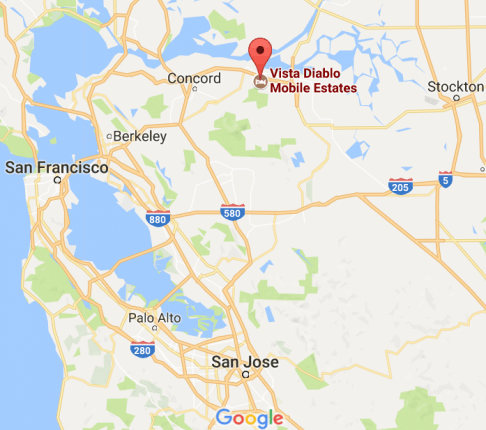 "The ordinance, if approved, would establish an immediate moratorium on any changes to the mobile home park's residency requirements while city officials study the matter further and come up with a permanent set of rules," concluded the local media report.
Not one word of the EBT report indicated any input or outreach to the property owners. Nor was there any attempt to represent their postion, beyond citing the following: "Although federal housing law prohibits discrimination on a wide variety of fronts, an amendment in the 1980s allowed landlords and developers to restrict housing to seniors as long as that demographic comprised at least 80 percent of the complex's units."
The Daily Business News plans to reach out, track and report back on this and similar developments. ## (News, Analysis.)
(Image credits are as shown above, and when provided by third parties, are shared under fair use guidelines.)

Submitted by Soheyla Kovach to the Daily Business News for MHProNews.com.