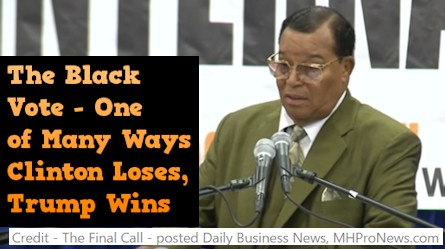 Don't let any network or pundit depress you or your vote, because when you dig past the surface of the recent polling, you see that this election is a true tossup on who will be the next occupant of the Oval Office.
Irony of ironies is to see a growing number of black – and in the case of Louis Farrakhan, Muslim leaders praising Donald Trump – while dissing President Barack Obama and Hillary Clinton.
The New York Times recently reported the nervous reason why President Obama is spending so much time playing defense in battleground and even supposedly solidly blue states.  The indicators are that the early black vote may be down by some 15 percent.  If every other election trend held – including the fact that Donald Trump is polling as high as 18% with blacks in recent polling, barring the unforeseen or widespread fraud – Donald Trump and Mike Pence will become the next president and vice-president of the United States.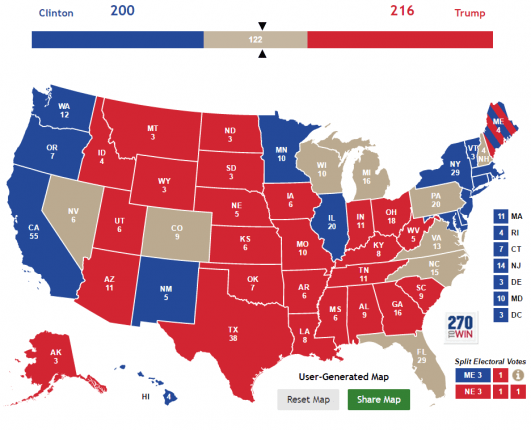 Using the latest headlines and linked polling from the Drudge Report, and the most recent information available, the current elector map looks like this.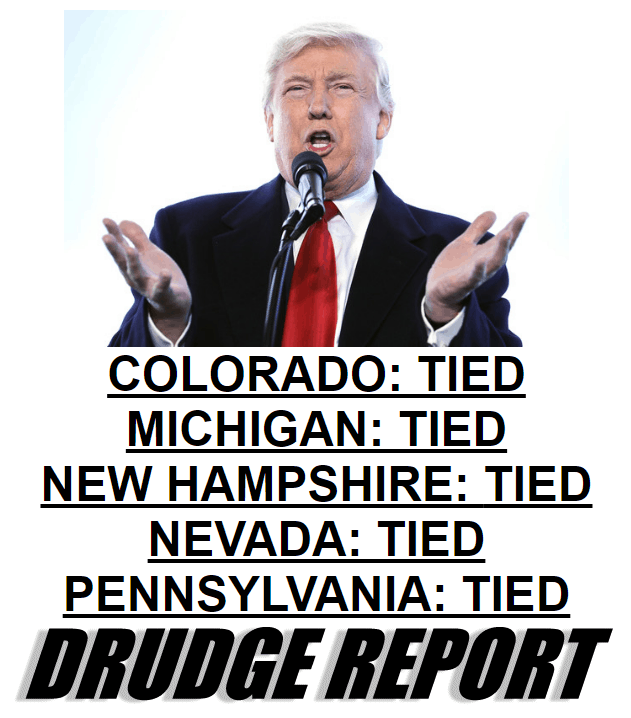 This election is far from over.  The momentum is solidly moving in Donald Trump's favor.  Don't let any commentator dissuade you from voting, because this will come down to who wants this election the most.
The hypocrisy?  That the Clinton campaign is doing what they accuse their GOP rival of – they have made this a 'go low' election.
The Clinton camp aren't focused on arguing policies or experience, rather, they are trying to make Trump radioactive.  For manufactured housing, editorially, we've taken the view that Donald Trump's policies are better for our industry and America.
In an opinion column that features an easy-to-follow infographic, Soheyla Kovach, MHProNews co-founder, lays out her case as to why Hillary Clinton has failed women, minorities, business and other voting groups. See the link here.
Not just Farrakhan, but a growing number of other African-American, other leaders and tens of millions of all backgrounds are also saying about Donald Trump, "I like what I'm looking at."
"We Provide, You Decide." © ##
(Image credits as shown above.)

Submitted by L. A. 'Tony' Kovach to the Daily Business News, on MHProNews. 
Note: Election coverage and commentary should not be construed as representing the views of any sponsor.