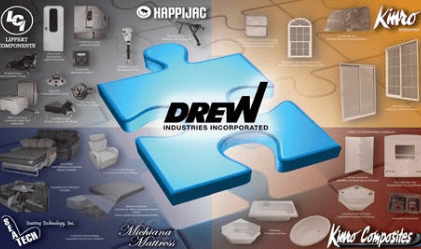 Drew Industries, Inc. Chief of Financial Operations (CFO) Joseph S. Giordano III sold 19,500 shares of Drew stock on the market March 24, according to a filing with the Securities and Exchange Commission (SEC). According to what dakotafinancialnews tells MHProNews, the stock was sold at $64.75 per share, totaling $1,262,625.00. He now owns 209 shares of company stock valued at approximately $13,532.75.
Giordano served as Treasurer and controller of Dew from May 2003 to May 2008. Since then he has been the CFO and Treasurer of the company.
Drew Industries, Inc. manufactures and distributes components for the manufactured housing and recreational vehicle industries through its wholly-owned subsidiary, Lippert Components, Inc., from 19 facilities located around the nation. Drew's stock closed at $61.95 in today's trading, up +0.58 percent. ##
(Image credit: Drew Industries, Inc.)

   Article submitted by Matthew J. Silver to Daily Business News-MHProNews.