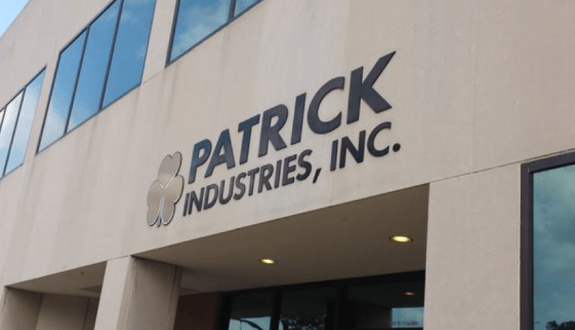 In a major move at Patrick Industries, Inc. (NASDAQ:PATK), CEO Todd Cleveland sold 10,000 shares of stock on January 6th.
At an average price of $80.16, the total value of the transaction was $801,600.00, per Sports Perspectives.
Post-sale, Cleveland now owns 344,998 shares in the company, valued at approximately $27.6 million.
During its most recent earnings call on October 27th, Patrick Industries reported $0.79 earnings per share (EPS) for the quarter, topping the Zacks' consensus estimate of $0.76. The company had revenues of $304.20 million for the quarter, compared to the consensus estimate of $280.60 million.
The company had a net margin of 4.60 percent and a return on equity of 35.44 percent, with revenue for the quarter up 41.6 percent compared to the same period last year.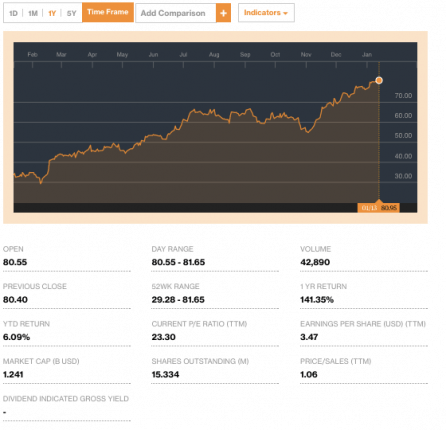 "Overall, we're pleased with our sales and earnings results for the first nine months of 2016 and optimistic about the continued growth as we head into the remainder of the year, both in the short and long-term as we continue to build on the momentum in the industries we serve," said Cleveland.
"The strategic acquisitions we made during 2015 and thus far in 2016 both increased our scale in existing markets and open the door into new markets within a North American footprint, which is now expanded to 16 states."

Cleveland also commented on potential future activity.
"Our pipeline continues to be full with acquisition opportunity across all three markets we serve including adjacent markets, and we have the capacity to continue to grow our business and bring new innovative product lines to existing customer base and the customers we've not yet reached," said Cleveland.
"In terms of our outlook for the remainder 2016 as we head into the fourth quarter, we expect to see similar seasonal demand patterns experienced in prior years," Cleveland said.
"Our discipline execution goals, continue to be focused around taking care of the customer base with the highest quality products and customer service opening up capacity to plan our future growth, drive organizational strategic agenda and utilize our capital allocation strategy to strategically grow the business, additionally, our teams align to increase customer awareness of the breath the products we can provide, expand operations in targeted regional territories and drive shareholder value by generating improved operating income, net income earnings per share and free-cash flow."
As Daily Business News and MHProNews readers know, Patrick Industries is a leading manufacturer of building products and materials to the Recreational Vehicle and Manufactured Housing Industries in the United States.  The firm was founded in 1959.
For the most recent closing numbers on Patrick Industries and all MH industry-connected tracked stocks, please click here.  To read about a major award presented to the firm recently, click here. ##
(Image credits are as shown above.)

Submitted by RC Williams to the Daily Business News for MHProNews.