That is the NCC Fall Leadership Forum: "Building a Vision For The Future" held this past week in Chicago. First and foremost, kudos to my very good friend Jenny Hodge. Jenny is Vice President of MHI's National Communities Council (NCC) and responsible for organizing and bringing forth this exceptional event. David Lentz is to be commended for his leadership and vision for the NCC.
While on the train from Milwaukee to Chicago I reviewed the agenda just to be certain I was up for the show which began in earnest Thursday morning. There was no doubt in mind that we were in for a very intense Thursday and Friday morning!
Wednesday evening's reception was a very nicely arranged meet and greet with appetizers and an open bar. It has certainly been some time since we've seen MHI in a position to host such an event.
The real work began Thursday morning. The fact is that there was something to learn for everyone involved in the Manufactured Housing Community industry (MHC) whether you attended one session or attended all of the sessions.
The attendees were made up of a mix from the community business. When there was a show of hands early Thursday morning it appeared that there was a fairly even split of community owners present. One third were smaller owner with less than five communities, one third with less than 10 communities and one third owners or more than 15 communities.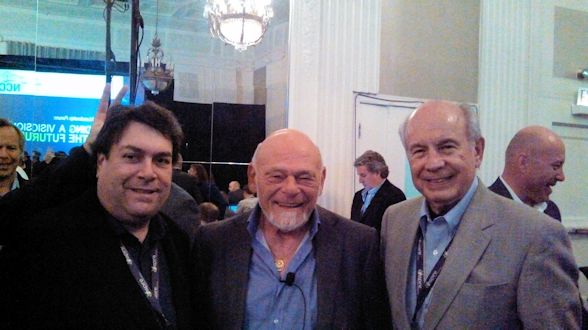 Rick Rand, Great Value Homes (l) Sam Zell, Equity Lifestyle Properties (ELS) Chairman (c),
Jim Clayton, founder Clayton Homes and Chairman of Clayton Bank (r)
In addition, in attendance were lenders specializing in community financing, manufactures who are interested in serving the community owners needs to provide homes for vacant sites, Real Estate Brokers who market and sell communities along home lenders and other firms providing resources to community owners.
As is not uncommon at events like this, networking opportunities were abundant. I am more than certain that new relationships were forged, deals discussed and ideas exchanged. That is part of what makes these interactive events such great opportunities for all segments of the industry.
For those who focused on the Build A Vision For the Future agenda, they were rewarded with session after session of individuals both from within the industry and from other industries sharing their knowledge and experience. Topics relating to marketing, selling, community relations and all the important component of customer service which forward thinkers in the MH Industry are working to accomplish. Not only did the presenters share their knowledge and experience, they also made time for provocative interaction and dialog amongst all of us in attendance. ##
(Editor's Note: Read more of Rick's commentary – plus photos – on the NCC Fall Leadership forum at this link here.
You can see NCC dinner cruise and event photos at this link here.)

Richard J. Rand
President
Great Value Homes, Inc.
9458 N. Fairway Drive
Milwaukee, WI 53217-1321
414-352-3855
414-870-9000 (cell)
RickRand@gvhinc.net