As a retailer for over 30 years and having operated 15 or so locations, I have lost a few sales per year per dealership due to potential buyers having filed personal bankruptcies in the prior 7-14 years. Most were due to un-insured medical expenses.
A 2007 Harvard study bears me out. "Half of U.S. bankruptcies, affecting 2 million people annually, were attributable to illness or medical bills." An article by CNN in '09 raises that percentage to 60%. Medically related bankruptcies have been rising steadily, up from 8% in 1981 (Businessweek).
ObamaCare – with all it's flaws – is designed to eliminate medical bankruptcy by insuring all without exemptions or caps for catastrophic illness. What is so bad about that concept?
Just think what 3 -5 more sales per year per retailer would add up to, nationally!
On top of that, all the site builders would also sell more homes. Every non-commercial real estate agent would sell more existing homes and their sellers could buy a new home!
Multiply all this out, and you have thousands upon thousands of homes built and sold plus the jobs they create, and the trickle down effect on suppliers, lenders, etc.
It is just a fact that ObamaCare – if tweaked and successful – will be good for housing. I don't care about Olive Garden, I care about the Manufactured Housing Industry!
Dodd/Frank is the looming disaster for housing, not ObamaCare.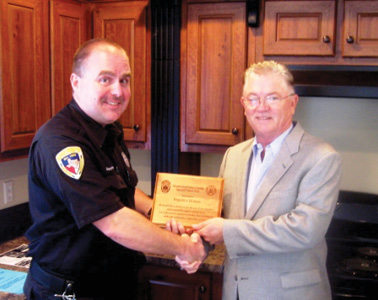 Frank Woody, Owner
Republic Homes
Texas
(Editor's Note1: Frank Woody (r). Photo Credit azlenews. Frank is too modest to do this himself, so we are posting this for him! Weatherford Police Chief Manning presents an award to Frank Woody for going above and beyond to help law enforcement by providing them a place to conduct training.)
(Editor's Note2: this commentary by Frank Woody came as his 'reply' to the article linked below. His comments above are published at his request.)
http://www.MHProNews.com/home/industry-news/industry-in-focus/6659-dodd-frank-fix-hr-1779-preserving-access-to-manufactured-housing-act-of-2013-achieves-growing-bi-partisan-support- )