MHProNews.com and MHLivingNews.com are both good communications resources for the Manufactured Housing Industry. I and many others at 21st Mortgage and at MHI logon to see the latest news, interviews, debates, videos, opinions and reports they publish. Having a trade publisher that presents thoughtful, respectful commentary independent of any association's perspective – as important as an association's view can be – can be a big asset to advancing the MH Industry's cause. Let me explain why.
There are times that publisher L. A. 'Tony' Kovach – or a writer or interviewed person on one of his trade media sites – will take a view different than that of a given association.  
Respectfully and thoughtfully done, that can lead to a healthy discussion. Such discussions are how industry members can learn from each other and grow.  We may agree or disagree, but a quality, candid and respectful discussion that clarifies issues has true value.
When MHI or another association finds Tony or one of his guest writer's taking a view clearly supportive of an Industry association's stated position, that should bring more confidence to all; precisely because they share an independent viewpoint. 
A "yes man" has limited value, while the thoughtful agreement or discussion from a variety of engaged players is all-the-more compelling and powerful.
At 21st Mortgage, we have access to a wide variety of resources that the independent business or professional in MH may lack. While anyone can gain value from their industry trade publications, independent business owners can gain valuable insight from the industry news, tips and views found on MHProNews and MHLivingNews.com. 
Tony is routinely at MHI meetings, and attends the briefings and sessions. He is engaged. When he says he supports HR 650/S 682, he walks the walk in word and deed. He has clearly supported the earlier versions of the bill and commented as such in his publications.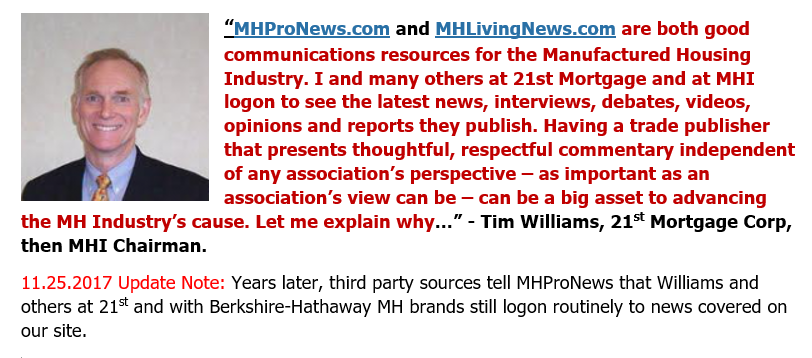 We all make mistakes. I know that Tony has corrected errors when they are brought to his attention. His publication accepts opinion articles or will share views in interviews that may differ from his own published position. My impression is that Tony isn't looking for 'an amen corner,' rather, he wants a variety of views that get people to think, talk and take action. 
At times, MHI presents messages in ways differing or emphasizing one point over another than Tony's publications. For example, Tony acknowledges that due to CFPB regulations, there is an impact on MH lending at $75,000, and states as much in videos and articles. On this we agree. He tells me his emphasis of the impact to MH on homes below $20,000 is because of feedback he gets from home sellers. While we are choosing to focus on two different segments of our borrowers, the overall message is still the same.  To rephrase, Tony's publications and MHI are both correct on this issue. There is no daylight, just a difference in delivery.
I'm happy to commend Tony and his team members for the important work they do to advocate for our MH industry. Perhaps one of the more useful points that can be made about their value is that others in the mainstream media and in government have cited Tony, MHProNews.com and MHLivingNews.com, and/or have shared his pro-industry take on a wide range of MH related subjects. They've done positive and profitable work promoting the MH industry, events, products and services.
We hope his team continues their years of efforts to provide a balanced and useful source of info on MH. Their growth and success are good news for our MH Industry. ##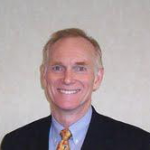 Tim Williams
President/CEO 21st Mortgage Corp.
MHI Chairman.