It seems as though the resident in the Denver Meadows incident reported online is not sharing the whole story.
Most of these stories are more complicated with much history behind each property sale.
For example, in many cases, the property owner has offered the Community to the Residents long before re-developing.  But at times – like the owner – the Residents find they can't afford to operate the community either.
This Aurora, Colorado planned closure story shows they have given the resident who was interviewed two years notice.
Usually, some other assistance is offered by the city, county and state, sometimes all three. Often, the community owner also offers assistance.
One of the biggest reasons that a Manufactured Home Community Owner sells his property is that over time property taxes increase four and five-fold.  But the owner can't economically escalate the lot rent quick enough to keep up.  Or the resident could not afford to live there if they did.
As communities become surrounded and engulfed by restaurants, Hilton Hotels, stadiums, big box stores, airports, residential and commercial developments – property taxes begin exceeding the total revenue from renting spaces.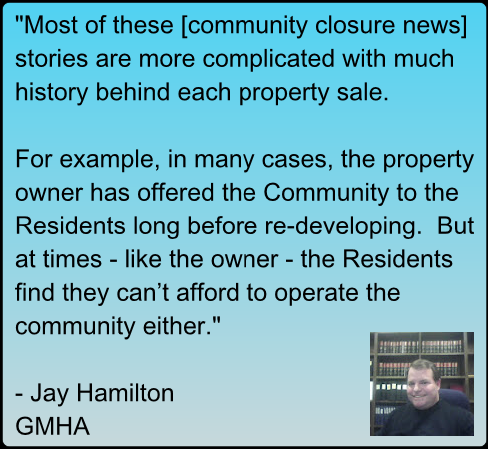 Business owners cannot expect someone to operate their business at a continual loss or with a margin that is too low, and therefore it becomes necessary to redevelop for sale.
In my state, a lot of our Mom & Pop Community owners live on their own MHC property as well.  When that happens, and they are pushed into selling and closing, they too are having to leave their home.
Whatever the case, a property owner takes a risk when they purchase and develops a land-lease community for manufactured homes.  They may have millions of dollars in financial liability and they are accountable for the resident's safety and well-being.
When you rent versus buying the real estate, you escape this burden of accountability, you avoid taxes, avoid having to do property maintenance on the weekends, and that has always carried a price which is some loss of control in your surroundings. It is a trade-off that most of us take at some point in our lives, especially when we are younger.
As MH Association Directors, we support a Property Owners rights to buy, sell and make a profit at any time. What we do hope for is that the MH Community owner does it ethically, which is usually the case.
We hope this Community owner gives his/her residents ample time to purchase the Community themselves; we hope he gives residents sufficient time to move, we hope he assists the customer in selling their home at market value if that is their choice.
We hope that if a customer does not have the funds that they are shown what paths they need to take for federal or state assistance.
In a nutshell, we hope the Community Owner treats their residents like he would treat a friend or family member and usually that is what happens in most cases. ##

C. Jay Hamilton
Executive Director
Georgia Manufactured Housing Association
199 East Main Street #322
Forsyth, Georgia 31029
(Editor's Notes: MHProNews plans on doing a story on this property closure.  We reached out and spoke to an owner, Shawn Lustigman, who politely declined to comment. Other thoughtful perspectives on this or other issues that are connected to the manufactured, modular or prefab home industries are weclomed and encouraged. Two other takes on this topic are linked here and here.  This post will be updated with our planned Daily Business News story, once it is published.  The headline was provided by MHProNews, as is often the case with letters to the editor or an Op-Ed.)