As conventional housing prices and mortgage rates continue to rise, the Millennial generation and others are looking for smart options. Many desire to move from renting to owning, but often struggle to find that a real possibility in the current site built market. The manufactured housing industry can offer a solution to that problem.
Today's manufactured homes can look and live like a conventional, site built house, and can be half the price of new construction. Additionally, many manufactured homes are Energy Star rated, so they are more efficient than older existing homes.

Energy consumption is an important factor to many people today, especially the Millennial generation. I know the benefits of purchasing a manufactured home because, as a millennial myself, I live in a residential style manufactured home that I purchased last year.  ##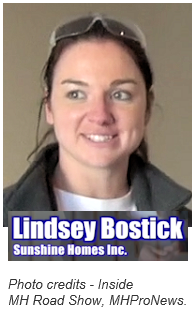 Lindsey Bostick
Sunshine Homes
(Editor's Notes: Lindsey Bostick's comments are in relation to reports, such as the ones linked here and here.
For the interview, A Cup of Coffee with…Lindsey Bostick, Sunshine Homes, click here.)