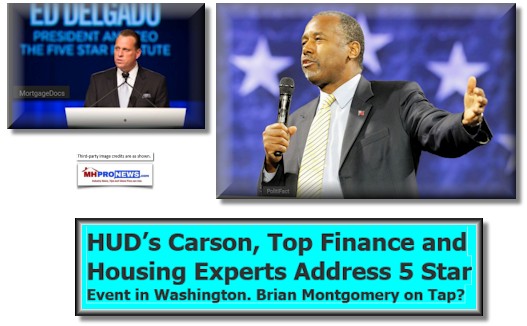 "We are honored to host Dr. Carson as a keynote presenter," said Five Star Institute President and CEO Ed Delgado via a release to the Daily Business News. "The importance of HUD's leadership in furthering the health and wellness of the United States housing market simply can not be overstated. We look forward to hearing Secretary Carson communicate his vision toward ensuring that responsive and responsible housing policies are maintained for the benefit of homeowners."
Now in its 9th year, Dallas-based Five Star Institute's event is a day-long gathering where leaders in mortgage banking and the federal government engage and have an open dialogue about pressing issues. "With representation from HUD, FHFA, Fannie Mae, Freddie Mac, Ginnie Mae, this year's Government Forum speakers have played an integral role in providing quality leadership to the federal government and the mortgage industry," said the release.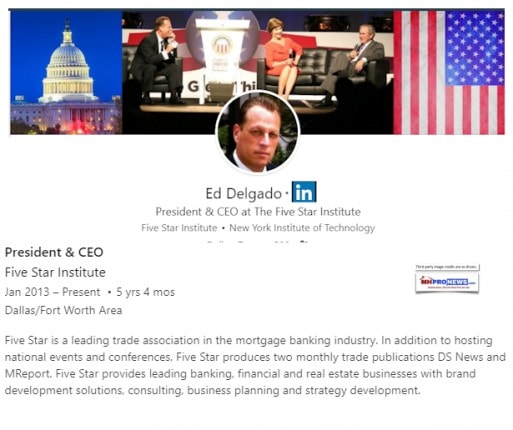 The 2018 Five Star Government Forum launched at the Newseum in Washington D.C. on April 3rd with a discussion between United States Secretary of Housing and Urban Development Benjamin Carson, M.D., and Five Star President and CEO Ed Delgado.
Carson told the assembled guests that he was proud of HUD's work to "empower others and move them up the ladder." per DSNews.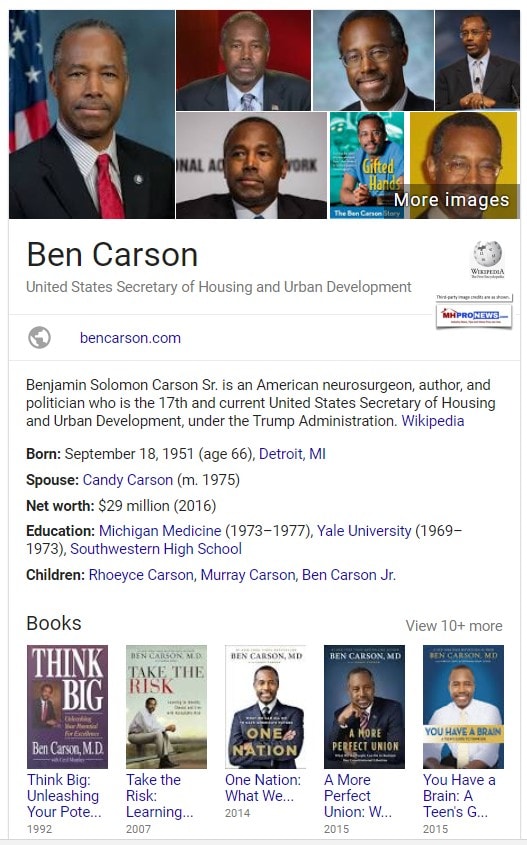 While it wasn't reported from the event, Secretary Carson has spoken favorably about manufactured housing during a recent Senate oversight hearing, see a report with video, linked below.
HUD Secretary Ben Carson, MD, Senator Thom Tillis, Affordable Housing, Senate Oversight Hearing, Manufactured Homes, Mobile Homes, Trailer Houses, Manufactured Home Living, Factory Built Housing 101, Evolution Trailer Houses Mobile Homes Manufactured Homes, Compare Site Built with Manufactured Homes, video, home tours,
"Carson also addressed an issue the industry has been watching closely for months," said the MReport, "the nomination of Brian Montgomery, currently Vice Chairman of the Collingwood Group, for the role of Assistant Secretary for Housing—Federal Housing Commissioner, U.S. Department of Housing and Urban Development."
Some background on Montgomery, who is familiar with the manufactured housing program during a previous stint at HUD, is found in the 2017 report linked below.
Inside Info on the Power Behind the Throne at HUD – Deputy Secretary; Plus More on Dr. Carson
"Montgomery originally appeared before the Senate Banking Committee last fall," said DSNews. "However, the Senate went into recess before voting on his nomination. As such, the Banking Committee must now revote on the issue before it goes before the full Senate for a vote. While Carson did not reveal any specific timeline on the Montgomery vote, he did tell Delgado that "We are hoping to add Brian Montgomery to the team soon.""
Other Speakers at the 5 Star Event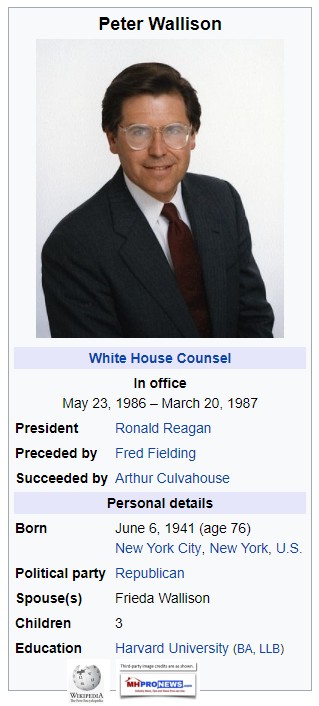 Peter Wallison, Senior Fellow and Arthur F. Burns Fellow in Financial Policy Studies at the American Enterprise Institute addressed attendees saying in part that the, "The thought that only federally backed programs can provide 30-year fixed-rate mortgages is a myth," according to the MReport.
Wallison served in the Reagan Administration, and has extensive experience, as the summary from Wikipedia reflects.
During the Policy and Regulation Update panel, Yvette Gilmore, VP, Servicer Relationship and Performance Management at Freddie Mac spoke about the lessons learned from last year's hurricanes that swept Texas, Florida, and Puerto Rico, as well as the wildfires and mudslides that pummeled California.
Gilmore told Five Star Forum attendees that "Disaster response was about being responsive to our customers."
The "Housing Economy in Focus" panel discussion delved into economic trends and the state of the market. Mark Palim, Deputy Chief Economist at Fannie Mae said that "new home sales are 25 percent below where they should be."  That's similar to other figures previously reported from the National Association of Home Builders (NAHB), or the National Association of Realtors (NAR).
Inventory shortages have been a critical problem in markets across the country in recent months, said LendingTree Economist Tendayi Kapfidze, "The supply question for new homes is less dire than it is for existing homes."  That statement by Kapfidze appears to be at variance with observations by NAR's Chief Economist, Lawrence Yun, who was not in attendance. Yun has said previously that the solution to the growing affordable housing crisis must include the production of more new homes.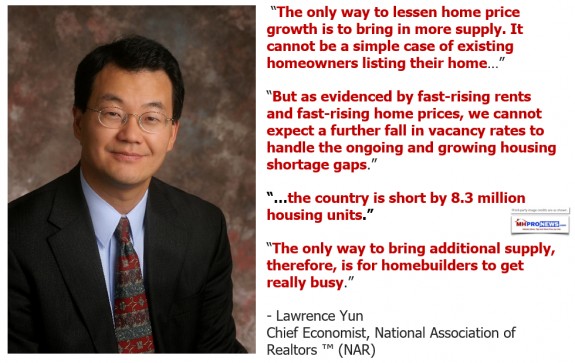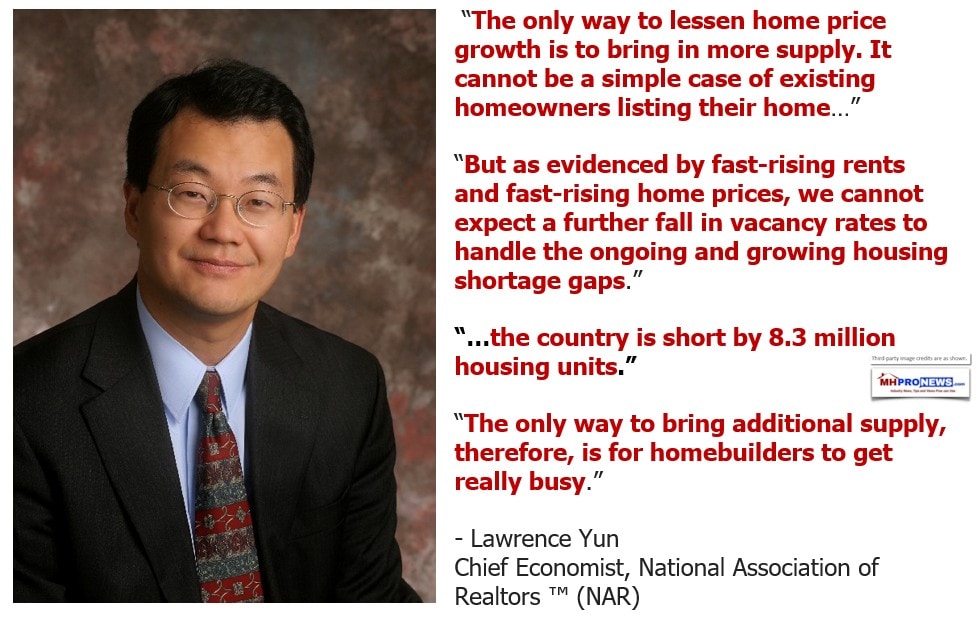 The panel discussed getting more millennials into the mix and buying homes.  MReport and DSNews both reported that attracting more millennials is "something that's been made difficult for many by the combination of limited housing supply and skyrocketing home prices in many markets." MHProNews plans an updated report on the millennial issue in the near term.
"Younger adults are not forming households at the same rate as they used to," said Leonard Kiefer, Deputy Chief Economist, Freddie Mac.
According to Freddie Mac's recent report, "the rate of heading a household (headship rate) for young adults in 2016 was down 3.6 percentage points as compared to young adults in 2000. If these young adults had formed households at the rate of the young adults in 2000, then the U.S. would have had 1.6 million additional households in 2016."
"Millennials have the same aspirations toward homeownership," said Palim. "But they ran into a recession."
The Honorable Edward DeMarco, President of the Housing Policy Council, Financial Services Roundtable discussed issues involving the Federal Housing Administration (FHA).  Other session topics included "Regulatory and Enforcement Priorities of the CFPB," "Expanding Homeownership," and "HUD and The Future of Housing," all of which are topics that the Daily Business News and MHLivingNews have kept regular manufactured housing industry readers up-to-date on. "News Through the Lens of Manufactured Housing." © ## (News, analysis, and commentary.)
(Third party images are provided under fair use guidelines.)

Submitted by Soheyla Kovach to the Daily Business News for MHProNews.com.
Soheyla is a managing member of LifeStyle Factory Homes, LLC, the parent company to MHProNews, and MHLivingNews.com.