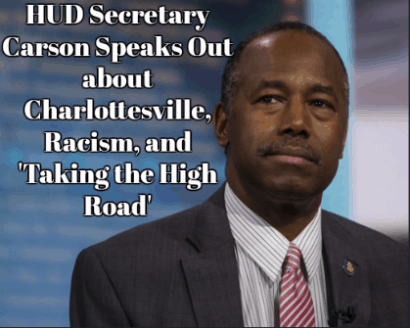 Amidst the chaos and tragedy of the Charlottesville protests, it was revealed that the Secretary of the Department of Housing and Urban Development (HUD) Ben Carson's home in Virginia had recently been vandalized with anti-Trump rhetoric, per the Washington Examiner.
In a Facebook post, Secretary Carson shared two different personal stories of dealing with racism and extremists in his own neighborhoods.
"Regarding all of the racial and political strife emanating from the events in Charlottesville last weekend, let me relate a story," Carson wrote.
"Several years ago we bought a farm in rural Maryland. One of the neighbors immediately put up a Confederate flag. A friend of ours who is an African-American three-star general was coming to visit and immediately turned around concluding that he was in the wrong place. Interestingly, all the other neighbors immediately put up American flags shaming the other neighbor who took down the Confederate flag."
The second story was where Carson shared the details of his home being vandalized with hateful, anti-Trump comments.
"More recently our home in Virginia along with that of a neighbor was vandalized by people who also wrote hateful rhetoric about President Trump," he continued. "We were out of town, but other kind, embarrassed neighbors cleaned up most of the mess before we returned."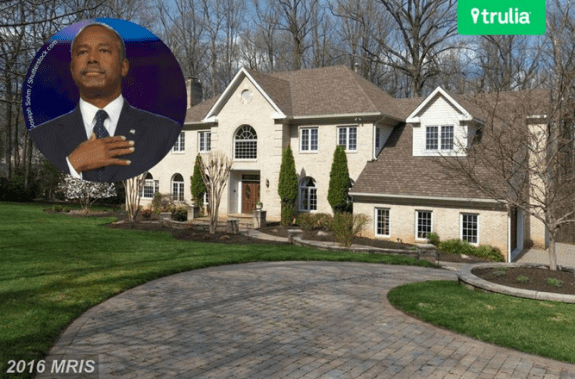 "In both instances, less than kind behavior was met by people taking the high road," Carson stated.
"By the way, that neighbor who put up the Confederate flag subsequently became friendly. That is the likely outcome if we just learn to be neighborly and to get to know each other," the HUD Secretary concluded.
While the media debates over whether or not President Trump's statements regarding the Charlottesville incident were racist – due to the president "blaming both sides," as seen in the video below – Carson is looking at it from a different perspective.
Rather than fighting violence with violence, as some viewed the case of Charlottesville, Carson suggests that there is a third option not being considered.  "Taking the high road."
As Carson said of the confederate flag incident – they were able to become friendly with their neighbor eventually – and that was a result of taking a nonviolent approach to fighting racism.
"There are radical terrorists in the world who want to destroy us and are coming dangerously close to acquiring the means to accomplish their goals," Carson wrote Saturday.
"We must present a strong and united front in the future. If America is going to survive, we must not yield to the forces of evil. Remember what our money says: 'In God We Trust.' Let's act accordingly."
It's worth noting that Secretary Carson, along with Alveda King, niece of civil rights icon, Dr. Martin Luther King, Jr., appeared with President Trump at last night's rally in Phoenix.

## (News.)
(Image credits are as shown above, and when provided by third parties, are shared under fair use guidelines.)
Submitted by Julia Granowicz to Daily Business News for MHProNews.