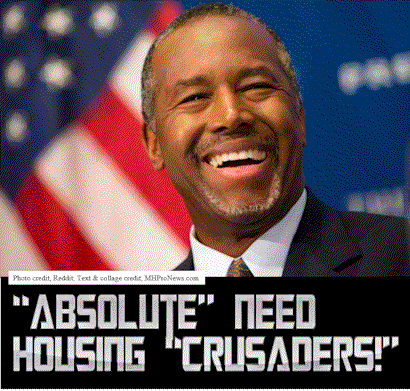 As June 2017 winds to a close – a time which President Donald J. Trump proclaimed to be Home Ownership month – Housing and Urban Development (HUD) Secretary Dr. Ben Carson hosted a video broadcast via Facebook, which MHLivingNews captured, enhanced from the original and provided to the Daily Business News.
The video Q&A discussion provides several insights into Dr. Carson that could prove useful to the manufactured housing industry.
Carson Raise the Topic of Factory Housing and Innovation
Carson himself raised the topic of factory-based home building.  He spoke too about innovations that the free enterprise system could create and provide, that would yield lower cost home ownership options.
The discussion includes some of the following topics:
Financing programs
The Section 8 voucher can be used to buy housing program
Programs to help prepare or get people into a home successfully
Public Private Partnerships
Getting people out of troubled housing projects and poor environments
The connection between health and housing, and much more
The need for 5 and 10 year planning
The "absolute" need for crusaders
Dr. Carson presents himself as a true believer in free enterprise.
He also wants helping people to get an opportunity to climb the ladder to success.  Carson notes that those who own a home have an average net worth of $200,000, while those who rent have an average net worth of $5,000.
HUD's new secretary wants sustainable home ownership, which he admits isn't for everyone, but he wants those opportunities to expand to millions more than enjoy it today. ##
(Image credits are as shown above, and when provided by third parties, are shared under fair use guidelines.)

Submitted by Soheyla Kovach to the Daily Business News for MHProNews.com.