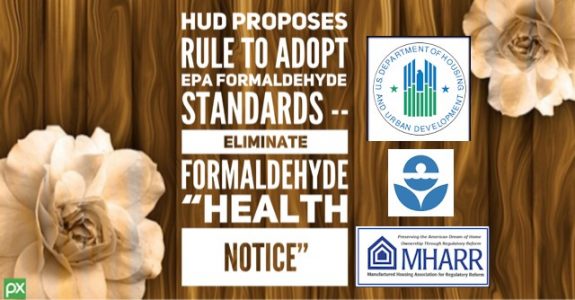 The U.S. Department of Housing and Urban Development (HUD), in the March 22, 2019 edition of the Federal Register, has issued a proposed rule that would amend the Federal Manufactured Housing Construction and Safety Standards (24 C.F.R. 3280) and Procedural and Enforcement Regulations (24 C.F.R. 3282) to incorporate formaldehyde emission controls and related certification requirements previously adopted by the U.S. Environmental Protection Agency (EPA) pursuant to the Formaldehyde Standards for Wood Products Act of 2010. HUD's action implements a directive in that law, requiring HUD to update its manufactured housing formaldehyde standards to ensure consistency with the EPA standards, within 180 days of the enactment of the EPA standards.
Given the statutory nature of this mandate, MHARR, in comments before the Manufactured Housing Consensus Committee (MHCC), at its October 25-27, 2016 in-person meeting, and in separate regulatory reform comments pursuant to Trump Administration Executive Orders 13771 and 13777, submitted to HUD in June 2017 and February 2018, specifically called on the Department to repeal the red formaldehyde "health notice" currently required by section 3280.309 of the federal manufactured housing standards. Emphasizing that the new EPA requirements apply to composite wood building materials across-the-board, and that "manufactured homes utilize the same construction materials as site-built and other types of homes," MHARR stated that the "discriminatory requirement [for] each manufactured home [to] prominently display" the red formaldehyde "health notice," must be repealed.
And now, based on MHARR's consistent position on this matter, HUD is planning, as part of its March 22, 2019 proposed rule, to eliminate this red formaldehyde "health notice," which has been a subject of significant controversy – and a discriminatory impediment to the industry and its growth – for over three decades.
Comments on HUD's proposed rule must be submitted by April 22, 2019.  MHARR, as usual, will submit comments in advance of the deadline, which may be cited by other interested parties.  This matter, in addition, will be addressed at MHARR's upcoming Board of Directors meeting.