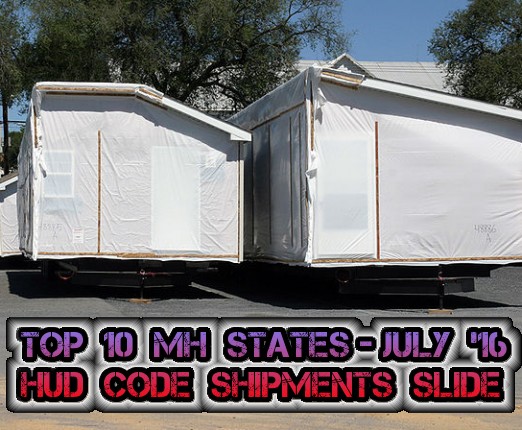 Washington, D.C., September 7, 2016 – The Manufactured Housing Association for Regulatory Reform (MHARR) reports to MHProNews that according to official statistics compiled on behalf of the U.S. Department of Housing and Urban Development (HUD), manufactured housing industry production fell during July 2016.
The latest statistics published by MHARR indicate that after nearly 3 ½ years of monthly (year-over-year) production increases, HUD Code manufacturers produced 5,335 homes in July 2016, a 12.3% decline from the 6,085 HUD Code homes produced during July 2015.
Cumulative industry production for 2016 now totals 45,204 homes, which is still a 14.7% increase over the 39,404 HUD Code homes produced over the same period in 2015.
MHARR's analysis of the official industry statistics shows that the top ten shipment states from the industry production rebound in August 2011 through July 2016  — with cumulative, monthly, current year (2016) and prior year (2015) shipments per category as indicated — are as follows:

With this latest information, the analysis reflects that Alabama has now edged ahead of North Carolina, into 4th place on the cumulative list of the top-ten shipment states.
Trend or Aberration?
MHARR says it is unclear if the declining production during July 2016 represents an aberration or potential trend.
But they say that "it clearly reflects the unique and ongoing vulnerability of an underperforming HUD Code manufactured housing sector to excessive federal regulation of production and discriminatory policies affecting consumers after HUD Code homes leave the factory — both of which continue to suppress the availability and use of manufactured housing."
"With HUD Code manufacturers building their best homes ever," states the MHARR release, "and with consumer need and demand for affordable housing at unprecedented levels, HUD Code production — as MHARR and other industry observers have continued to express — should be on its way to hundreds of thousands of homes annually."
Their report continues by saying, that, "As MHARR has stressed, however, a toxic mixture of costly and unnecessary federal production regulation (such as new HUD on-site construction mandates) and discrimination in areas such as financing, placement and "zoning," have combined to keep millions of potential new homebuyers out of the manufactured housing market."
"And matters, no doubt," says MHARR, "will only get worse if the industry and consumers fail to block the U.S. Department of Energy from imposing harsh new "energy" standards on HUD Code homes that will far exceed anything required even for million-dollar site-built homes in most of the country." ##
(Editor's Note, MHARR's President and CEO, M. Mark Weiss, provided statements useful to manufactured housing industry pros on zoning and discrimination against MH, as reflected in a recent Op-Ed, published here.)
(Image credit as shown.)

Submitted by L. A. 'Tony' Kovach to the Daily Business News, MHProNews.