A builder of HUD Code manufactured homes contacted MHProNews  Monday morning with comments regarding concerns that arose from a conference call with producers, HUD's third party inspectors and others they said took place last Wednesday, August 13th at 2 PM ET.
The caller urged that we contact other independent producers, asking them for their take on allegations such as the following:
that no cost-benefit analysis is being done by HUD on the impact of their requirements,

that the consensus process is being ignored or bypassed,

HUD is going past its mandates, 

that third party inspectors are essentially benefiting when more

regulations

are put in place
among other issues raised. Asked about the above allegations, a C-Suite level official at another independent manufactured home (MH) producer made this statement to MHProNews, quoting verbatim:
"Your caller is 100% correct, in my opinion, on each and every point made."
Fear of Regulators?
The original source stated that HUD Code MH producers are "scared to death" about making public or on-the-record statements on such matters, because there are "…so many gray areas in the regulations that it would be easy to get shut down on a relatively minor point, and essentially be put out of business."
MHProNews  contacted HUD about these allegations. We were informed that MH program director Pam Danner is "out until  Wednesday, September 3, 2014."  Two alternative contacts were given, including Rick Mendlen, whose voice mail stated he would be "out until August 26th." Patricia McDuffie  was the other alternate contact, and she nor others at HUD returned our inquiries as of press time.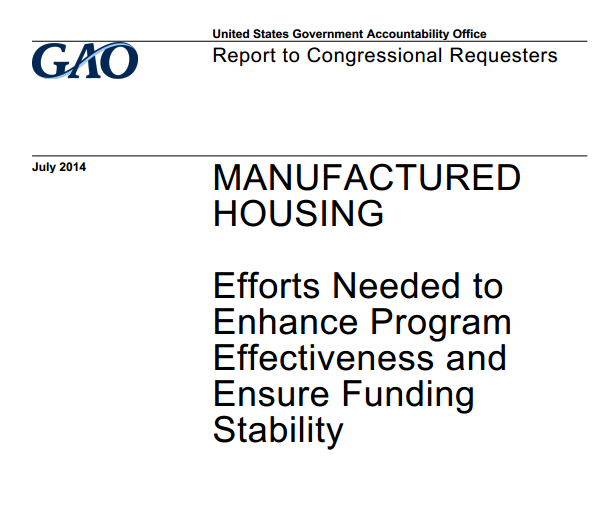 The MH Industry's Need to Know
"I just do not think most people in our business understand the burden and arbitray nature of the regulations," a C-Suite level HUD Code builder claimed.
An executive level producer's comment – likewise shared off-the-record – was "There is no new revelation" in these comments, but empahsized that "It just needs to be better understood" by MH Industry professionals as well as by Congress, who is supposed to be providing oversight to regulators.
Indeed, a recent GAO report issued that was requested by members of Congress, dealt with HUD Code program challenges in some depth.
Regulatory Impact on Potential Home Buyers?
"Young people aren't buying homes," said a builder, yet "rental rates continue to rise" in the housing market. The source's point was that regulatory burdens – certainly not only for manufactured housing, but true for other industries including finance – are harming affordability and access by consumers to options they'd normally seek absent those regulations.
Another comment was that much of what comes out of Washington, DC is couched in legalize, making it hard for greater numbers in the industry to relate to the true impact of this or similar issues regarding "regs."
"The same could be said about finance and regulations," a lender told MHProNews.  "Nor am I talking about MH regs alone, just look at the number of community banks that have shut down since Dodd-Frank went into effect." Regulatory costs are easier for the larger banks to deal with, that source asserted.
Off the Record from HUD?
The Manufactured Housing Consensus Committee (MHCC) is the body that the Manufactured Housing Improvement Act of 2000 (MHIA 2000) established to insure reasonable and effective regulations. A source close to the HUD MH Program stated the following:
"I assume the manufacturers are complaining about program guidance. The only thing that must be submitted to the MHCC for comment are actual regulation changes.  Guidance may be written, but unlike regulations, guidance does not have the force and effect of law.  While guidance may determine how HUD and its agents (IBTS, IPIAs and DAPIAs) will go about enforcing the regulations, they are not law and are subject to legal challenge." 
MHProNews  was also told by an informed source:
"Well, the new label fee is now law.  Honestly, I think it is justified.  Congress has stopped supplementing the program budget with tax dollars, so they really needed a big increase.   When you think about it, $100 per unit really isn't that much to reimburse HUD for all the program activity that unit requires.  One problem I can see would be the windfall HUD would gain if the industry experiences a strong recovery. I'm for a label fee rule that would be based on a formula that would adjust based on production." 
More than just hikes in HUD Label Fees…
A source who spent years with a major MH producer emailed MHProNews the following statement on these issues:
"I can tell you the following.
· The HUD Label is a pass through to the end consumer. It is a line item like any other option and it is marked up like any option. The end consumer will bear the brunt of additional HUD Label cost. Just like the Beef industry. The end consumer ultimately pays for all material or labor increases.
· Larger manufacturers can implement regs much easier because they have a Quality Control Manager at each plant and this is his or her only job where at smaller independent manufacturer this job may be assigned to someone in the plant that has other responsibilities.
· The HUD Labels have to be purchased from the State SAA or whatever state agency has the IPIA Inspection contract and are issued after completed inspection. They are not purchased directly from HUD.
· All Manufacturers fear additional HUD Regulations because the HUD Code already takes up a 3000 page book of requirements and you can only teach…laborers so much.
· To interpret and build to a new HUD Reg wrong, even though unintentionally, can result to thousands of dollars in fines and Temporary Plant Closure.
· When HUD pinpoints a Reg that a plant has not adhered to it can also require the plant to go back and change every house in the field they have ever built which can cripple a Manufacturing facility. So yes, there is a high degree of fear by all plants.
·The lower your production levels are, the more dollars per unit new Regs can cost. All plants are operating at roughly 50% to 65% of their capacity."
Feeding the above comment back to a previously cited producer drew this reply:
"Well said and nice to hear how others live in fear as we do.
Yes, the labels are a pass through and in and of itself not crippling, but in context of all the regulation costs, why has there not been any cost benefit analysis?  If anything"…"there has to be some push back from the industry or they will frequent this well all too soon.
Keep in mind most of us are building several codes in our facilities because HUD numbers have dropped so far, making additional regulations and changes even more difficult to deal with. The more we have to deal with, the less ability we have to build our mandate: high value homes."
This comment below from yet another industry professional/MH producer, likewise given the opportunity to be on or off the record with MHProNews, stated as follows regarding the impact of regulations by HUD on builders:
"I agree on all fronts, I don't seeing what naming anyone does to benefit the cause. The fact that no one can justify being on record should say more about how oppressive HUD and this administration is to our industry."##
(Editor's Note: On or off the record comments are welcome: iReportMHNewsTips@mhmsm.com.)
(Graphic credits: GAO Report cover, and Making Home Affordable – albeit modified – as shown.)