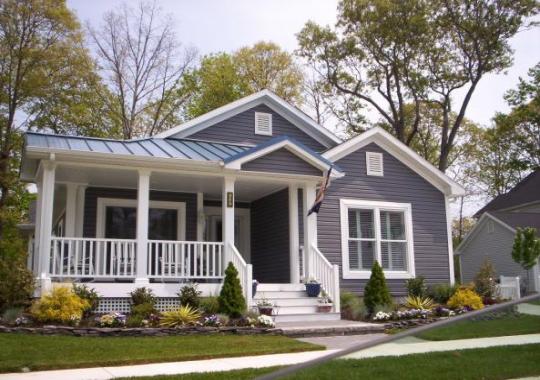 While there are those in the manufactured home community side of the industry that abhor the 't-word' or having their properties called 'a mobile home park,' on the other end of the spectrum is Frank Rolfe.
First, give the man and his associates their due. Their total communities would place them around #10 among the larger community owners.
Rolfe finds his way into the news, through stories like the New York Times' Cold Hard Lessons of Mobile Home U,' which drew a flurry of commentary, for and against by industry pros. The article sparked a recent comment by Dana Hawkins-Simmons in the National Housing Institute's (NHI) e-publication, Rooflines – seen here.
In a recent article, Rolfe sounded off in favor of the National Community Council (NCC) recent fall event in Chicago and the NCC's Vice President, Jenny Hodge. He took that opportunity to 'dis' a rival – and unnamed – community owner and consultant, who once appeared routinely at MHI and NCC events, and has since been marginalized by those organizations.
Writing in the Journal of Mfd Housing, under the heading, "The end of B.S. – thank heavens," Rofle asserts, "What was notable at the event was the absence of many self-styled gurus who people used to listen to. They have been discarded as the industry has grown up and the professional owner/operators demand concrete qualifications of their experts."
The "Mobile Home U" partner says that no one questioned him at the Chicago NCC event about his use of terminology. Indeed, with video footage of MHI's current chairman using similar terminology, it might make it difficult for some industry members at an event with both present to do so.
Says Rolfe's, "The industry is poised for a major shift for the good, and childish arguments have been cast aside to make way for more important adult topics and negotiations." On this point, there is wide agreement.
Indeed, the industry is poised for a major shift, but the debate over the use of the 't-word' or 'mobile home' terminology is far from over, as the new interview with Murex Properties and NCC Chairman Steve Adler suggests. In fact, the just-posted article on the "Great American Trailer Park Christmas Musical" points to the heart of the impact of the very challenge that Rolfe claims is no longer an issue, namely image.
Dana Hawkins-Simmons and others such as NextStep CEO Stacey Epperson take an opposing view, believing what you call something matters to the public and thus to the industry.
Indeed, ELS Chairman Sam Zell famously said at last year's NCC event, "Pencil head, it's not a trailer park."
Writing in NuWire, Rolfe outlined options for purchasing and financing a manufactured home community. Such articles are Rolfe's way of getting and staying in the limelight, in order to attract a steady stream of attendees to "bus tours" of MHCs and "boot camps." These draw potential investors, those who aren't chasing the same locations the larger portfolio operators seek.
The Mobile Home U partner's suggested ways to buy a community include,
Seller Financing

Bank Loans

Conduit

Master Lease with Option

Assignment
Give Frank Rolfe his due. Their operation grows, he has a swashbuckling style listeners find entertaining. Many of this boot camp graduates have gone on to varying degrees of success. He and his peers market, market, market.
The debate over proper use of terminology will rage on, with one wing showcasing a great image, and the other wing of the industry saying the public calls it a 'trailer' and 'mobile home,' why shouldn't we?
But is the photo shown above what people imagine when you say the word "trailer" or "mobile home?"
Perhaps the 1.32 billion dollar sale of image-and-brand-building American Land Lease to Sun Communities might have settled that debate, but at least for now, that hasn't resonated with enough people on the 'mobile home' terminology wing of the industry. ##
(Photo Credit: Manufactured Homes)
Article submitted by Josie Thompson to – Daily Business News – MHProNews.