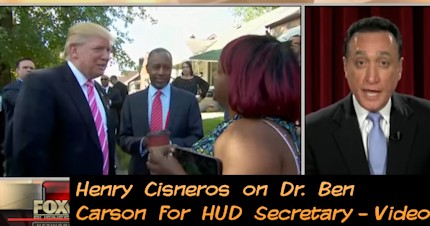 "I think Dr. Carson is an intelligent man – he's a free thinker, he's a compassionate person, a quick study obviously and I think that he can do the job," former HUD Secretary during the Clinton administration, Henry Cisneros told FOX Business Network's Mornings with Maria.
The pick is an important one for the manufactured housing industry, as the HUD Code program director would be reporting to the new HUD Secretary.
Left-leaning Slate slammed the idea of Dr. Carson being at HUD.  Supporters of Carson would consider that an endorsement. Other responses varied, generally according the media source's or commentator's political leanings.
Cisneros, a Democrat, said, "The cities are poised to do well as engines of not just the national but the global economy and figuring out a way to put the cities into the national dialogue, all the big metros and the cities, that has real potential – we are in a renaissance moment for the cities and the HUD Secretary could lead in that and then it becomes really important to every other aspect of the American economy and American life." Carson could be that leader.
There were conflicting reports on Dr. Carson's response to the offer.
Initial media reports signaled acceptance, but later Carson said he would make his decision known after Thanksgiving.
Carson is a pro-free enterprise, pro-Constitutionally limited government and a highly successful retired neurosurgeon.
At one point during the primaries, he led in the polls as a GOP contender for the White House.  Carson was among the first of the one-time rivals to endorse President-elect Donald Trump after he dropped out of the race, and has been loyal and skilled in his handling of the media on the president-elect's behalf.
Carson is popular among social, religious and economic conservatives.  What Cisneros called Carson's free thinking could lead to a positive revolution that is badly needed at HUD.  Applying President-elect Trump's "drain the swamp" to the HUD Code program could lead to thousands of jobs being created, as manufactured homes could thrive under the proper leadership of the HUD Code manufactured home program.
So, he would get a thumb's up from those who believe that changing the culture at HUD would be good for the manufactured housing industry, housing in general and for inner city housing.
For a related report Election 2016 – American Dream Dies or Reborn? Ignorance Costs, Knowledge Pays, click here. ##
(Image credit as shown above.)

Submitted by L. A. "Tony" Kovach to the Daily Business News on MHProNews.com.