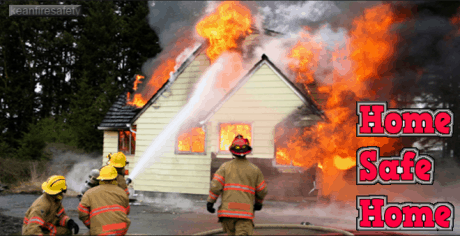 October is Fire Safety Month — for good reason. The risk of fire rises significantly in fall and winter and fire prevention experts are working overtime to get the word out on special hazards of the season.
According to the Electrical Safety Foundation International (ESFI), more home fires occur during the winter months than during any other part of the year.
As the weather turns cool, more activities move indoors. More heat-related products are in use — from fireplaces, to generators, heating pads, decorative lights and candles.
More than 65,000 home fires are attributed to heating equipment alone each year. These fires result in hundreds of deaths, thousands of injuries and millions of dollars in property damage.
For those living in the mobile homes built before the HUD Code forever changed the face of manufactured housing in the June 1976, the risk is of special concern.
But modern manufactured homes have taken safety to a whole new level under the requirements of the U.S. Department of Housing and Urban Development (HUD) federally preemptive standards for manufactured housing, which mandates construction standards that exceed those of most conventional site-built homes.
So those local news reports about "mobile home fires" are often exactly that, pre-HUD Code mobile homes.
Still, any home is only as safe as its occupants' behavior and when it comes to fire, there are a number of things people can do to minimize their risk.
MHLivingNews.com has compiled a list of helpful tips on how to avoid the most notorious hazards of the season — and how to mitigate them.
For instance, did you know:
Cooking fires are the number one cause of home fires and home injuries.
Heating equipment is the second leading cause of home fires in the U.S., and the leading cause of home fire deaths.
There is much more – including holiday safety tips – and you can read all about it in MHLivingNews.com's timely fire prevention story, Home Safe Home here. ##
(Image credits are as shown above.)

Submitted by L. A. 'Tony' Kovach to the Daily Business News, on MHProNews.com.