Reporting from Omaha, Nebraska. "Not everything is some dark conspiracy," an informed source said to MHProNews.
"Clayton and their [Warren] Buffett owned sister companies didn't plan [Hurricane] Harvey. But they are benefiting from it in direct and indirect ways, that will allow them to increase their hold over manufactured housing [retail, production]. Ultimately, FEMA will de facto help them topple one or more independents [producers]," that source said.
Competing Narratives?
An independent, respected and award-winning retailer, Frank Woody of Texas-based Republic Manufactured Housing Corp, told MHProNews in an on-the-record remark, the following.
"Tony — [Name of Clayton executive] "…told me this week that NONE of his plants should be putting me or anyone else off because of FEMA. He said they are shifting production around and using the new Athens plant.  He said by law they have to take FEMA orders," Woody said. "I don't know if they are building them at Athens, or the Ft. Worth S. Energy plant.  I should know the answer in a few minutes."
"Also, Legacy has turned down FEMA in Texas, but accepted them in new S. East US plant," Woody stated in an emailed statement.
Woody added that his high-level source at Clayton "would not lie to me."
But another Clayton independent has told MHProNews that Berkshire Hathaway owned industry giant is already "crawfishing" on delivery dates.
"FEMA pays more than independents. Retailers will be pushed out if they get priority," a well informed source said.


Gus Rodriguez of Tejas Homes in Conroe, TX, has been told something by CMH which seems to be at odds with what Woody is saying.
Rodriguez stated in an on-the-record series of messages to MHProNews that one of his Clayton (CMH) plants has told his company that their next order won't arrive until February 2018.
"We can see why FEMA buys direct from manufacturers to expedite new homes to those [storm victims] who lost their homes," Rodriguez said. He is "Absolutely" sympathetic to the needs of those tens of thousands of hurricane victims.
"However," the Tejas Homes leader asked, "who is looking out for the long-term viability of the [independent] retailer organizations?"
Award Winning Industry Veteran Sounds the Alarm for Independents
In a message to MHProNews, an award winning industry veteran said about…"FEMA:  IF they commandeer a large portion of production/plants, all of us independents are going to feel that hit and, depending on your suppliers, that could be a BIG hit."
The source insisted, "That would make the danger much greater for the independents."
Industry lenders have also expressed concerns about the impact of Harvey and Irma. That will be part of an upcoming report on the lending/disaster connections.
How FEMA Could Foster Berkshire Hathaway's Grip on Manufactured Housing
"If retailers are starved for inventory for months, several will fail or sell out as time progresses," a source stated. "If more independent retailers are starved out, that only means Clayton will grow more, without appearing to be [doing so via] monopolistic practices [to DOJ].
"Some independent HUD Code builders will sell out, will be compelled to do business with Clayton retail, or will be forced out, because there will not be sufficient retailers left to sustain them.  Those independent [producers] will ride high for months. But when the reality of fewer independent retailers hits, that's when they [HUD Code builders] will be faced with only a few options. Berkshire will win by default."
Sources connected to independent producers tell MHProNews that FEMA has allegedly not been even-handed in its information flow to non-MHI member companies.
FEMA Source Initially Responds, Then…
A FEMA source initially responded briefly to MHProNews, but has since gone silent on follow up questions.
That, industry members and analysts say,  may also be another indication that those who aren't in MHI's "pocket" will tend to get less access to information – and other benefits? – than those connected to MHI.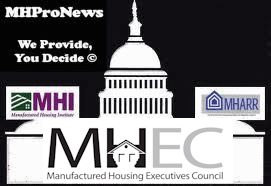 It should be noted that while the Manufactured Housing Association for Regulatory Reform (MHARR) is normally responsive to MHProNews inquires on this subject – perhaps due to meetings or other factors – there has been no official word from that organization which represents independent HUD Code producers.
More Insights, Allegations
Another informed source said in a message that, "It's difficult for MHI [Manufactured Housing Institute] to deny what's already obvious to the[mainstream] news media, politicians, bureaucrats, and non-profit groups have said [about allegedly monopolistic practices]."
"Berkshire Hathaway dominates MHI through their various production, lending, retail, and supplier units. During the Obama years, they had great influence in Washington.  MHI postures actions designed to look like they are fighting HUD, CFPB, etc." the source said to MHProNews.
"But the reality is, they [BH manufactured housing units] are making money and dominate the [MH] industry as a result of Dodd-Frank. Heavy handed HUD or other regulations weighs more heavily on smaller or lower volume companies. Whether MHI succeeds or fails at their lobbying, BH [Berkshire Hathaway] profits," that source stated.
That, say several sources, are part of a pattern that allows federal agencies to de facto benefit larger companies, which disadvantages others who have fewer resources.
A source told MHProNews that independents "can't take a victim mentality."  They must be pro-active, to find the ways they can maneuver past the various threats and still survive and profit.
No OFFICIAL Comments…
MHI, Clayton and their BH sister companies have been asked for comment on these allegations, reports and developments.  Rick Robinson, and others have declined comment.   But off-the-record information continues to come into MHProNews.
MHARR has also been asked for comment about these reports, and no official word has yet been received.
Programing note: additional reporting related to BH and their manufactured housing units will be published on Monday.  ## (News, commentary, analysis. Note: typos/grammar from quotes are in the original, "SIC" use was saved for the end, to make the flow of these reports easier to read.)


(Image credits are as shown above, and when provided by third parties, are shared under fair use guidelines.)

Submitted by Soheyla Kovach to the Daily Business News for MHProNews.com.