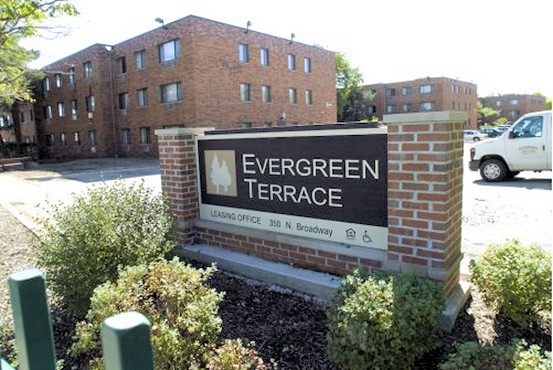 The Joliet City Council obtained ownership of Evergreen Terrace in a transfer of title that took place last week. Officially the title will go to Riverwalk Homes, a public-private partnership created by Holsten, a Chicago-based real estate development company, the HeraldNews reports.
Nevertheless the city maintains controlling interests and will make all decisions regarding its interest.
"The document spells out that the city is the controller of all decision-making," as explained by Jim Hock, City Manager.
That said, the city is not exactly comfortable with navigating its way through the issues raised by its new role. "I think everyone would admit that with Evergreen Terrace we're in uncharted waters," said Mayor Bob O'Dekirk.
The original purchase of Evergreen Terrace saw the city paying a sum of $15 million, only to have the change in ownership slowed by the U.S. Department of Housing and Urban Development (HUD).
The joint-venture between Joliet City Council and the strategically chosen Holsten paved the way for HUD to approve the city take over.  The rental subsidies offered by HUD for Evergreen Terrace, gives the federal agency a key stake in the future viability of the project.
Resolutions were adopted to ensure future collection of rent that will be used to repay the $11.4 million paid from city coffers with the remainder coming directly from federal housing funds.
Federal housing funds and accompanying subsidies allow property owners to offer below market pricing targeted at the affordable housing sector, which allows them to compete with lower cost housing, such as manufactured homes.
The deal highlights the leverage and potential headaches that are attached to obtaining Federal support.  It also reminds manufactured housing pros that tens of billions of dollars are being spent annually by federal, state and local jurisdictions on housing options that de facto compete against the industry's products and services.
As MH professionals explore the newly approved Section 8 vouchers that allow for the purchase of a manufactured home, consideration should be given to the current landscape of regulations and legal framework which often makes it difficult for new participants, such as manufactured housing, to compete within a sector. ##
(Photo credit, TheHearldNews.)

Article submitted by Frank Griffin for Daily Business News – MHProNews